What do you do with leftover asparagus?
This salad is nutrient rich, quick, and uses leftover asparagus!
Only 3 ingredients plus dressing make a delicious salad that checks all the right boxes – crunchy, creamy, salty, "green," and beauty.
But the real appeal is its nutrient profile.  For only 160 calories, one serving of this provides
100% +

 

–

 

vitamin

 

C
50 – 100% – vitamin K
25-50% –

 

folate, vitamin E, iron (except premenopausal women)
10

 

–

 

25% –

 

fiber, potassium, calcium, vitamin A
And it is one of my fastest salads to prepare.  So let's get chopping!
Ingredients
Feta or Goat Cheese –  This dairy in the cheese is the salad's only major allergen . . .  Use a non-dairy version if you are sensitive to dairy, or simply omit it.   I always have feta in my house so we use it most often.  However when we have an open package of goat cheese,  I use it as it is more creamy and less salty.
Cooked Asparagus –  I boil my asparagus in a frying pan for just 3 minutes so it is tender/crisp.   (for this timing, add the asparagus to water that is already boiling.  If it is especially thick (as local asparagus sometimes is) I add another 30 seconds.  Do NOT overcook the asparagus or it will be impossible to cut and have a less than desirable texture in this salad.
Peppers  – I  usually use a red pepper, but any color sweet pepper will do.  Feel free to add a little hot pepper if you desire.
Balsamic Vinegar – while you do not need to use an artisan balsamic, the vinegar you use will drastically affect how sharp your dressing is.  My first choice is Trader Joe's Balsamic Vinegar  of  Modena.  It sells for about $5 for 8.5 ounces.  It is a good all purpose vinegar and makes excellent dressing.
Fresh Herbs – This is a salad I make quickly so I usually do not add fresh herbs, but they would be great.  Chives or parsley would  be my first choice.  Let me know if you try others.
Preparation
Because this is a leftover asparagus salad,  the amounts in this salad are all approximations.  Maybe you have only one cup of leftover asparagus  – use that and decrease other ingredients.  Or you  have 3/4 cup or 1 1/4 cup sliced pepper – no problem!   As a general rule I try for a piece of pepper with every bite of asparagus.
Dressing
This is my signature balsamic dressing cut down to size.  If you like it, I recommend making about 4 times the recipe to have on hand for salads.  It is also great on lettuce salads.
Place the mustard in a small custard cup or bowl.   Add a small amount of balsamic vinegar, about half the amount of mustard to the bowl and mix thoroughly.  Add that amount of vinegar again and mix.   Do this a third time.   Now the vinegar should be sufficiently thinned to shake well into the dressing.  This step can be skipped, however I often have Dijon clumps without  thinning it.  This is the most time consuming  part of this recipe!
Add the remaining vinegar and salt.  Stir to mix.  Whisk in the oil.  
Vegetables
Cut the asparagus on the diagonal into about 1 1/2 inch pieces.
Core the  sweet pepper and cut into 5-6 pieces from  stem to blossom end.  Then slice them thinly the other way.  I cut mine into about 1/8 inch slices.  This way the slices of pepper are about the same length as the asparagus pieces, or a bit longer.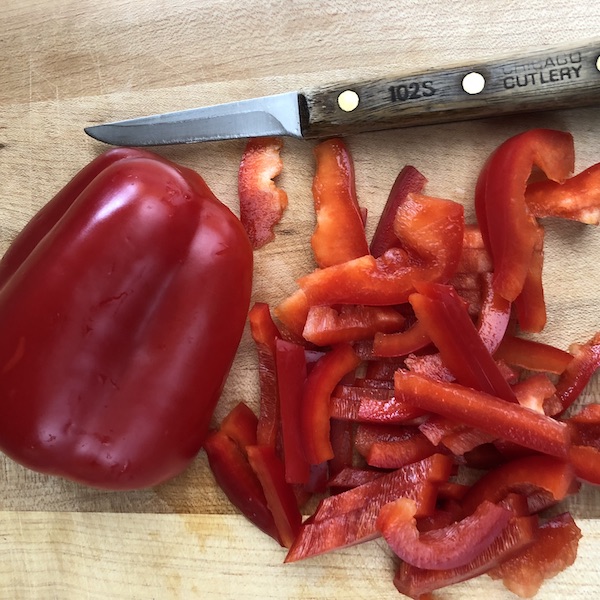 I  find that the leftover asparagus is always very wet. To get the dressing to stick better, I place a paper towel in my serving bowl.  It will absorb the extra moisture from both the asparagus and peppers.  When it is time to dress the salad, remove the paper towel, add the dressing and mix well.
Just before serving add the cheese.  
Enjoy!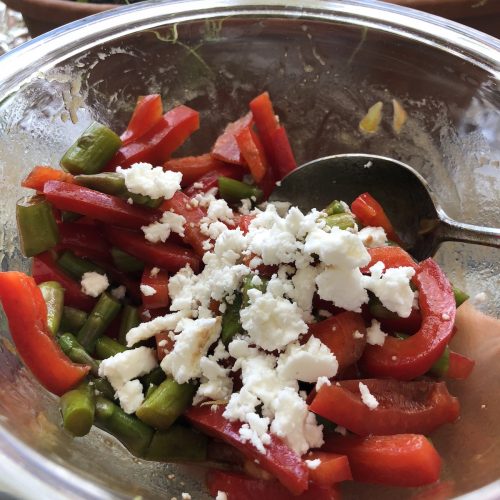 Asparagus Red Pepper Salad with Feta
A quick salad with a delightful crunch and combination of flavors.
Ingredients
2

cups

cooked asparagus

1

cup

red pepper cut into strips

2

tablespoons

feta cheese *
Balsamic Vinegarette
1

tablespoon

balsamic vinegar

1/2

teaspoon

Dijon mustard

⅛

teaspoon

salt

1

tablespoon

oil
Instructions
Prepare the Vegetables
Slice cooked (cold, leftover) asparagus into 1½ inch slices on an angle.

Remove the core from the pepper and cut top to bottom into about 6 sections. Slice each section into thin (about ⅛ inch) strips.

Place the vegetables in a bowl with a paper towel to dry the vegetables so the dressing will stick better. (optional)
Prepare the Dressing
Place the Dijon mustard into a small bowl. Add about ½ teaspoon vinegar. Mix well. Add another small amount of vinegar. When the mustard is thinned, add the salt and the rest of the vinegar. (This step is optional but eliminates Dijon clumps!)

Whisk in the oil or put in a jar and shake.
Assemble the Salad
Place the asparagus and red pepper in a bowl.

Add the dressing and mix well.

Place the crumbled feta over the top and serve.
Notes
* goat cheese is also great in this recipe
Nutrition
Calories:
160
kcal
Carbohydrates:
12
g
Protein:
6
g
Fat:
11
g
Saturated Fat:
3
g
Polyunsaturated Fat:
2
g
Monounsaturated Fat:
5
g
Trans Fat:
1
g
Cholesterol:
15
mg
Sodium:
360
mg
Potassium:
450
mg
Fiber:
4
g
Sugar:
7
g
Vitamin A:
3420
IU
Vitamin C:
103
mg
Vitamin D:
1
µg
Vitamin E:
4
mg
Vitamin K:
65
µg
Calcium:
124
mg
Folate:
109
µg
Iron:
3
mg
Zinc:
1
mg