Five ingredients and less than an hour will give you a warm soup with rich potato flavor with no cream or dairy in sight.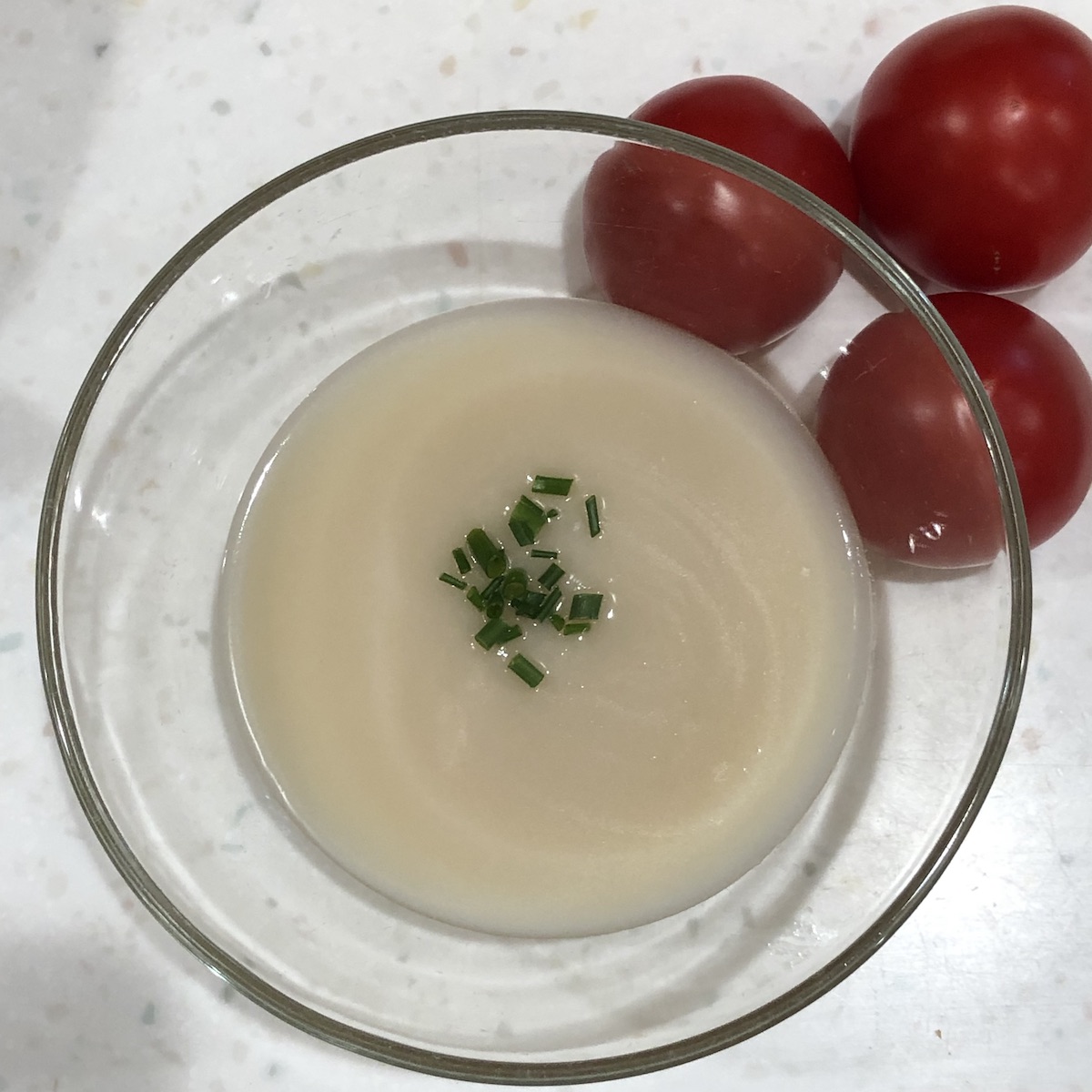 I puree mine because I like that texture but you could easily cut your potatoes smaller and skip the blender.  
Ingredients
Potatoes – This is one recipe where I purchase Russet potatoes.

 

They fall apart more easily so I usually use all

 

purpose in my stews or Bavarian potato salad.

 

But this recipes it is ok if the potatoes fall apart!
Shallots or onions – I use shallots as we avoid onions, but either will work.

 

Feel free to increase the amount

 

of onions used.
Broth – I use purchased chicken broth in this recipe but homemade would be especially good.

 

To make this

 

recipe vegetarian, use vegetable

 

broth. You  may need to add more broth (or water) when reheating or if it is too thick after blending.
Oil – Use whatever you family tolerates

 

– I use avocado or canola
White beans – this is to thicken the soup

 

A high speed blender will make the soup  creamier.
Make the soup creamy without dairy
I make this soup creamy in two different ways: white beans or raw cashews.  Both add substantial nutrients to the soup.  The cashew version is slightly richer due to the added fat, but the white bean version adds significant fiber.  The white bean version can be less smooth, but in this soup, it is not noticeable because of the slight texture that remains from the potatoes. Click here for the cashew version.
White beans
Drain & rinse a can of white beans.  Put the white beans in a high speed blender (a regular blender should work, just run it longer!).  Add water to just cover the beans (about 1 cup).  Blend until completely smooth.
Some of you may ask why I drain the beans and then add more liquid?  One reason and one wives tale.
The reason:

  

To reduce the sodium.

 

By draining

 

and rinsing the beans you can eliminate about 30-40% of the sodium in a can of beans.

 

The old wives tale: Draining the beans may reduce the intestinal gas produced in susceptible individuals.

 

Another benefit is that you can keep the liquid, called aquafaba, to use in place of eggs in recipes for your egg free family and friends.
There is no  harm in dumping the can of beans and their liquid directly into the blender, as long as you are not watching your sodium content.
The bean "cream" can be made ahead and stored in the refrigerator for a few days until you are ready to use it.  
Garnishes & Flavor variations
Think of this soup as a blank canvas!  There are SO many ways you can dress up this soup!  Here are a few of my suggestions.
Garnishes
chives or green onions
"sour cream" (obviously dairy free!)
bacon
Herbs and seasonings
Thyme – fresh or dried added just before adding potatoes and stock
Other herbs such

 

as marjoram, oregano, basil
Spice blends such as Gateway to the North (The Spice House) or lemon pepper
hot sauce if you like it spicy
You could add another flavor dimension with spices like smoked paprika or cumin.
I like my potato soup plain, but for many people would like more zip.  Let me know what you try in the comments below!!
Adding Texture
If you like potato soup with chunks of potato, I suggest after you make the soup ahead. The day you want to serve it, peel and chop a potato or two.  Boil in chicken broth.  Then add to the soup.  Yum!  I have done this with soup I have frozen.  It thins the defrosted soup as needed.
Freezing
This soup freezes surprisingly well, even with the white beans or cashew cream added.   I usually thaw and heat it in the microwave, then I do not have to monitor it so it does not stick to the bottom of the pan.
In fact my original recipe was written as twice this recipe.  I always make double to freeze!
Dairy Free Potato Soup with White Beans
Equipment
high speed or regular blender
Ingredients
3

ounces

shallots, or onions, chopped

approximately 2 medium

½

tablespoon

oil

2

pounds

potatoes

russets preferred

6

cups

lower sodium chicken or vegetable broth

(see notes)

1

15 ounce can

white beans

1

cup

water

approximately
Instructions
Peel and cut the potatoes into approximately 1-1½ in chunks.

Saute the shallots in oil in a 4 quart (or larger) soup pot.

When the shallots are translucent, add the potatoes and the broth. Simmer covered until the potatoes are done, about 15 minutes.

While the potatoes cook, drain and rinse the beans.

Add the beans to a high speed blender container. (You can use a regular blender, the beans may not be quite as smooth.) Cover with water, about 1 cup.

Blend the beans until smooth. Set aside until you are ready to thicken the soup.

When the potatoes are thoroughly cooked, puree the soup with an immersion blender, a high speed blender or a regular blender. *

Add the pureed beans and heat.

Serve with desired garnishes and enjoy!
Notes
 * If the soup is hot, I use an immersion blender as I prefer to not  transfer hot soup.  However the  soup may be less smooth with an immersion or regular blender.  I actually like it better this way. If using a blender, I try to make the soup a day ahead and puree when cold. I suggest reheating  in the microwave to prevent the soup sticking to the bottom of the pan.
You may need more broth to thin if the soup is too thick after cooling.
Nutrition
Calories:
130
kcal
Carbohydrates:
24
g
Protein:
6
g
Fat:
2
g
Saturated Fat:
1
g
Polyunsaturated Fat:
1
g
Monounsaturated Fat:
1
g
Trans Fat:
1
g
Sodium:
63
mg
Potassium:
666
mg
Fiber:
3
g
Sugar:
2
g
Vitamin A:
3
IU
Vitamin C:
23
mg
Vitamin E:
1
mg
Vitamin K:
3
µg
Calcium:
26
mg
Folate:
22
µg
Iron:
1
mg
Zinc:
1
mg