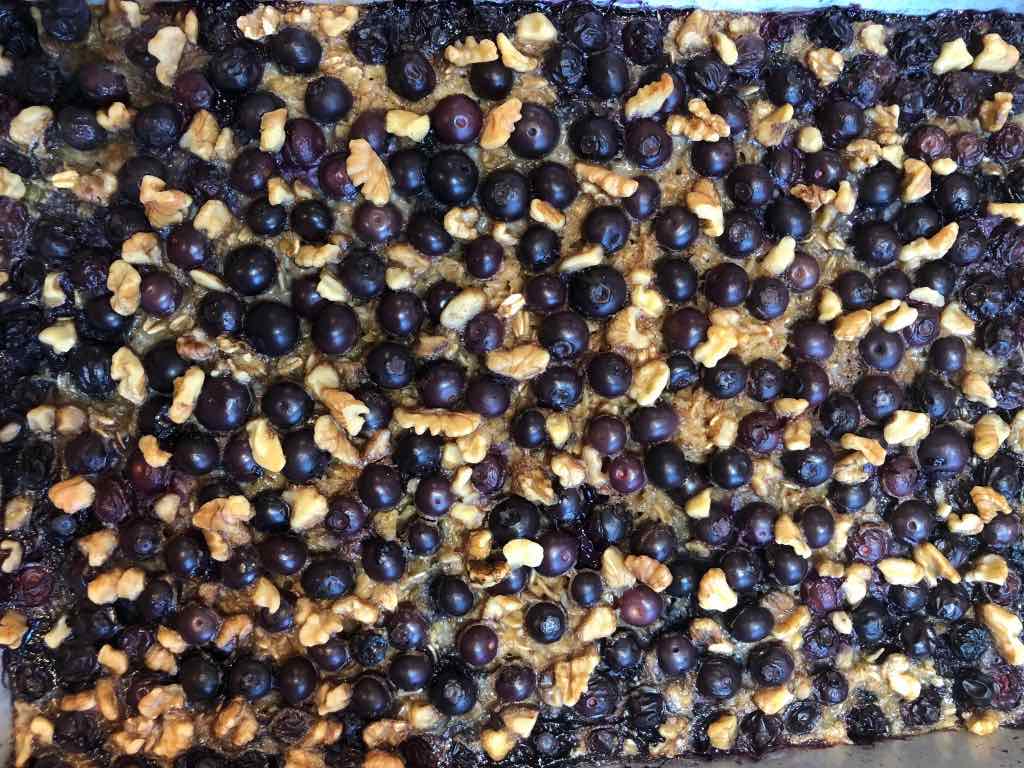 Here is the transcript of the episode:
Welcome to the sensitive kitchen where home cooks are inspired to cook to enable those you love to flourish.
I'm Cindy Sullivan, registered dietitian, passionate nutrition, educator, and accomplished home cook. Whether you're changing, how you cook for food sensitivities, allergies, intolerances, or just trying to eat healthier on a budget. You're in the right place. Most episodes, I will share favorite recipes as well as modification tips and nutrition benefits. Occasionally I'll have a guest or special episode like modifying holiday favorites.
My favorite foods are raspberries and homemade chocolate chip cookies. My latest cooking project was long fermented sourdough bread.
I'm here today to talk to you about blueberry banana baked oatmeal. It's a delicious make ahead, versatile breakfast packed with nutrients. It's even naturally gluten-free.
So you asked me why bake oatmeal? First of all, it's make ahead. And for this non-morning person, this is important. I don't have to get out of bed earlier to make breakfast. And although I regularly make oatmeal and batches and stored it in the refrigerator, this one is special. It's packed with power ingredients.
It's easy to modify with nutritious delicious add ins. It's also portable. We often take it with us when we'll be house guests somewhere. Best of all, for time-crunched mornings, just pop a piece in the microwave and enjoy with a glass of milk. It also adds a protein boost with the added eggs in this recipe. Let's talk a little bit about those nutrition benefits.
This is truly a powerhouse breakfast for only about 250 calories. It gives you nine grams of protein, primarily from regular or soy milk and eggs. If you use another milk, those are great substitutes in the recipe. They're just much lower in protein.
Walnuts add omega three fatty acids. They're great for your heart, brain, and to reduce inflammation. Let's get specific here for a moment.
One serving of this oatmeal adds about 0.4 grams of alpha linoleic acid or ALA. That's about 25 to 30% of your daily recommended amount of this essential fatty acid. Remember essential nutrients are ones you need to eat. Your body cannot make. You want a lot of these omega-3 fatty acids to reduce inflammation. Inflammation may be a cause of disease, pain, aging. You want less inflammation in your body.
Oatmeal is a great source of soluble fiber and blueberries add insoluble fiber. One serving of blueberry banana baked oatmeal gives you about five grams of fiber. Women need about 25 grams a day and men about 38 grams a day.
Those five grams of fiber will help keep your blood sugar stable. And then we'll also help you feel full for longer, so you're not starving mid-morning.
It gives you about 10 to 20% of the iron you need.
It's a great source of potassium from the bananas, blueberries, milk and oatmeal. Enough potassium helps either reduce your risk of high blood pressure or lower your blood pressure if you already have high blood pressure. It gives you about 10% of the potassium you need in a day.You need about 4,700 milligrams, which is a lot. You don't get that from one food, but 10% is a good amount. You're well on your way when you start your day with a serving of baked oatmeal.
This recipe is naturally gluten-free. Now, if you have celiac disease, you know, you need to buy special gluten-free oats, but for the rest of you, this is a great way to go. Just regular oats are fine.
Plus don't forget all those flavonoids and anthocyanins that reside in those blueberries as well as other whole grain benefits. This is an amazing breakfast.
Now let's talk a little bit about substitutions. This is a very easy recipe to modify. It's very forgiving.
So if you can't have regular dairy use any milk substitute, you wish. Now remember that soy is the one that is highest in protein, but for those of you like my family, we don't eat soy. We use regular dairy, but you can use any kind of milk that you want in this recipe.
Now for nuts, walnuts are especially high in those omega-3 fatty acids, but pecans and other nuts, they have benefits too. If you can't do any tree nuts, think about seeds, pepitas or pumpkin seeds would be great in this recipe.
For eggs – Those of you who avoid eggs, just omit them, or maybe try a flax egg. Substitute a tablespoon of ground, flax seed, and three tablespoons of water. Let it sit for a few minutes. Add it in. That will give you the added benefit of more omega-3 fatty acids.
If you're vegan, just use a nut or an oat milk and flax eggs.
Fruit – The sky really is the limit here. I might have a riot in my house because blueberry banana is the favorite around here, but use whatever kind of fruit is in season or your family enjoys. Try apples. I think peaches would be awesome. Maybe some plums. Try some dried fruit mixed in. Let me know what you try. I would love raspberries!
To substitute for the maple syrup – Use whatever sweetener you like and can use. Honey would be an obvious one. You will miss some of the maple syrups distinctive flavor, but you can add some other warm baking spices to it; cardamom would be awesome. Cloves, all spice in small amounts, and each of those spices would really enhance the flavor if you take the maple syrup out.
Okay. So how do you eat this for breakfast? I personally like to eat it plain with a glass of milk. Other people enjoy pouring yogurt over the top. If I'm not taking it right out of the oven, I actually like to heat mine up in the microwave for just a few seconds so it's warm. Sit down and it's a fast, nutritious, quick breakfast.
Now let me walk you through this recipe. For those of you just getting started in the kitchen, not to worry. This is an easy recipe for beginners. It's also easy to half. If 12 servings won't be eaten four or five days or so. If you're cooking for yourself or maybe just two people, you might want to start the first time with half of this recipe.
So the recipe calls for four cups of old-fashioned oats, half a cup of walnut pieces, four cups of whatever kind of milk you want to use, four eggs, a half a cup of maple syrup, or you can use granulated sugar or any other sweetener as I mentioned. Two teaspoons of vanilla extract, two teaspoons of ground cinnamon, two teaspoons of baking powder. I recommend an aluminum free; half a teaspoon of iodized salt. Yes, I do recommend the iodized for the iodine unless you eat a lot of seafood, three cups of blueberries, fresh or frozen and two to four ripe bananas.
So you're going to first whisk your eggs in a fairly decent sized bowl. I actually use a large bowl because I don't want to worry about it slopping over. You're then going to add your other liquid ingredients after you've whisked your eggs, add the milk, the vanilla, the maple syrup, and whisk them thoroughly. Add then the rolled oats, the cinnamon, the salt, the baking powder, and mix them, set that aside for a moment and prepare your pan.
Then give oatmeal mixture another little quick stir and spoon it over the bananas. I recommend you do this with a really big spoon and actually spoon it over because if you attempt to pour it over, a lot of times what happens is those bananas lift up and they go to the sides of the pan. And then you're trying to get the bananas back so that they're over the whole pan. It's a mess. Don't do that. Just take the extra 30 seconds and spoon the oatmeal (not bananas like I mistakenly said!) over the top so that you also, the other nice thing about this, as you also get oatmeal fairly evenly over the whole top, it takes, like I said, about 30 seconds or so maybe up to a minute, but not long,
Take a nine by 13 pan and slice your bananas in a single layer across the bottom, anywhere from an eighth of an inch to a quarter of an inch thick and cover the entire bottom. This is why I can't tell you exactly how many bananas you need, because it depends on the size of your bananas. So usually three to four, if they're huge, you may only need two. Also depends how thick you slice your bananas, but totally cover the bottom of your pan with sliced bananas.
After you have the oatmeal mixture spread, you're going to sprinkle the walnuts evenly over the top. And then the thing that takes the longest is to place the blueberries evenly over the top. If you're using frozen blueberries, that's just fine, but don't thaw them first. Just take them right out of the freezer and prepare to have blue fingers! So if you have to go somewhere, get dressed up today, use gloves. Otherwise they'll come out in a day or so.
After you get the blueberries evenly sprinkled over the top, which like I said, takes the longest in the whole thing and the recipe, stick it in the oven for about 45 minutes until the oats are set and golden brown; take it out and serve.
If you're making it ahead, let it cool a little bit, cover it with foil or another airtight lid. Throw it in your fridge and it's ready for breakfast all week long.
I really hope you try this and enjoy it. It is a wonderful recipe for breakfast. It's make ahead. Quick, easy, versatile. Let me know if you make this recipe come to foodsensitivitykitchen.com. This is episode two. The show notes are there. The recipe is there. Leave me a comment. Let me know how it is. How did your family like it? How did you modify it? What worked?
Also while you're at foodsensitivitykitchen.com, don't forget to take my cooking quiz if you haven't done it already to find out what cooking framework will work for you, and your food sensitive family.
Have a great day. Thanks so much for tuning in and remember to Cook So That Those You Love Can Flourish. Bye-bye now.
The Cooking Framework Quiz is available by clicking the button below.
Don't miss an episode!  
The button below will take you to Apple Podcasts to subscribe.  
Or visit your favorite podcast provider to subscribe.
Thank you!