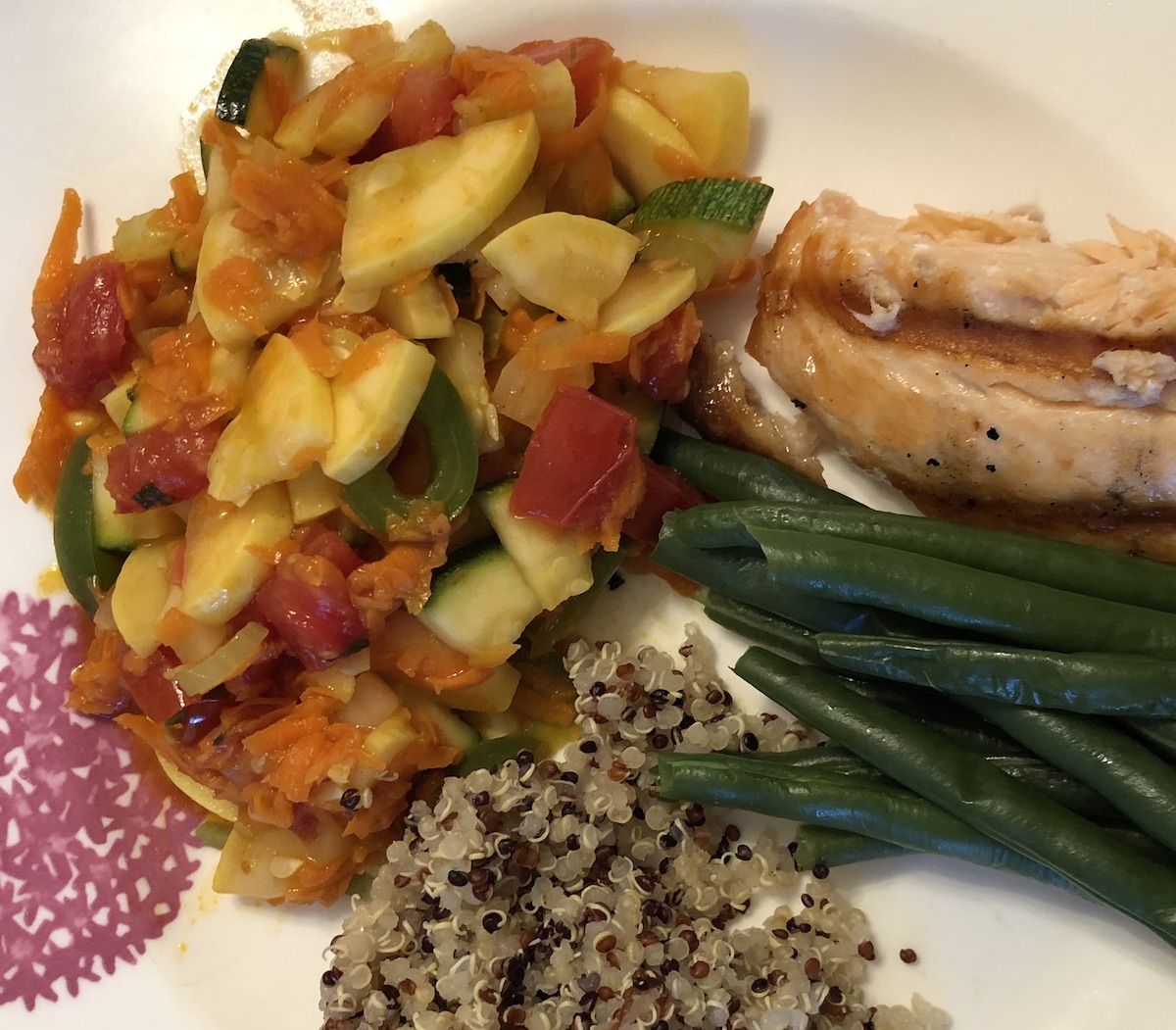 The Cooking Framework Quiz is available by clicking the button below.
Don't miss an episode!
The button below will take you to Apple Podcasts to subscribe.
Or visit your favorite podcast provider to subscribe.
Thank you!
Welcome to the Sensitive Kitchen. Where home cooks are inspired to Cook To Enable Those You Love To Flourish. I'm Cindy Sullivan, registered dietitian, passionate nutrition educator and accomplished home cook. Whether you're changing how you cook for food sensitivities, allergies, intolerances, or just trying to eat healthier on a budget, you're in the right place.
Most episodes, I will share favorite recipes as well as modification tips and nutrition benefits. Occasionally I'll have a guest or special episode like modifying holiday favorites.
My favorite foods? They're raspberries and homemade chocolate chip cookies. My latest cooking project was long fermented sourdough bread.
Do you have extra zucchini in your refrigerator, either from your garden or from the farmer's market? What are you going to do with that?
last episode we talked about what to do with too many tomatoes, and it seems like whenever someone grows zucchini, they have extra. How do you transform zucchini?
Bby itself zucchini is not my favorite vegetable. But because of its mild flavor and high water content zucchini blends into so many dishes, both sweet and savory.
Today, I made two batches of sweet potatoes, zucchini bread, a double regular batch and a gluten-free batch for my husband and our friend who's gluten and dairy free. Yum! ( Don't tell anyone I've already eaten four pieces today! One for lunch, one for dinner and two for an afternoon snack. It's addicting,)
Double chocolate zucchini bread and zucchini pancakes are two more favorites, both from King Arthur Baking Company's website. I've also used zucchini with other vegetables in the vegetable muffin recipe, both savory and sweet muffins. We have gluten free, dairy free, egg free versions of the vegetable muffins. Go to episode 031 where you listen to podcasts or go to foodsensitivitykitchen.com/episode031 and get all those recipes with lots of pictures.
B ut for a side dish to eat as a vegetable, my long time favorite is Mexican squash. It is a little more work than just saw sauteeing some zucchini and olive oil with spices, but it is well worth the time.
This is a vegan dish and the ingredients are really simple – zucchini, celery, green pepper, onion or shallo,t tomatoes, and then taco sauce and mustard make up, the sauce. So there are no major allergens in this dish. Oh, wait a minute. And a couple spices for the complete recipe. Go to foodsensitivitykitchen.com/episode034. And you can click on the link there to give you the complete recipe of Mexican Squash Without Corn, with lots of pictures and complete directions.
There are no major allergens in this dish, but I know many of you avoid corn and most Mexican squash recipes contain corn, but this one does not.
The real secret of this dish is in the sauce. It gives a subtle flavor and blends everything together. Over the past decades, salsa has taken the place of taco sauce in my cupboard, (maybe two decades), but I purchase taco sauce for this particular dish. You can use a smooth salsa, but the flavor is not quite as good.
My suggestion is buy a jar of taco sauce (Ortega is my favorite brand) in your favorite level of heat. And I bet you'll use the leftovers the next time you make Mexican Squash.
Now back to ingredients: If you avoid onions, try to substitute shallots or even green onions or garlic, but watch the label on the taco sauce. You may have to make your own taco sauce without onions,
Grating the carrots takes a couple of extra minutes, but it helps them cook in the same amount of time. And it gives the dish a nice texture.
Depending on your family's preferences, and what is in your refrigerator or what's at the farmer's market, you may want to consider adding
fresh hot peppers
cilantro,
fresh garlic, in place a garlic powder. I find garlic powder is just fine in this recipe and it's one fewer thing I have to chop.
So let's talk about preparation. This is a simple recipe. Chop or grate your vegetables and saute. When the vegetables are done, add the sauce and mix well. Heat and eat.
Let me give you a few tips –
Since I only have one or maybe two carrots to grate, I find a box grater works really well and saves me from having to wash my food processor.
After my carrots are grated, I slice my celery moderately thin and start cooking. Celery takes the longest to cook. So I started early over a medium, low heat. You can certainly chop all your vegetables before you start to cook. And the first time you make this recipe, you may want to do that.
But if I use a lower heat setting, it allows me to saute and chop at the same time. Just remember to stir occasionally as the vegetables cook. And as you chop. So as your celery is cooking, quarter and then slice your green pepper, the short way. Add to the pan.
Next comes the onion or the shallot. Chop it or slice it and add it to the pan.
I choose small or medium zucchini or summer squash for this recipe. And I use both zucchini and summer squash in this recipe, fairly interchangeably. As I wash my squash – or after I wash my squash, I slice off the ends. I cut it in half lengthwise and put it cut side down on the cutting board. For small squash, I cut each half in half again, length wise. So I quarter it. For larger squash, I may cut each half in thirds or even in quarters. Slice each half thinly, about eighth inch slices.
Add the squash and the carrots to the pan and continue to cook. After adding the squash to the pan chop the tomatoes. Combine the taco sauce and mustard to make the sauce.
And after the zucchini are partially cooked about three minutes or so, add the tomatoes, the basil and the garlic powder. Stir for about three more minutes until your squash is just tender. Stir in the sauce and heat through. Serve and enjoy!
P.S. the leftovers make a great lunch side dish.
This is a fairly nutrient dense recipe. And so for today's nutrition tidbit, I want to just talk to you about this recipe and everything it gives you.
This recipe only gives you 80 calories and 13 grams of carbohydrate, but it provides 50% of your vitamin C for the day, 25% of the vitamin A and 25% of the potassium, a mineral that most Americans don't get enough of. Potassium is key for both preventing high blood pressure and treating it.
Those 80 calories also give you three grams of protein and three grams of fat. The kind of fat depends on the kind of oil you choose. It also gives you four grams of fiber and you need about 25 to 30 grams of fiber a day.
One serving also gives you between 10 and 15% of vitamin E vitamin K, the B-vitamin folate, iron and zinc. 10 to 15% may not sound huge, but remember, this is only one serving of one food that you're eating in a day. You'll get more of each of those vitamins and minerals as you eat a variety of foods from all the food groups.
Mexican squash is a nutrient dense, delicious choice that may convince a vegetable hater that vegetables may not be all bad. And for the rest of us, it's a fabulous way to eat summer's bounty. (Although I must admit I make it year round.) Enjoy!
Thanks so much for joining me today. Keep Cooking To Enable Those You Love To Flourish. Have a great day. Bye-bye.
References
https://fdc.nal.usda.gov/fdc-app.html#/food-details/168565/nutrients