This Irish soda bread is moist, delicious and easy.  You can serve it to all your family and friends.  No one will know it is gluten free!
Our favorite Irish soda bread is loaded with whole grains.  Since my husband is eating more and more gluten free, I wanted to try a gluten free version.
Since I had a gluten free flour mix in the house, I started with my sweet Irish soda bread recipe, substituting and used gluten free flour.  It was a hit!  Yum!
Here's a picture of the two side by side.
I tested this recipe using Bob's Red Mill Gluten Free 1 to 1 Baking Flour. An advantage of Bob's Red Mill gluten free flour is that it does contain some whole grains.  While not a primarily whole grain flour, it does contain  brown rice flour (a whole grain) and whole grain sorghum flour.   
To hear more about the benefits of whole grains, listen to The Sensitive Kitchen podcast episode 19, about the original sweet Irish Soda Bread recipe.  Just because you are avoiding gluten does not mean there are not many other whole grains you can enjoy!
Ingredients
Gluten free flour blend – I used Bob's Red Mill Gluten Free 1 to 1 Baking Flour.

 

It does contain xanthan gum, so if you have one without, be sure to add about 1/2 teaspoon to the recipe.
Baking powder – If you  are avoiding baking powder because of corn, use 2 teaspoons baking soda, 1 teaspoon tapioca starch and 1/4 teaspoon salt (omit the baking powder, soda & salt in original recipe)
Baking soda
Salt
Sugar

 

Eggs

 

Oil – any neutral flavored oil
Buttermilk
Dried fruit – raisins or currants are traditional but we enjoy cranberries or cherries.

 

If I use dried cherries I cut them so more bites have cherries in them!
Milk and Coarse sugar (optional) for topping
Preparation
The preparation is simple.  Mix the wet ingredients.  Add the leavening and salt.  Add the dry ingredients alternately with the buttermilk.  Top with a little milk and coarse sugar to help browning and give it a sweet crust.
Equipment
This is a fairly wet dough so it is baked in an 8 x8 round pan. It need to be at least 3 inches deep.  I use a French white casserole, but a souffle dish, panettone pan or a deep cake pan will work.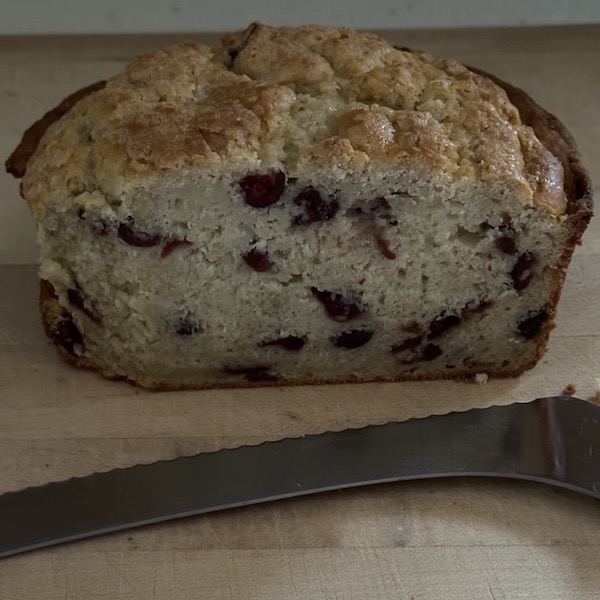 Storage
A few hours after I pulled this out of the oven, we lost our power.  I usually freeze my breads.  But not wanting to open the freezer door, this one sat out for three days.  It keep wonderfully.
Then it was put in the freezer and it stored well there also!
Pair with
This is a natural with our corned beef soup I make with boiled dinner leftovers (or any time I am fortunate enough to have corned beef!!).
Slow Cooker Bean Sausage Stew is a wonderful pairing.
I'd love to hear how this turned out.  Did you make any substitutions?  Leave me a comment and let me know.  Enjoy!
Gluten Free Irish Soda Bread
This moist, easy soda bread is a hit with the whole family. No one will guess it is gluten free!
Ingredients
2

large

eggs

¼

cup

oil

¾

cup

sugar

1

tablespoon

baking powder *

¼

teaspoon

baking soda

½

teaspoon

salt

3

cups

gluten free flour blend **

1½

cups

buttermilk

1

cup

dried cranberries, cherries*** or currants

1

tablespoon

milk

for topping

1

tablespoon

coarse sugar

for topping, optional
Instructions
Add the oil and mix well.

Add sugar. Beat untll the mixture is thick and lighter colored, about 2 minutes.

Stir in baking powder, baking soda and salt. (Alternately you can whisk these into the gluten free flour. Both methods work well.)

Add one cup gluten free flour and mix.

MIx in half the buttermilk.

Add one cup gluten free flour and mix.

Add the rest of the buttermilk and mix well.

Add one cup gluten free flour and stir until well combined.

Grease the pan well**** and pour in the batter.

Drizzle with 1 tablespoon milk. It will pool up, this is normal.

Sprinkle with coarse sugar.

Bake for about 1 hour and 15 minutes, until a tester in the center comes out clean. If you are using a ceramic pan, check at 1 hour. If the top is browning too quickly, tent with foil.

Cook on a rack for at least 1 hour before slicing.

Enjoy! And only tell the gluten free person that this is gluten free. No one else will know!
Notes
* If you are avoiding corn, in place of baking powder use 2 teaspoons baking soda, 1 teaspoon tapioca starch and 1/4 teaspoon salt (omit the baking powder, soda & salt in original recipe)
** If your gluten free flour does not contain xanthan gum, add 1/2 teaspoon.
*** If I use cherries, I cut into 2-4 pieces so there are cherries in almost every bite!
**** We have had the soda bread stick to the pan, so grease well.  I usually use spray and use a LOT of it!