Waste not want not cooks unite!!
If you  are cooking  corned beef for St Patrick's Day and are appalled by the price of corned beef ( some of my friends have posted on  FB $50 for a 3 pound corned beef!!) I have a way for you  to use your cooking liquid to make a delicious soup.  It will help you stretch your food dollar and take you less time than making chicken stock.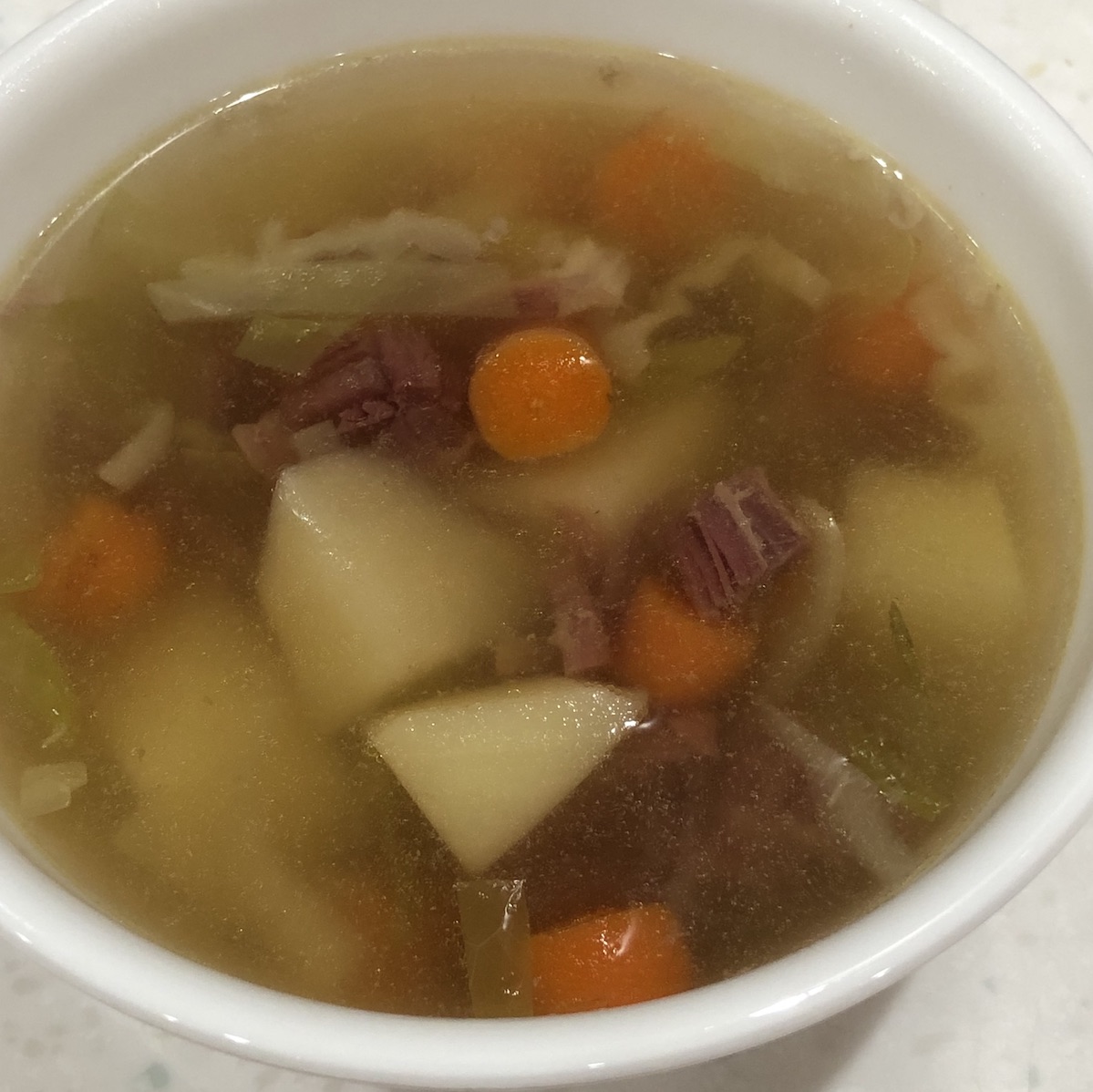 But you will need to start a day or two before you are going to cook your corned beef – at least if you use a strongly seasoned corned beef like Trader Joe's.
Making the Stock (Cooking the Corned Beef)
Rinse the corned beef and remove the spices clinging to the outside.

 

Place the corned beef in a large soup pot in your refrigerator (or garage if you

 

live in the north and it will stay 40 degrees or below.)

 

After about 12 hours, dump out the corned beef soaking water and replace it with fresh water.

 

Do this one or two more times. Three times if you are looking to reduce the sodium as much as possible.

 

Boil your corned beef as usual.

 

I use my 12 quart stock pot and it is usually filled about 2/3

 

full of corned beef and water.

 

I want lots of room to add vegetables!! Note:

 

Trader Joe's corned beefs are usually just under 3 pounds.
After my corned beef has simmered for 2-3 hours, I add carrots, potatoes, both quartered (approximately), half a small cabbage – or

 

more if your

 

family eats more cabbage –

 

and sometimes an onion or shallot.

 

Cook for about 1/2 hour.

 

During this time I usually remove the meat and place it on a plate, covered.

 

You can leave it in if you prefer.
When your vegetables are tender, use a large slotted spoon to remove them from the cooking liquid.

 

Slice the meat across the grain and enjoy!!
Do NOT dump the cooking liquid.

 

It is your "stock."

 

You can cool it in a sink filled with cold water or strain it hot.
After dinner (or the next day if you have room in your fridge for the cooking pot), strain the cooking liquid.

 

I usually package mine in 3-4 cup portions and freeze it.

 

I also try to

 

freeze small packages of corned beef to use to flavor the soup – about 6 ounces cut very small.

 

Or sometimes I freeze slices and cut when I am ready to make soup.
Food safety note:  You want to sterilize your sink after each time you pour out the water  since raw meat has been sitting in it.  This is the most time consuming  part of this recipe – that  and getting most of the mustard seeds off out of the fat of the corned beef!
Ingredients
When you are ready to make soup,
use about 6- 8

 

cups corned beef broth
2-3 carrots
2-3 all

 

purpose potatoes
a cup of cabbage sliced finely (you can use more, I like less)
about 6 ounces corned beef.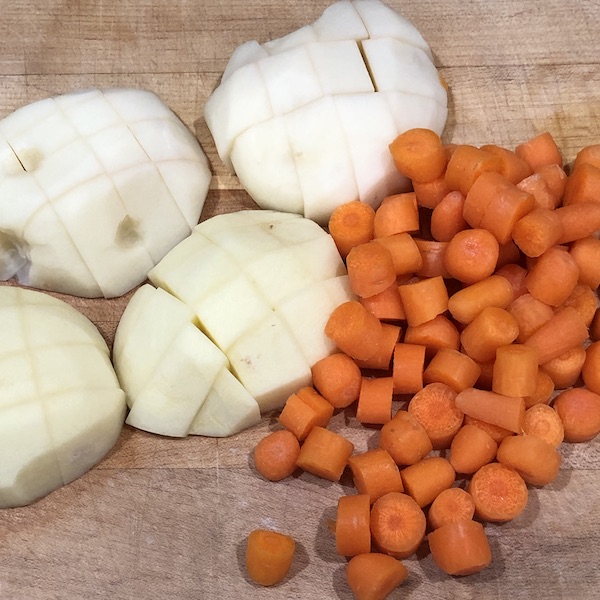 Making the soup
Thaw the broth in your soup pot while you
Peel and slice your vegetables.

 

Add the vegetables.

 

Cut your corned beef into very small pieces.

 

(If you have lots of corned beef, you can cut into larger pieces, but we never save enough!!)

 

I like a piece of corned beef in most bites of soup.
Cook until your vegetables are tender.

 

Add the corned beef and heat until piping hot.
Enjoy!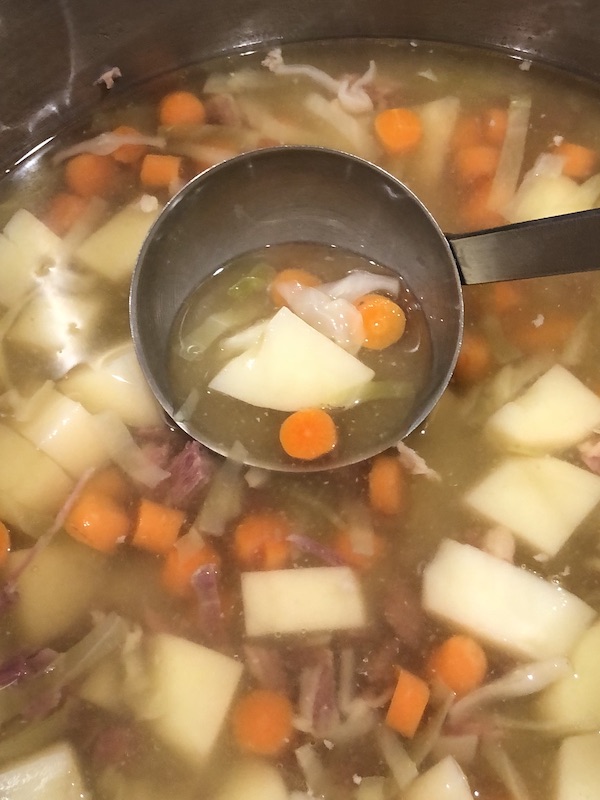 This is a light soup.  We like to serve it with cheese and crackers or other substantial sides.  It would be great paired with Quick White Beans and Tomatoes.
Corned Beef Soup
A light delicious soup that will boost your root vegetable intake. The broth is made from Corned Beef cooking liquid. A waste not, want not recipe.
Ingredients
8

cups

corned beef cooking liquid *

strained

2-3

medium

all purpose, red or gold potatoes

(not russet - they fall apart!)

2-3

medium

carrots

1

cup

shredded cabbage

6

ounces

corned beef

cut into small pieces
Instructions
If your broth is frozen, thaw in your soup pot as you peel and chop your vegetables.

Add the vegetables to the broth and cook covered over medium high heat until mixture boils. Reduce heat and simmer until the vegetables are tender, about 10-15 minutes.

Add the corned beef. Simmer until hot. Enjoy!
Notes
* Be sure to soak your corned beef for about 24 - 36 hours, changing the water every 12 hours or so.  This will be sure your broth is not too salty.
I cut my vegetables fairy small as I like to have several pieces on my spoon in one bite.
The sodium analysis is VERY approximate.  I used a lower sodium beef broth for the analysis as I have not sent my corned beef broth for analysis! 😊
Nutrition
Calories:
100
kcal
Carbohydrates:
10
g
Protein:
8
g
Fat:
3
g
Saturated Fat:
1
g
Polyunsaturated Fat:
1
g
Monounsaturated Fat:
2
g
Cholesterol:
11
mg
Sodium:
720
mg
Potassium:
850
mg
Fiber:
2
g
Sugar:
2
g
Vitamin A:
2560
IU
Vitamin C:
14
mg
Vitamin E:
1
mg
Vitamin K:
10
µg
Calcium:
15
mg
Folate:
17
µg
Iron:
1
mg
Zinc:
1
mg