Boiled dinner is what we called it when I was growing up.  Corned beef, cabbage, carrots and potatoes all boiled together.  It was delicious and an original one pot meal.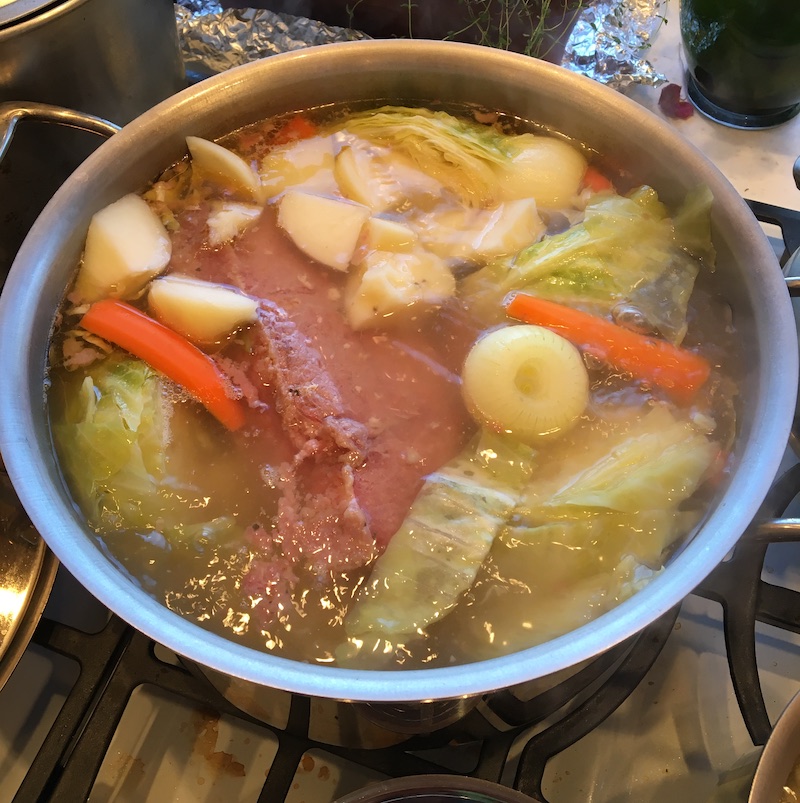 Then I married into an Irish family.  St. Patrick's Day was a celebration.  Amazing mashed potatoes were substituted for boiled ones.  It was so fun to gather with family and friends and celebrate.
Irish soda bread always seemed to be a natural accompaniment.  However I never liked the Irish soda bread I tried. It was always dry and crumbly and not worth making.
Then I took a cooking class and tasted someone's Irish soda bread that was NOT dry.  For the next few years, I made hers. But I wanted to add whole grains.  So I took the one from King Arthur's Whole Grain Baking cookbook and began to modify it.
Our Substitutions
When we avoided corn, we used baking soda, tapioca starch and salt instead of the baking powder.
We avoid raisins (grapes) so we use either dried cranberries, dried cherries cut in half, or currents.
This may not be a traditional Irish soda bread recipe, but it sure it good!!  At our house it would not be St, Patrick's Day without it.
Sweet Irish Soda Bread
Equipment
For this recipe you need an eight inch round pan that is at least three inches high. I use a French white 1½ quart casserole. A souffle dish, a panettone pan or a deep cake pan will work.
Ingredients
2

large

eggs

¼

cup

oil

¾

cup

sugar

1

tablespoon

baking powder*

¼

teaspoon

baking soda

½

teaspoon

salt

2

cups

whole wheat flour

1

cup

unbleached all purpose flour

1½

cups

buttermilk

1

cup

dried cranberries, dried cherries**, or currents***

1

tablespoon

milk

for topping

1

tablespoon

coarse sugar

for topping
Instructions
Add the oil and mix well.

Add sugar. Beat untll the mixture is thick and lighter colored, about 2 minutes.

Stir in baking powder, baking soda and salt.

Add one cup of whole wheat flour and mix.

MIx in half the buttermilk.

Add second cup of whole wheat flour and mix.

Add rest of buttermilk and mix.

Mix in the all purpose flour until smooth.

Grease the pan well and pour in the batter.

Drizzle with 1 tablespoon milk.

Sprinkle with coarse sugar.

Bake for about 1 hour and 15 minutes, until a tester in the center comes out clean. If you are using a ceramic pan, check at 1 hour. If the top is browning too quickly, tent with foil.

After cooling for 5 minutes, run a dull knife around the edge of the pan to loosen.

Cook on a rack for at least 1 hour before slicing.
Notes
Notes:
*If you  are avoiding baking powder because of corn, use 2 teaspoons baking soda, 1 teaspoon tapioca starch and 1/4 teaspoon salt (omit the baking powder, soda & salt in original recipe)
** We find that we like the dried cherries cut in half or thirds so more bites have dried cherries.
*** If you mix the dried fruit with 1 tablespoon of flour, it may be easier to avoid clumps of dried fruit in the batter.
2 teaspoons of caraway seeds can be added.  I don't like caraway seeds so I never use them.
Recipe modified from King Arthur Flour Whole Grain Baking, The Countryman Press, Woodstock, Vermont 2006.
Nutrition
Calories:
200
kcal
Carbohydrates:
34
g
Protein:
4
g
Fat:
5
g
Saturated Fat:
1
g
Trans Fat:
1
g
Cholesterol:
26
mg
Sodium:
180
mg
Potassium:
110
mg
Fiber:
2
g
Sugar:
16
g
Vitamin A:
75
IU
Vitamin C:
1
mg
Vitamin D:
1
µg
Vitamin E:
1
mg
Vitamin K:
3
µg
Calcium:
95
mg
Folate:
25
µg
Iron:
1
mg
Zinc:
1
mg