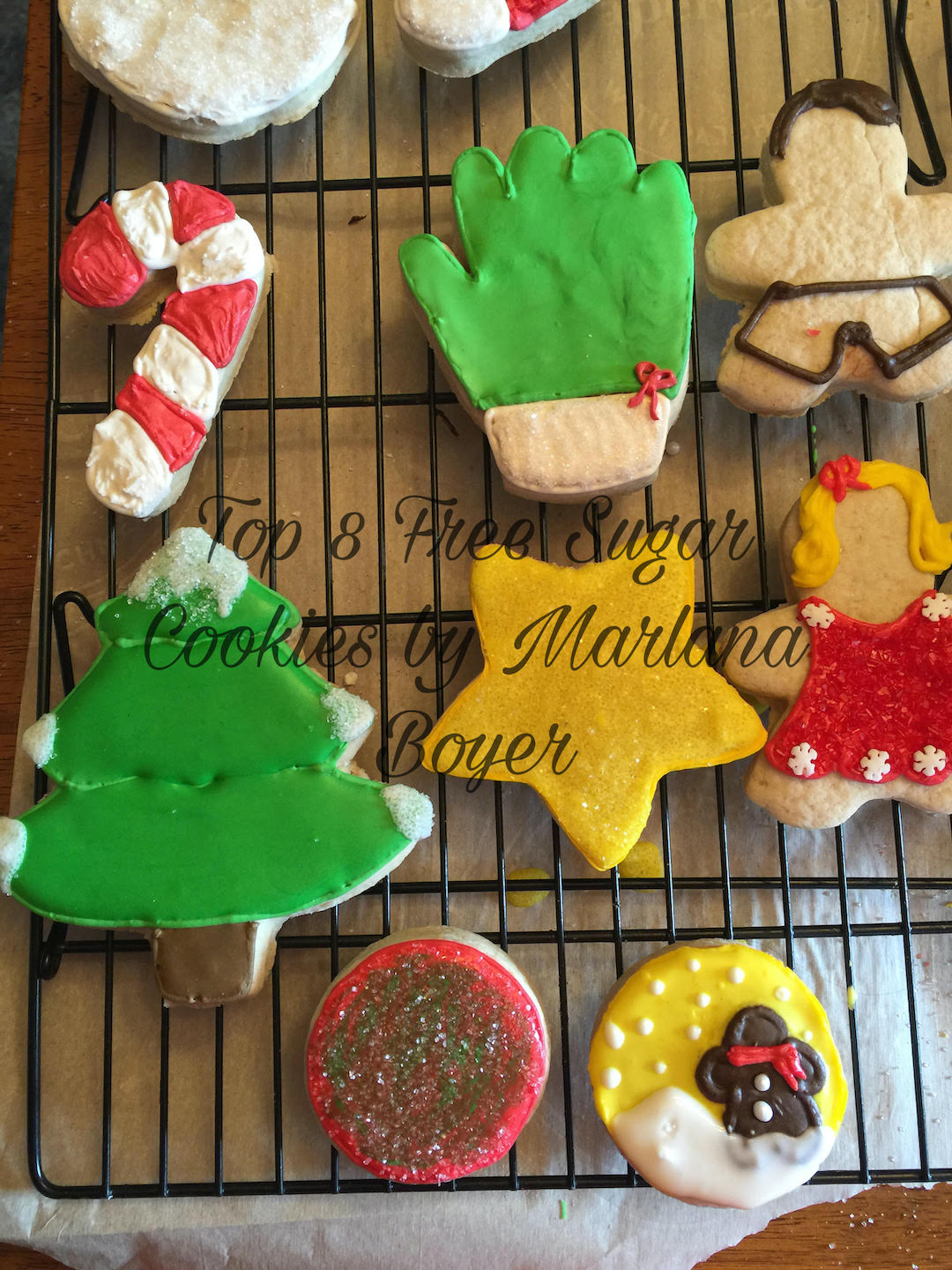 Marlana Boyer's Gluten-free, Vegan Sugar Cookies
Ingredients
½

cup

Earth Balance Soy Free Vegan Butter *

1

cup

sugar of choice

7

tablespoons

aquafaba water **

¾

teaspoon

salt

1½

teaspoons

baking powder 

1½

teaspoons

xanthan gum or arrowroot powder ***

1½

teaspoons

vanilla extract or vanilla bean paste

3¼

cups

gluten-free flour ****
MY Famous Top 8 ALLERGEN FREE Butter Cream icing.
1

cup

Earth Balance Soy Free Vegan butter *****

3-4

cups

powdered sugar of choice 

1-2

teaspoons

pure vanilla extract

3

tablespoons

milk of choice

IF NEEDED for consistency
My vegan Royal Icing
1

full can

liquid from can of garbanzo or navy beans

Do NOT use beans - only liquid (aquafaba)

1

teaspoon

cream of tartar

2

teaspoons

vanilla extract or vanilla bean paste

2

pounds

softed powdered sugar
Instructions
Mix ingredients with a stand mixer or hand electric one in the EXACT order as written creaming the butter and sugar first then adding the egg substitutes OR eggs then the rest for best results. 

IF mix seems to not want to come together and is dry and crumbly ( it happens so DON'T WORRY! ), SLOWLY add a tablespoon at a time of water till it comes together. Trust me it'll come together so take a deep breath. 

Place dough on floured parchment sheet with a second parchment sheet on top which helps prevent the dough from sticking. Roll dough to desired thickness. We love ours pretty thick here so I roll ours at about 1/2 " thick. 

Dust your desired cookie cutters with your flour then cut your shapes. Remove excess dough from the cut shapes and transfer the whole parchment sheet to your cookie sheet to prevent any cracks (if you find this easier). 

Bake on the middle each of your oven for  8-10 minutes MAX . You want to remove them when they are just starting to turn on the edges of the cookies a light gold color. They will still be soft, but the bottoms will look like they are a slight golden color. IF THEY LOOK DONE, they are OVERBAKED and will not be that soft fluffy cake like texture. 

Let cookies cool 10 minutes before removing so they do not break during transfer to the cooling rack. 
MY Famous Top 8 ALLERGEN FREE Butter Cream icing.
Cream butter on high , scrape sides,

SLOWLY add in 1/2 cup of powdered sugar at a time ( or else your kitchen will look like Christmas! ) , scraping in between adding in the sugar.

Mix on HIGH 5-8 minutes till all creamy and fluffy.

IF too THICK add in 1 TBS of your milk then mix . IF still too thick you can add in a bit more. IF TOO THIN ( you accidentally added too much milk) just add in 1/2 cup MORE powdered sugar. 

Store in air tight container in fridge for UP TO 2 weeks ( just bring to room temp then remix ) or freeze UP TO 3 months. Again bring to room temp and remix.

IF wanting chocolate; add in 1/4-1/2 cup of unsweetened cocoa in with your powdered sugar mixture. 
My vegan Royal Icing
Refrigerate can of bean 2 hrs (cold works faster then room temperature.)

Open and pour the liquid in your mixing bowl. Mix on high till it starts to froth.

Add in cream of tartar and vanilla.

Mix till it gets super frothy.

Add in 1/4 cup at a time of the powdered sugar & mix well and scrape sides before adding more.

Once all is mixed in, mix on HIGHEST setting 10 minutes till nice and shiny.

If desiring stiffer add in more sugar if wanting thinner add in 1/4 tsp of water. BE CAREFUL when adding water as it can be come too thin and can get harder to thicken again. 

Store at room temperature and use within a few days.

If you notice liquid when you go to use it say the next day or a few days later, rewhip HARD and add in a tiny bit of the sugar to bring it back to consistency. 
Notes
* Any butter of choice works beautifully as well!
** it's the liquid that's found in CANNED CHICK PEAS or NAVY BEANS ( DON'T BE PUT OFF BY THE SMELL, you WON'T be able to taste anything after it's baked) so be careful if you have LEGUME allergies) can also use 2 FLAX eggs or 2 eggs if eggs are not an allergen concern
 *** omit add if Gluten Free flour is a 1:1 that has it added
 **** My favorite is King Arthur Measure for Measure or even their Multipurpose Baking Mix . TIP: With the baking mix I do still add the xanthan gum for extra structure
***** In hot humid weather I sub 1/2 cup for Spectrum brand Shortening