Creamy, crunchy, savory, slightly tangy .  . .  this pasta salad hits all the right notes.  You don't even have to tell anyone it is good for them!!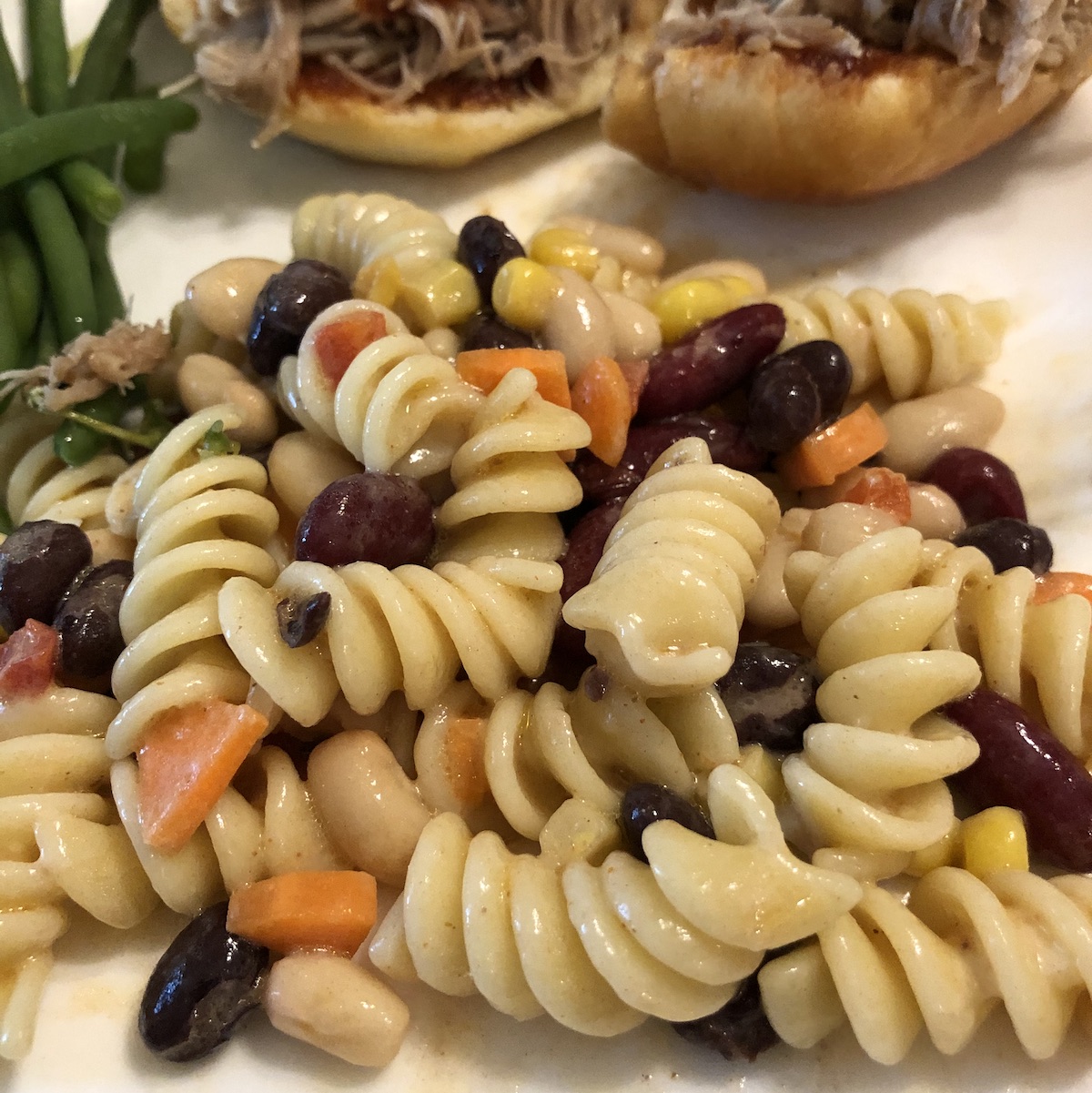 Your gluten free friends can eat it with gluten free pasta.   And the only animal product is in the mayonnaise, so pick a vegan one and you are ready to include your vegan friends.
Nutrition Tidbits
This pasta salad has 9-12 grams of protein per serving, depending on the type of pasta used.
Using regular or rice or corn based gluten free pastas will give you a salad that contains about 9 grams of protein per serving.  This is how I usually make it.
Using lentil pasta (my daughter's favorite) boosts the protein to 12 grams; 11 grams per serving with chickpea pasta.
All the salads are excellent sources of fiber with 6-8 grams per serving and are an excellent source of soluble fiber.  
All the salads are good sources of vitamin C and folate.   Chickpea pasta makes it a good source of potassium as well.
Because regular (wheat) pasta is fortified with B vitamins, it is an excellent source of folate and thiamin and good sources of riboflavin and niacin. In addition it also is a good source  of  magnesium, pantothenic acid and provides more than a third of the mineral selenium.
Any way you look at it, this pasta salad is nutrient dense!
Can I make it ahead?
Absolutely.  The marinated bean salad can be made several days ahead, and in fact the beans are better if they marinate for a day or two in the refrigerator before adding to the pasta.  The dressing can be assembled the day ahead.  And the pasta can be added a few hours or a day ahead.  I usually make it the day we are eating it, but we often eat leftovers for several days afterwards when I make a big batch!
How Long Does It Keep?
The complete salad keeps for several days in the refrigerator.  It probably will last a week, but it never lasts that long in my house.
I have kept the marinated beans (without pasta) for a couple of weeks in the refrigerator with no problems.  Their flavor only gets better!
How much does it make?
The marinated bean recipe makes a large quantity  – about 8-9 cups.   You use only two cups with four ounces of pasta to make the salad.  You can make more pasta salad with the marinated beans, or you can eat it plain or both!
Ingredients
3 cans of beans – black, red and white.

 

I usually use red beans and great northern beans but use whatever beans your family enjoys
carrots
red pepper
frozen corn – optional.

 

Sometimes I use it, sometimes I do not.

 

It is thawed, but not cooked.
Marinade
apple cider vinegar – I try to use fermented (with the "mother" to slightly boost beneficial bacteria), but any will work
oil
garlic
chili powder
salt

 

(optional – for flavor)
pepper (optional)
pasta – gluten free if desired.  Jovial is my favorite but  last time I used Great Day organic and it was good.  I have not used legume pasta as my husband is sensitive to chickpeas and I don't like the lentil pastas.  Use any smaller pasta shape.  Farfalle (especially a mini) is my first choice.
Flavor-filled Dressing
mayonnaise – pick a vegan mayonnaise if you want it to

 

be vegan.

 

(We eat eggs so I usually use regular mayo.)
lime juice
garlic
powdered mustard – just a bit, but if you like it hotter, use more, or a hot variety!
Preparation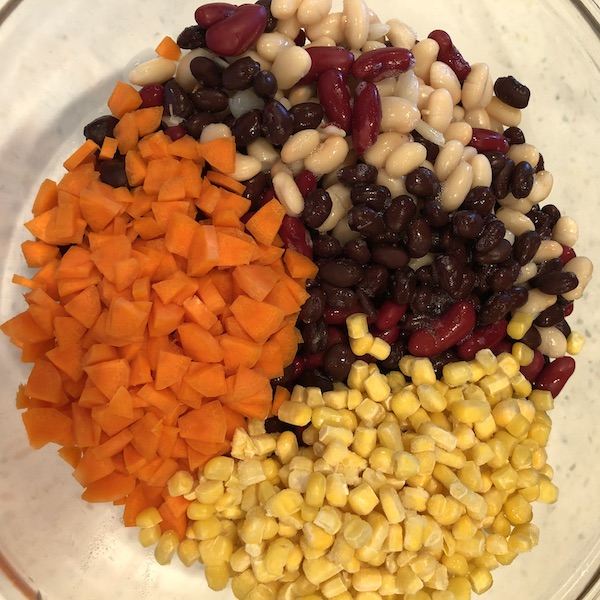 To marinate the vegetables
Mince or press the garlic and let it sit while you peel and cut the carrots and red pepper.
I cut my carrots thinly (approximately 1/16 of an inch) and in half or even sixths for a large diameter part of a carrot.

 

The red pepper is diced to about 1/2 inch pieces.

 

I like to cut them about the same size as the beans, however

 

my husband likes them bigger.  (My husband told me recently that this was not his favorite pasta salad.

 

I asked why.

 

He said the carrots are too small and the red peppers too.

 

He felt like he

 

needed to use a spoon.

 

So cut them however your family likes them.)

 

I like a bit of crunch from the carrots or red pepper in most every bite!!
Drain and rinse the beans.

 

By rinsing the beans you can reduce the sodium by about 40%.

 

Combine

 

the marinade ingredients and stir.

 

Whisk just before adding to the vegetables.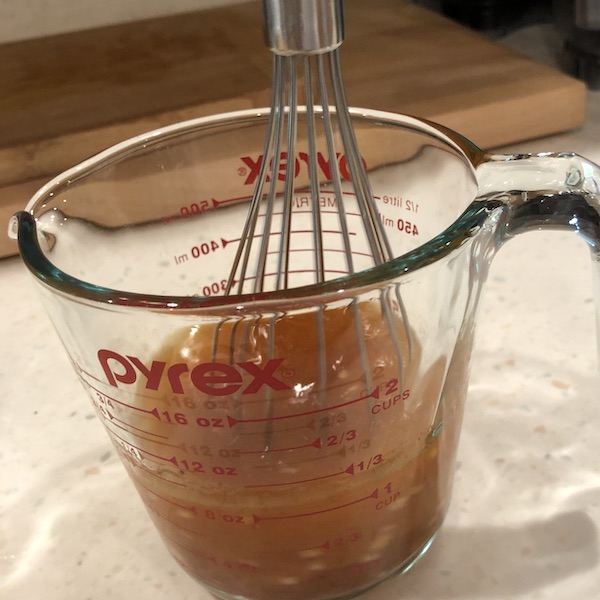 Ideally, the beans, carrots, red pepper and corn are combined with the marinade the day before  adding the pasta and dressing.   This gives the beans a chance to absorb the yummy marinade.   But it is not truly necessary.   I have made it an hour ahead and  it was still good.
You will have plenty of beans leftover, unless you are  feeding an army! They are delicious by themselves, or  you can make more pasta salad.  They store well in the refrigerator for a couple of weeks.  They make an excellent quick lunch with some fruit and some crusty bread.  Today I had some over leftover quinoa.
To make the pasta salad
Mince the garlic or put it through a press and let it stand for about 10 minutes so the beneficial allicin can develop.
Prepare the pasta according to the package instructions.

 

Mix the warm pasta with 2 cups of marinated beans and a small amount of marinade (it helps keep the pasta from sticking).
Measure the mayo and add the lime.

 

Whisk the lime into the mayo.

 

Sprinkle the dry mustard over the mayo and mix well.

 

Stir

 

in the garlic.

 

Use immediately or cover and store in the refrigerator until ready to use.
Protein Pasta Salad makes a fairly small portion, but there are enough marinated beans to make 3-4 recipes of protein pasta salad.  It is easy to increase the amount of pasta and dressing to bring to a large gathering or feed a crowd.
Enjoy!
Please leave me a review if you try high protein pasta salad.  Did you take it to a summer gathering?
Want a vegan, gluten free dessert to go with this yummy salad?   Try vegan s'more cookies!
Start your meal with chilled dairy free potato soup with cashew cream or white beans!  Just be sure to use vegetable stock to make it vegan.
Protein Pasta Salad with Marinated Beans (vegan & gluten free options)
A nutrient packed pasta salad with marinated beans that is made vegan with vegan mayonnaise and gluten free with gluten free pasta. The delicious marinated beans can be made ahead and make four recipes of pasta salad or eaten by themselves.
Ingredients
1

15 ounce can

black beans

1

15 ounce can

red beans

1

15 ounce can

red or kidney beans

2

carrots, chopped

1

red pepper, chopped

1

cup

frozen corn

optional
Marinade
½

cup

cider vinegar

¼

cup

oil

1

clove

garlic, minced or pressed

½

teaspoon

salt

½

teaspoon

chili powder
Protein Pasta Salad
4

ounces

pasta

gluten free, lentil, chickpea or regular
Dressing for pasta salad
1

clove

garlic, minced

¼

cup

mayonnaise

vegan to make salad vegan

½

tablespoon

lime juice

⅙

teaspoon

dry mustard
Instructions
Marinated Beans & Veggies
Chop the garlic and let stand while you prepare other ingredients. Add to the marinade after 10 minutes.

Measure corn (if using) and place in a bowl with a paper towel to thaw. The paper towel will absorb excess moisture. You will not cook the corn.

Drain the beans and rinse well.

Peel the carrots and cut into small pieces. On the small end, cut carrot in half and chop. As the carrot increases in thickness, cut the carrot in half and place flat sides face down on the cutting board. Cut each half lengthwise into 3-4 long strips. Then cut into 1/16 inch wide pieces.

Rinse the red pepper and core. Cut into ½ inch pieces

Place the beans, corn, carrots, red pepper into bowl.
Marinade
Place all ingredients into glass measuring cup. Whisk until well combined.

Pour over dressing stir. Refrigerate and marinate for at least an hour, stirring occasionally.

Before using, stir salad.

Beans keep for at least a week in the refrigerator.
Protein Pasta Salad
Cook pasta according to package directions.

Drain well. While the pasta is still warm, mix with 2 cups of the bean salad.

As the pasta cooks, mince the garlic.

Squeeze the lime juice. Add to the mayonnaise. Stir well.

Add the dry mustard and mix well.

Add garlic after 10 minutes of being cut. Mix well.

Add the dressing to the salad and mix well.

Refrigerate until ready to serve.
Notes
This nutrient information is for one quarter of the pasta salad, not one quarter of the beans.  Just two cups of the marinated beans are used in  the pasta salad.
Please note that the nutrition information will depend on what type of pasta you use.  Using regular pasta will  have about 9 grams of protein, gluten free pasta 8 grams, lentil pasta 12 grams and chickpea pasta 11 grams.  Regular pasta has more B vitamins (mostly due to fortification.)  Fiber varies from 6 grams for regular pasta to 8 grams fiber for lentil pasta.
Nutrition
Calories:
300
kcal
Carbohydrates:
36
g
Protein:
10
g
Fat:
13
g
Saturated Fat:
2
g
Sodium:
215
mg
Potassium:
300
mg
Fiber:
7
g
Folate:
47
µg