Chia Seed Pudding is a great way to increase your omega 3 and fiber intake while providing a complete source of protein.  This recipe provides 8-9 grams of protein per serving and uses oat or almond milk and a peanut or almond one ingredient protein powder.  To increase the protein even more, use a soy or pea protein milk.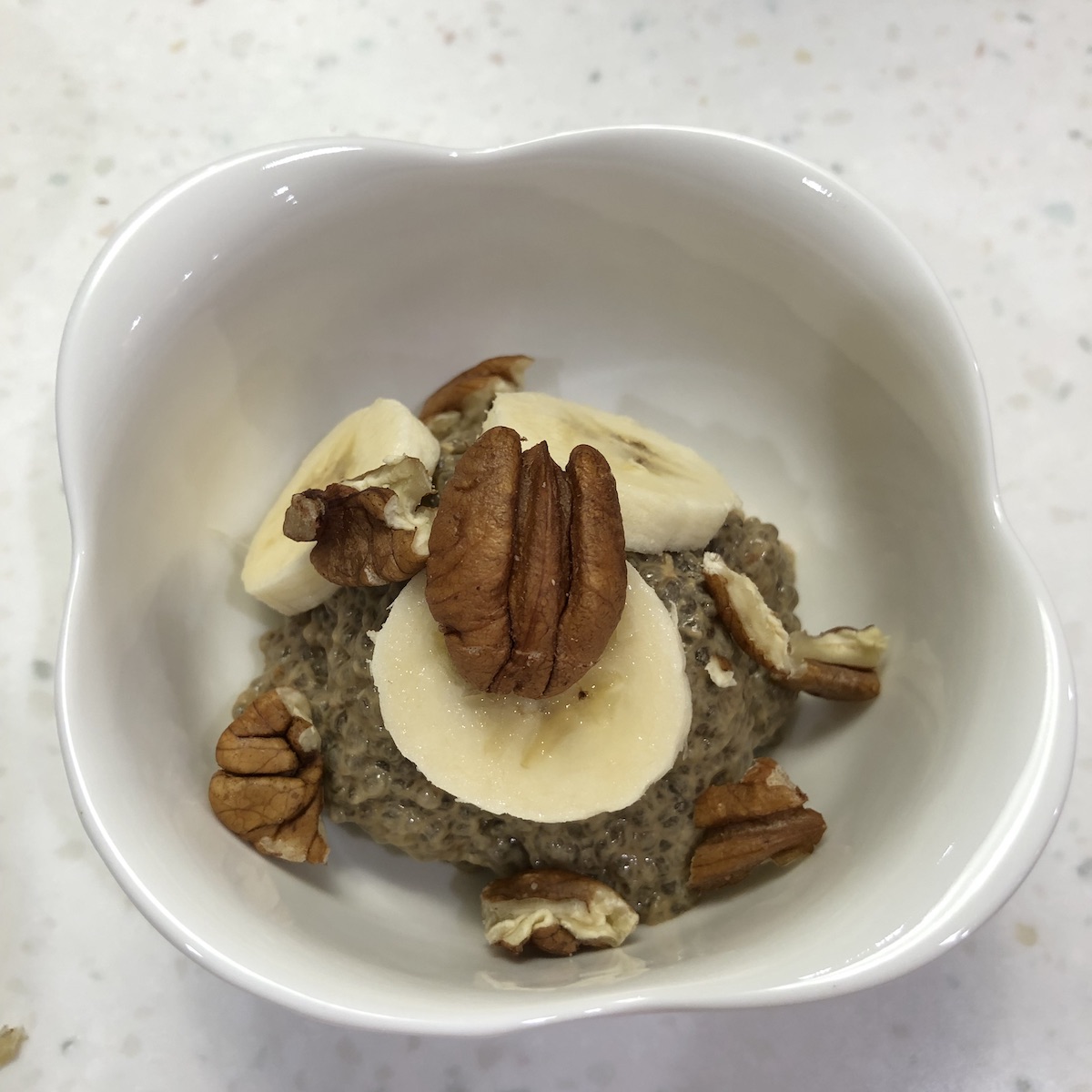 Have you cooked with chia seeds yet?
Chia seed pudding has become a favorite in our house.  It's quick, and has only a few ingredients.  
If you are making it for breakfast, it is made the night before – a bonus for those of you not morning people – like me!
It also makes a great snack or dessert.
Chia seed pudding is a great template for all kinds of delicious, nutritious toppings.  Hazelnuts and berries or mango are my favorite but bananas, peaches, pecans and walnuts are all yummy.  Plus you can sprinkle with spices – cinnamon, cardamom, nutmeg.  
Your sweetener can also add flavor.  We like dark maple syrup, but molasses would also be great.
Chia seeds have texture – similar to tapioca, but they are smaller and there is more of them.  
Why cook with chia seeds?
If you do not eat fish, you need another source of omega 3s.  Chia is the best plant source of omega 3 fatty acids.  Unlike flax seeds which need to be ground in order for the omega 3 fatty acids to be absorbed, when chia is soaked, the omega 3 fats are able to be absorbed.
In addition they are a good source of soluble fiber. One tablespoon of chia seeds contains 5 grams of fiber – mostly soluble.  In fact more than 80% of the CHO in chia is fiber.
Chia seeds are a plant source of complete protein.  This means that they contain all the amino acids your body cannot  make in approximately the same proportions your body needs.
Ingredients
Chia pudding is gluten free, egg free, nut free, soy free, and it can easily be made dairy free. 
Milk – almond or oat milk (these are used in the nutrient analysis below).  Soy and pea protein milk will add even more protein.
Chia seeds –  white or black – Both confer identical benefits and taste the same, so use whatever your grocery store carries.
Sweetener – we use dark maple syrup but honey or agave should  both work fine.   You will vary the amount of sweetener to your taste.  Start with one tablespoon per cup of milk.
Vanilla extact – optional but yummy!  You can also sprinkle your individual serving with  cinnamon, cardamom, pumpkin pie spice, nutmeg, etc etc
Toppings – we like to top with chopped nuts.  If your family  can eat nuts I recommend them at least at first.  Chewing the nuts seems to make the texture from the chia seeds less noticeable. Chopped hazelnuts are our favorite but pecans are a close second!  We also like chopped fruit – mangos &  berries are our favorites but bananas and peaches are also yummy.  If I am in a hurry I just grab some chopped hazelnuts & eat!
Preparation
This recipe requires no cooking.  Upon mixing with milk, the fiber in the chia seeds swells to form a gel – a pudding like consistency.  The only trick is to stir it several times in the first 10 – 15 minutes so it does not clump.  Then let it sit for several hours or overnight.  
We like to make it in the evening so it is ready for breakfast in the morning.  It keeps for about a week in your refrigerator.
Increasing the Protein
There are 3-4 grams of protein in this chia pudding per serving before adding protein powder.  To increase the protein, you can add a protein powder.  I like one ingredient protein powders – both the almond and peanut butter varieties.
Because we are careful of hydrolyzed protein in our house (migraines), we do not use many protein powders.  But I was SO excited to find both a peanut and an almond protein powder both with ONE ingredient – almonds or peanuts.
In order to increase the protein in almond or peanut flour, the oil is first pressed out of the peanuts or almonds.  Then the remaining solids are ground in to a very fine powder.  The almonds or peanut powder will add 5 or 5.5 grams of protein per serving.  
You can add whatever protein powder you desire.  However if it has added sweetener or flavors, that will be reflected in the chia pudding.
Because the protein powder adds body to the milk, fewer chia seeds are required to make chia pudding.  Thus the omega 3s and the fiber will be lower in the resulting protein chia pudding.  The net protein added only ends up to add 4 grams per serving because of the protein lost from using fewer chia seeds.  
The texture of protein chia pudding with nut powder is slightly different than regular chia seed pudding.  It has more body and is dryer.  My husband says it is chalky but one of my tasters said that the almond powder with almond milk was his favorite of all the chia seed puddings.  
So to add more protein, you will lose something in the texture of the pudding.  But it is still an excellent breakfast or snack choice.
In my house we liked the almond milk with almond or peanut powder best.  Let me know what version your family prefers!  I'd love to hear if you use ripple or soy milk.
Vegan Chia Protein Pudding
Ingredients
2

cups

unsweetened non-dairy milk *

⅓

cup

almond or peanut protein powder**

4

tablespoons

chia seeds

2

tablespoons

maple syrup ***

1

teaspoon

vanilla
Instructions
Combine milk, chia seeds, maple syrup and vanilla. Stir well.

Stir every 5 minutes three or four times.

Eat or let sit overnight.
Notes
* Almond and oat milk contain about 2 grams of protein per cup.  You will increase the  protein with soy or pea milk.  The  nutrient analysis used almond milk.  It will vary depending on the milk used.
**Use the amount of protein powder to give you  20-22 grams of protein (typically this is one serving on the package)
***If you use sweetened non-dairy milk, wait until tasting the milk before adding maple syrup, or other sweetener,   Instead of maple syrup, you can substitute sugar or molasses.
Nutrition
Calories:
150
kcal
Carbohydrates:
16
g
Protein:
8
g
Fat:
6
g
Saturated Fat:
1
g
Polyunsaturated Fat:
4
g
Monounsaturated Fat:
1
g
Trans Fat:
1
g
Sodium:
170
mg
Potassium:
225
mg
Fiber:
5
g
Sugar:
6
g
Vitamin A:
6
IU
Vitamin C:
1
mg
Vitamin E:
1
mg
Calcium:
300
mg
Folate:
6
µg
Iron:
2
mg
Zinc:
1
mg