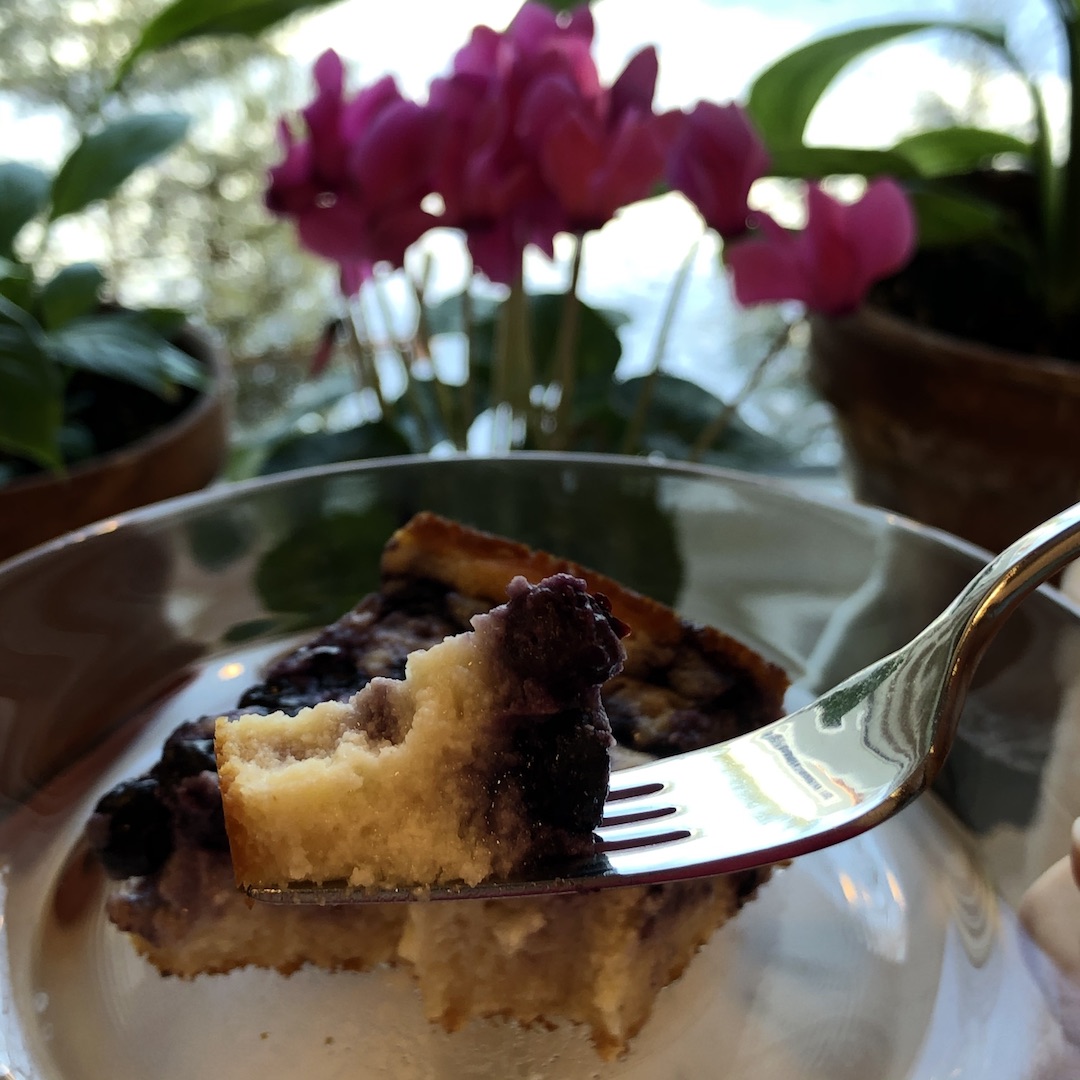 Holiday mornings are coming up.  You want something make ahead but special – here is my suggestion – blueberry ricotta breakfast cake.  Yum!
This recipe is modified very slightly from a King Arthur Baking company recipe.  I give them all the credit including eating it for breakfast.  In my house this is a "breakfast" cake, not a dessert cake, although it would make a lovely dessert as well. 
Now "cake" is a somewhat loose term here.  Blueberry ricotta cake is reminiscent of a ricotta based chessecake without all the heaviness. It is not quite as creamy as a cream cheese based cheesecake.  Ricotta has a different texture than cream cheese. Blueberry Ricotta Cake is moist, soft and worth making for holiday breakfasts.  It makes 12 generous servings and keeps well in the refrigerator.
One serving of blueberry ricotta breakfast cake has 12 grams of protein, about 20% of the B vitamin riboflavin and 15% of vitamin B12.  It also has about 13% of the calcium and 17% of the selenium an adult needs in a day.  Plus there are antioxidants in the blueberries.
A few recipe notes:
I make the amount in this recipe and it fills a 9 x 13 pan.  This way I use the entire 15 ounce container of ricotta cheese.  But you can easily half the recipe and use an eight inch round cake pan.
I usually use frozen blueberries because I have them in my freezer almost all the time.  You may need to increase the baking time slightly, but they work great.  I do not thaw them before placing them on top of the cake.  I just plop them on frozen.
Substitutions:
Flour: I have not tried gluten-free but it should work fine.  
Dairy:  Dairy is the basis of this recipe. I have not tried these substitutes.  I am not sure how it will turn out, but tofu ricotta is what I would try (if my family could eat soy).  
Here is a recipe to use tofu to make ricotta in five minutes.  Dairy-Free Ricotta Cheese Recipe for Vegans  Then use a non-dairy plain yogurt.  Depending how strong the yogurt flavor is, the yogurt taste may come through in your finished product.  King Arthur Baking Company has a different dairy-free version of the recipe.
Eggs:  Eggs add structure to this recipe.  I would probably use aquafaba as a egg substitute in this recipe.  Aquafaba is the liquid you drain off from cans of chick peas (and some other beans as well like kidney beans.).  It contains protein and you can whip it and use it to make mayonnaise!
Blueberry ricotta cake keeps a week or so in the refrigerator.  I do not know exactly how long because it does not last long in my house!  I like it cold, straight from the fridge.  Several of my family members warm it in the microwave.
Enjoy!
Note:  I have used part skim ricotta and full fat yogurt for the nutrient analysis, but feel free to use whatever fat level you want in this recipe.  You could substitute sour cream for the yogurt, but it will decrease the protein.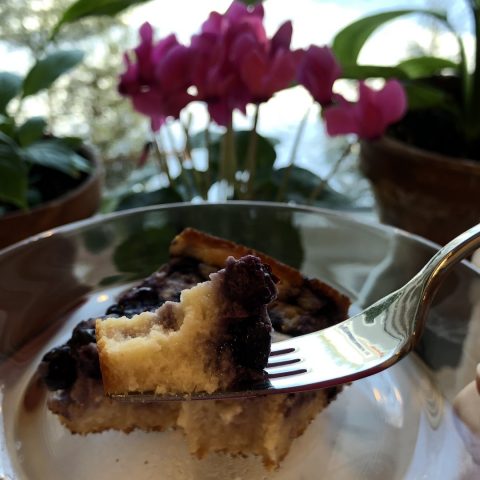 Blueberry Ricotta Cake
Ingredients
6

eggs

1

cup

sugar

(scant)

3/4

cup

oil or melted butter

1

15 ounce container

ricotta cheese

2

cups

plain Greek yogurt

2

teaspooons

vanilla extract

1

cup

unbleached all purpose flour

1

cup

white whole wheat flour

1/2

teaspoon

salt

2 1/2

teaspoons

baking powder

3

cups

blueberries

fresh or frozen
Instructions
Beat eggs and sugar until combined.

Slowly add oil and beat for several minutes to combine.

Add yogurt, ricotta and vanilla, one at a time. Beat well after each addition.

Add one type of flour and baking powder. Mix to combine. Scrape bowl well.

Add second flour and salt. Mix to combine. Scrape bowl well.

Place batter in prepared pan.

Place blueberries on top of batter. Blueberries should cover the pan.

Bake for about 1 hour. Cake is done when a tooth pick inserted in the center comes out clean, or with just a couple of crumbs on it. Test at 50 minutes if you are using fresh blueberries, and 1 hour if your blueberries are frozen. Cake may jiggle slightly in center.

Let rest at room temperature for 30 minutes to firm up before cutting.

Store in the refrigerator.
Nutrition
Calories:
350
kcal
Carbohydrates:
38
g
Protein:
12
g
Fat:
17
g
Saturated Fat:
3
g
Cholesterol:
84
mg
Sodium:
280
mg
Potassium:
180
mg
Fiber:
2
g
Sugar:
22
g
Vitamin A:
135
IU
Vitamin C:
4
mg
Vitamin D:
1
µg
Vitamin E:
3
mg
Vitamin K:
17
µg
Calcium:
165
mg
Folate:
20
µg
Iron:
2
mg
Zinc:
1
mg