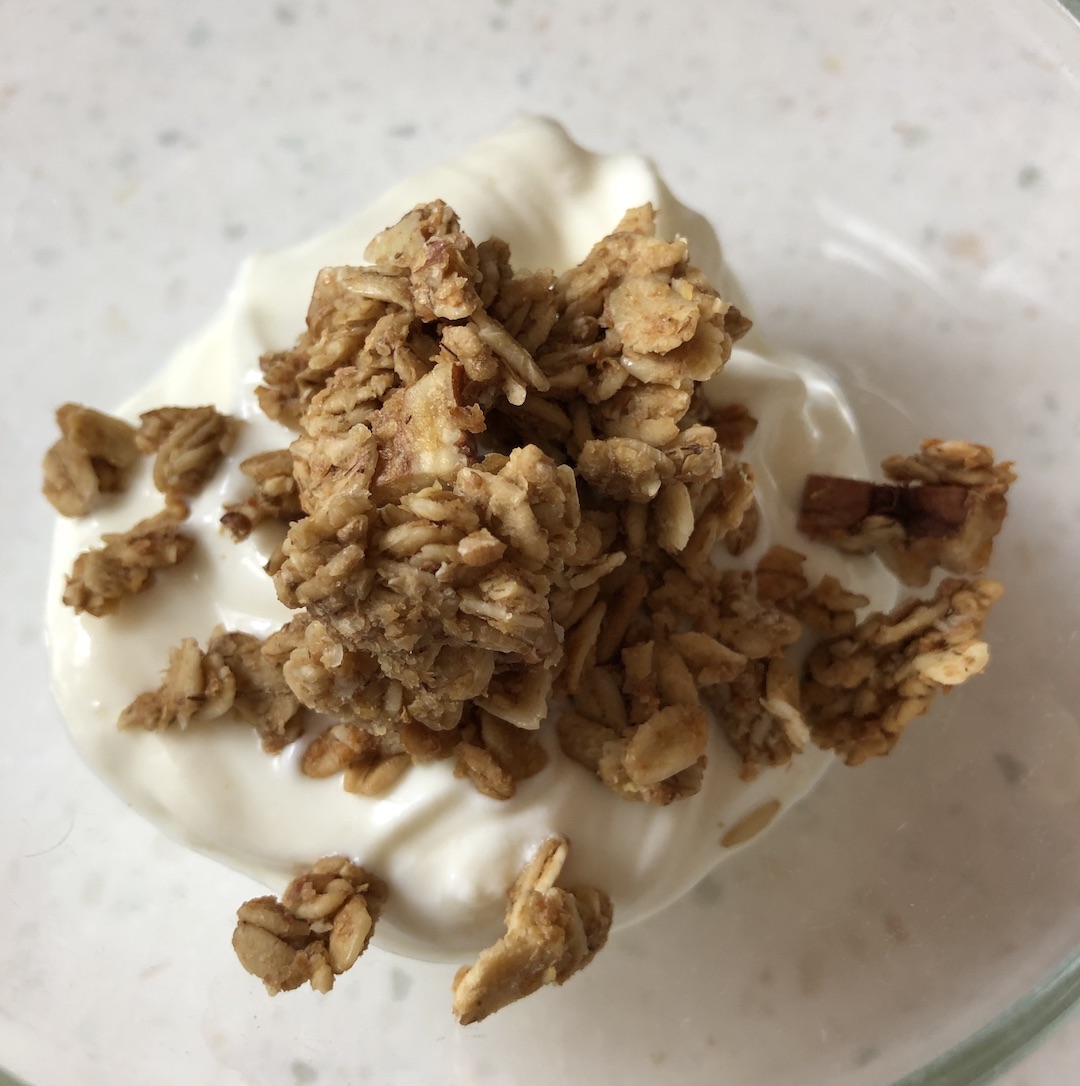 Higher protein? Vegan protein?  Yes!  For this granola, the protein content depends on the type of nuts you use.  Almonds are higher in protein than walnuts or pecans.  
This almond granola contains 7 grams of protein per 1/3 cup serving.  (Stay tuned: I am experimenting with an almond / almond butter version which adds at least one more gram of protein). I do not use protein powders, so you will not find them in this high-protein recipe. 
You can modify the flavorings to your heart's content.  Over the years we have tried cinnamon, cardamom, orange peel, vanilla and a variety of dried fruit; dried cherries and cranberries are our favorite dried fruits to add.  
But in my family, we prefer plain granola without additional flavorings.  We adore maple flavor and the other flavors seem to obscure the maple.  So our granola is pretty simple.
Chunks
We like our granola with big crunchy chunks.  My husband figured out how to create big chunks years ago – do you know how to do it?
I would make granola with wheat germ.  He would make his with oat bran (because he avoids wheat).  His had big chunks.   Mine did not.  Bummer.  We all liked the big chunks and maple flavor his had.  
Turns out that the solution was a simple one: more water. (Yes, really!)
Ingredients
Oats are the basis of this breakfast staple (which is also delicious at lunch and for snacks).  Oats are a whole grain loaded with soluble fiber. 
The wheat germ adds nutrients and helps bind the liquid and oats to form big chunks.  I recommend toasted wheat germ which tastes better in this recipe. Wheat germ is not a regular ingredient in my kitchen.  But I always have some in my refrigerator for making granola.  It keeps well refrigerated.
The maple syrup, oil and water serve as the liquid ingredients.  They bind the oats and wheat germ.  As the granola bakes it dries out. If you are careful when you flip the granola halfway through baking, you will have big chunks of granola.  If you dislike big chunks, you can stir the granola on the sheet instead of flipping it so that you will not have any chunks.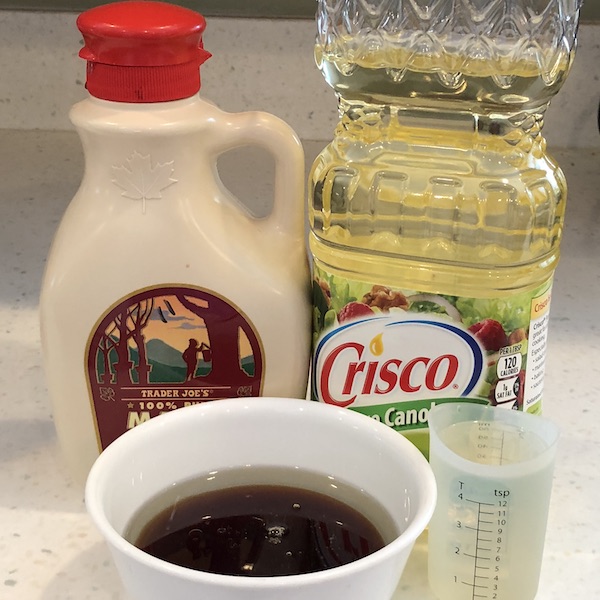 For big maple flavor be sure you are using dark maple syrup (previously called grade B).
There is also brown sugar in the recipe.  There are two reasons for this.  First, brown sugar gives a depth of flavor that we find appealing.  Second, using brown sugar is much cheaper than adding more maple syrup.  But you can certainly use all maple syrup.
Cost
Before we talk about how to make this easy granola recipe, let's mention price.  Have you priced gourmet granola lately???  Last time I did it was $9 for a bag that would be less than half of this recipe!  You can save serious money by making your own granola.  Enough money to justify the purchase of real maple syrup if it is not already in your kitchen!
How To
The basic recipe and technique is the same for all the granolas.  So here we go. . . . 
Combine the oats, wheat germ, brown sugar and salt in a bowl.  Mix well.  I often use my hands to break up the brown sugar lumps quickly.
Put the maple syrup, oil and water in a glass measuring cup.  Microwave until steaming.  
Whisk the hot liquid ingredients and pour into the dry ingredients.  Mix thoroughly with a heat-resistant spatula or spoon.  
Add the almonds and mix again.  Dried fruit will dry out too much if you add it now.  You will add it when you flip the granola (if you are using it.)
Place the granola in a lined, rimmed half-sheet pan.  
If you want your granola to be chunky, pat down the mixture as you spread it out on the pan.  The granola should cover the pan.
Bake for 30 minutes.   Remove the pan from the oven.  Carefully flip the granola one spatula full at a time.  If you want your granola to be in larger chunks, you need to take your time to flip the granola carefully so that the chunks remain intact.
If you are adding fruit, you can sprinkle it over the granola.  (You can also add it after baking if you desire.)
Turn the baking sheet back to front and return it to the oven.  Bake for about 20 more minutes.  You want the granola to be golden brown.  It should be fairly firm, but it will crisp up more as it cools.  
Cool the granola at room temperature until completely cool.  Then store in an airtight container.  Enjoy!
Nutrients
Wheat germ is a powerhouse.  There is about 1 tablespoon wheat germ in each serving of granola.  For 20 calories, it supplies 1 gram of insoluble fiber, half a gram of unsaturated fat, and is a good source of vitamin E, folate, magnesium & zinc.  
Oats supply fiber (mostly soluble) as well as protein.  One quarter cup of oats supplies 50% of the manganese you need in a day and 64% of the molybdenum.  More than 25% of phosphorus, copper and the B vitamins biotin and thiamin.  
So for 1/3 cup granola you will receive 7 grams protein, 4 grams fiber, and all the vitamins and minerals in the wheat germ and oats.  And the almonds include unsaturated fat, protein,
Higher Protein Granola
Crunchy, chunky, maple-y granola that is higher in protein due to the protein in nuts, oats and almonds. It is simple to make and an affordable breakfast, snack or lunch.
Ingredients
3

cups

old fashioned oats

3/4

cup

toasted wheat germ

3

tablespoons

dark brown sugar

¼

teaspoon

salt

1

cup

almonds, chopped

4

tablespoons

oil

¼

cup

maple syrup

darker if possible

½

cup

water
Instructions
Preheat the oven to 275°.

Combine the oats, wheat germ, brown sugar and salt in a large bowl.

Mix the dry ingedients with a spoon or your hands. Be sure to break up the brown sugar.

Combine the maple syrup, oil and water in glass measuring cup.

Heat liquid ingredients in microwave until steaming.

Whisk the hot liquid ingredients.

Pour liquid ingredients over dry ingredients and mix thoroughly.

Mix in nuts. If using dried fruit, wait until the granola is turned to add the fruit.

Place mixture on a rimmed cookie sheet covered with a liner or parchment.

Pat down the mixture with a spatula to spread it out. Pat it down if you like chunks in your granola

Bake in 275° oven for 30 minutes.

Remove granola from oven and flip with a spatula. If you want large chunks, try to disturb the granola as little as possible as you flip it.

Add dried fruit if you are using it.

Return to the oven for about 15 minutes.

If the granola looks golden brown and is quite dry, it is done. If it is not golden brown, or too "bendy" or soft, return to the oven for about 10 minutes. The granola will firm up a little bit as it cools, but not significantly.

Cool completely on the cookie sheet.

Store in an airtight container.
Notes
You can substitute other nuts for the almonds, but it may decrease the protein content of this recipe.
Nutrition
Calories:
240
kcal
Carbohydrates:
27
g
Protein:
7
g
Fat:
13
g
Saturated Fat:
1
g
Trans Fat:
1
g
Sodium:
53
mg
Potassium:
241
mg
Fiber:
4
g
Sugar:
8
g
Vitamin A:
1
IU
Vitamin E:
4
mg
Vitamin K:
4
µg
Calcium:
55
mg
Folate:
33
µg
Iron:
2
mg
Zinc:
2
mg