I am not a meatloaf fan.  I never order it when we go out.  If I have choice, I choose something else.
Unless it is my Grandma's meatloaf recipe.  It is the only one I like.  And I not only like it, I adore it.  When my son heard I was sharing this recipe, his eyes lit up and he said, "Does that mean you are making meatloaf?!"
My Grandma never heard of gluten-free.  She made delicious homemade food for her family.  We ate it for years before anyone heard of gluten free.  So it it just fine for EVERYONE!
What's the secret?  Rice Krispies!! They hold the moisture and keep it moist and lighter.
Why make meatloaf?
Delicious and moist.  Meatloaf is ground meat, liquid and binder to keep it together and maintain moistness.

 

Easy to chew if a family member has braces or dental work.

 

Comfort food, for those days when you need something familiar.
Simple recipe that is easy to make.

  Also easy to customize.

Makes a large amount so it is easy to prepare for freezer meals.

 

It tastes just as delicious reheated as fresh – well almost as delicious – you miss the wonderful aromas that tell you meatloaf is for dinner – hooray!
How to Store
This meatloaf freezes wonderfully.

 

I usually cut each meatloaf in half, wrap in plastic wrap, put in a freezer bag, label and freeze.
You can also slice the cooked meatloaf and lay the slices on a baking sheet and freeze the slices individually.

 

After it is frozen, wrap each slice and place in a freezer bag for storage.
The meatloaf can be made into three loaves instead of two, slightly reducing the cooking time. Smaller meatloaves can be frozen individually for meals.
The meatloaf is going to cook at a high temperature for 10 minutes to give it a nice sear.  This will both add flavor as it will brown, and serve to lock in some of the moisture. Some moisture will leak out – it is ok. But line your pan or you will have to scrub it.)
Substitutions
This recipe is very easy to modify.  Let's talk about modifications:
Eggs – You can use an egg replacer like flax eggs, or you can do what my mom did, just leave out the eggs.
Milk – use whatever unflavored milk your family tolerates
Onions – we substitute shallots.  You could also use chives, or scallions if they work for you.  Garlic should work, but I have not tried it.
Ketchup – to kick it up a notch, I use fermented ketchup if I have some in the fridge.  Use canned pureed tomatoes if the additives in ketchup bother you.
Beef – any ground meat will work, but the flavor will be different
Equipment
Large bowl
Sharp knife & cutting board
Liquid measuring cup (I use a 2 cup)
Measuring cup for Rice Krispies
whisk or fork
Large spoon
Small bowl for cracking eggs
Rimmed baking sheet
Heavy duty foil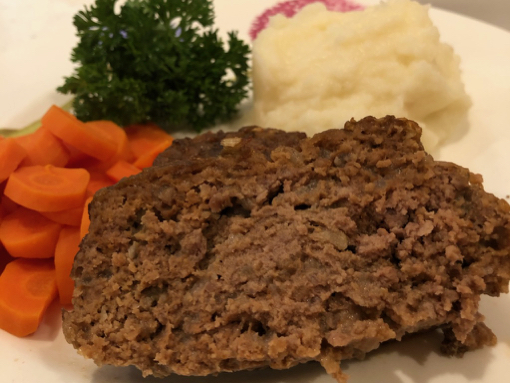 Our Favorite Gluten-Free Meatloaf
Delicious, easy meatloaf recipe using Rice Krispies to keep it moist.
Ingredients
3

pounds

ground sirloin

1

large

onion

chopped

3/4

cup

ketchup

3/4

cup

milk

2

eggs

4

cups

Rice Krispies
Instructions
Line a rimmed baking pan with heavy duty foil.  Fold up sides about an inch on all four sides and fold corners so they stay up. (While this step is optional, it will save you time in the clean up. This meatloaf ALWAYS leaks. See step 15 below for a visual.)

Preheat oven to 450 degrees.

Measure ketchup and milk in a 2 cup measuring cup.

Crack two eggs in a small bowl.  Mix well.

Whisk the milk and ketchup together. 

Break up meat in a large bowl.

Add onions and gently mix.

Add the liquid ingredients.  Mix gently.

When throughly combined, measure and add rice krispies.  Mix gently.

Divide the mixture into two parts.  Gently form an oblong shape from each half and place in prepared pan.

Place pan in preheated oven for 10 minutes.

After 10 minutes, reduce the heat to 325 degrees and continue to bake for 45 minutes.

Test the meatloaf with an oven thermometer.  The center should be 160 degrees.  If not, place back in the oven and test again in a few minutes.

Let rest for a few minutes before slicing. Enjoy!
Nutrition
Calories:
240
kcal
Carbohydrates:
10
g
Protein:
18
g
Fat:
13
g
Saturated Fat:
5
g
Cholesterol:
79
mg
Sodium:
210
mg
Potassium:
335
mg
Fiber:
1
g
Sugar:
4
g
Vitamin A:
575
IU
Vitamin C:
6
mg
Vitamin D:
1
µg
Vitamin E:
2
mg
Vitamin K:
1
µg
Calcium:
34
mg
Folate:
55
µg
Iron:
4
mg
Zinc:
4
mg