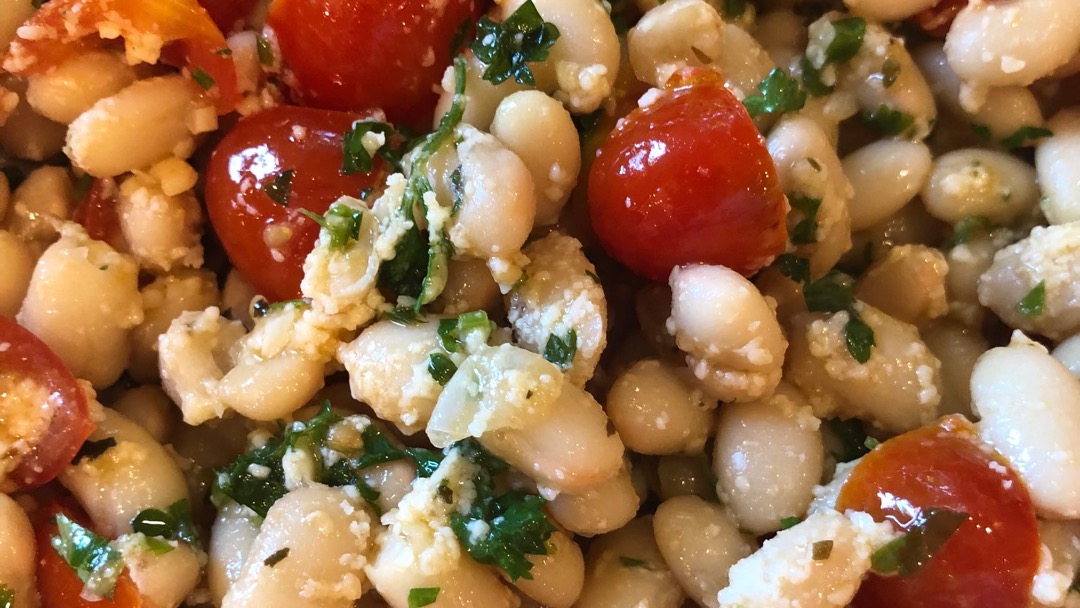 Quick, tasty, cheap, loaded with fiber, plant protein, potassium, folic acid, iron and calcium.   This recipe ticks all the right boxes.  It is my college daughter's favorite lunch.
Mincing the garlic
We are going to start with a disease fighting tip right off the bat: start with mincing the garlic. This is so that the allicin, the major bioactive in garlic, has time to form.  Allicin is formed from the enzymes which occur in garlic, working on the allinin in garlic.  It takes about five to 10 minutes without heat or acid, so make it a practice to chop your garlic first.  The allicin seems to be fairly heat stable – so you can cook it after 10 minutes.
Mince with a knife and let stand on your cutting board.  Or if you are using a garlic press, put the oil in the pan and press the garlic right in the pan on top of the oil. (Don't turn the pan on – we are not ready for that step yet.)
Chopping the parsley
takes the most time in this recipe.  So I suggest you do this next.  There are several ways to cut parsley.  While free cutting with a cook's knife and snipping with scissors are popular, they always seem to be more work to me.  Here's my favorite method:
Grab a small bunch, discarding any yellow or slimy pieces.  Rinse the parsley under cold running water.  If your parsley comes in a bunch, keep the stems together as you rinse and dry it. After you run the parsley under running water, shake it out and pat it slightly dry it on an old kitchen towel.  
Keep the stems together (gather them like a bunch of flowers).  Put them on a cutting board, holding onto the green leafy parts.  Cut the parsley stems off & discard.  Keep hold of the green leafy parts!  Now slowly use your knife to cut the parsley into small pieces working from the end where you cut off the stems, as you slide your hand slowly toward the end of the parsley.  A few pieces will jump out – that's ok!  Just cut these few smaller if you desire.
My parsley is cut in just a few seconds.  Remember everything takes more time the first 10 times you do it!  I find it much faster than scissors or random chopping.
Wash and chop your tomatoes.
If using grape tomatoes, I quarter lengthwise then cut in half or thirds depending on the size of the tomatoes.  
Open, drain and rinse your beans.
Rinsing will remove about 1/2 the sodium from canned beans.
Rinse the outside of your lemon and cut it in half.  Squeeze or use a reamer to juice your lemon.  You will use about half a lemon.  Set the juice aside.
Turn on the stove.
Put your oil in your trusty 12 inch skillet (I adore my All Clad d5  – it will last me a lifetime!) and add the garlic.  Medium works well on my gas stove.  While it begins to sizzle, grab your herbs and measuring spoon.  The original recipe calls for just basil.  I usually use basil and oregano.  Last time I added marjoram.  Yum!  
When your garlic smells wonderful (about 30 seconds to one minute) but is not brown, add your spices and stir for about 30 seconds more stirring several times (you do not want your herbs to burn.)
Add your tomatoes and beans.  Stir.  
While this is heating, measure your parmesan.  Start with about 1/3 cup.  Set it aside with the lemon juice.
As your beans and tomatoes heat, stir several times.  You can add the parsley now, or just before you turn off the heat.  Either is fine.  If you get distracted and your mixture dries out too much and starts to stick to the bottom of the pan, don't worry – just add a few tablespoons of water.  You want them to have a little "sauce" – & not be dry.
When you are ready to eat (or when the beans are warm and the tomatoes are slightly cooked  (about 5 minutes) stir in the lemon juice and parmesan cheese.  Turn off the stove.  You have a choice.  If you leave the pan on the burner for a few minutes after adding the cheese, your cheese will melt more and have less grainy texture.  But you will have a cheesy pan to clean that will not make you happy to clean.  (I take mine off the burner as I add the parmesan!!)  Enjoy!
This is a VERY flexible recipe.
My daughter uses twice as many tomatoes and does not drain her beans.  Use whatever dried or fresh herbs appeal to you.  
If you are allergic to dairy or are vegan try a couple tablespoons of nutritional yeast in place of the parmesan.  Or simply leave it out.  If you are lactose intolerant, parmesan is an aged cheese with little lactose left so you may find you can tolerate the parmesan in this recipe.
Let me know if this becomes a favorite in your family too!  We love it with steamed broccoli or a soup like this 3 ingredient cabbage soup recipe.
Quick White Beans, Tomatoes, Parmesan & Parsley
Tasty, vegetarian great northern bean recipe that is fast, inexpensive and healthy.
Ingredients
1

tablespoon

oil

2

cloves

garlic

minced, about 1 teaspoon

2

cans

Great Northern beans

20

grape tomatoes (or 1 large tomato, diced)

quartered

.25

cup

parsley

chopped

.5

teaspoon

dried basil

.5

teaspoon

dried oregano

.33

cup

Parmesan cheese

grated

1

tablespoon

lemon juice
Instructions
Mince garlic & let stand while you prepare other ingredients.

Squeeze lemon juice, measure parmesan

Saute garlic in oil until fragrant over medium heat (about 30 seconds).

Add herbs and saute another 30 seconds stirring frequently.

Add tomatoes, beans and parsley. Cook about 5-8 minutes, until beans are heated through and tomatoes begin to release their juices / change shape.

Off heat, add lemon juice and stir in parmesan and serve.
Notes
modified from Lickety-Split Meals for Health Conscious People on the Go! by Zonya Foco, RD, ZHI Publishing, Walled Lake MI 48390, 1998 www.zonya.com
Nutrition
Calories:
342
kcal
Carbohydrates:
52
g
Protein:
21
g
Fat:
7
g
Saturated Fat:
2
g
Cholesterol:
7
mg
Sodium:
150
mg
Potassium:
1000
mg
Fiber:
12
g
Sugar:
2
g
Vitamin A:
800
IU
Vitamin C:
29
mg
Vitamin D:
1
µg
Vitamin E:
1
mg
Vitamin K:
70
µg
Calcium:
235
mg
Folate:
200
µg
Iron:
5
mg
Zinc:
2
mg