Vegan Pumpkin Mac and  Cheese is a yummy recipe for those of you who love mac and cheese but don't eat dairy or animal products.  The secret ingredient is pumpkin which gives it a slight sweetness, creaminess and orange color.  But for vegetable haters, you will never know it is there! It is easy to make gluten free with your favorite gluten free pasta. The uncooked sauce makes it quick!
Hello! This is Makayla DeLeon. I am a junior studying nutrition and dietetics at Texas A&M and am one of Cindy's mentees in a Registered Dietitian Mentorship Program. I have developed this delicious dairy-free pumpkin mac and cheese recipe for you!
I am dairy free but am not a fan of the store bought dairy free mac and cheese I have tried.  I decided to make my own.  I thought it would be fairly easy to create a recipe that mimics the flavor of real mac and cheese, but it was definitely harder than I thought it would be. 
Cheesiness a unique and amazing taste that now I think it should be classified as its own taste, just like sour, sweet, bitter, umami, and salty!
I am so proud of the final product, because it's taken me a lot of trial and error to get it to taste just right. 
Ingredients:
Pumpkin – the secret ingredient
Don't let the pumpkin scare you off, because this mac and cheese doesn't taste like pumpkin at all.

 

Pumpkin adds creaminess and a slight bit of sweetness

 

to this recipe. When combined with all the other ingredients, it mimics regular mac and cheese. I

 

tried to remove the pumpkin from the recipe, but the dish really needed it.

 

So don't skip it!

 

Cashews – raw cashews (but I have used roasted and it was just fine)
Almond milk – any  unsweetened plant milk should work, but I have only tried almond
Lemon Juice
Dijon mustard
Onion  powder
Garlic powder
Paprika
Salt – reduce or  eliminate if you are watching your sodium
Preparation
Soak cashews in very hot (or even boiling) water for at least 10 minutes.  If you prefer you can soak them overnight in cool water.   See this post for more details.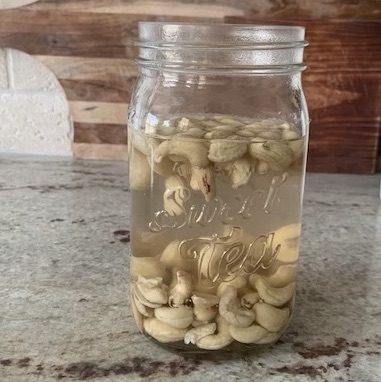 While the cashews soak, boil water for the noodles.  When the water is ready, cook the pasta.
While the water boils, prepare the sauce.  If you have a blender that inverts the blending container, add the liquid ingredients to the blender first.  Then add the nutritional yeast and seasonings.  This prevents the powders from sticking to the sides and top of your blender.
When the cashews are finished soaking, add them to the blender.
Blend the sauce ingredients until smooth and creamy.  A high speed blender works best for the creamiest sauce.
Pour the sauce over the cooked pasta in a large bowl or right in the pot. Mix and enjoy!
Plant Powered Nutrients:
Ingredients worth highlighting for their nutrient contents are the pumpkin, nutritional yeast, and cashews! 
My favorite nutrient fact about this macaroni and cheese is the plant protein packed in it, 15 grams for a quarter of the recipe. You can thank the cashews for that.

 

As for the phytochemicals

 

(healthy plant chemicals), the pumpkin adds beta-carotene and the almond milk adds a lot of phytic acid, which are both amazing for their antioxidant properties.

 

Nutritional yeast is a good source of B vitamins: thiamin, riboflavin, niacin, B6 and B12.

 

Overall, this dish is an excellent source of zinc and iron; and a good source of fiber, vitamin A, vitamin K, and potassium!
Comment below and let us know how your mac and cheese turned out!  
Vegan Pumpkin Mac and Cheese
A creamy cashew based sauce with pumpkin for a hint of sweetness, color and nutrients.
Equipment
blender

high speed preferred
Ingredients
8

ounces

elbow noodles

or your favorite short pasta

1

cup

raw cashews

1⅛

cup

almond milk

¼

cup

nutritional yeast

¼

cup

pumpkin puree

2½

teaspoons

lemon juice

½

teaspoon

Dijon mustard

1

teaspoon

garlic powder

1

teaspoon

onion powder

¼

teaspoon

paprika

1

teaspoon

salt

or to taste
Instructions
Soak cashews in boiling or very hot water for at least 10 minutes.

As the pasta cooks, prepare the sauce:

Place pumpkin, almond milk, lemon juice in the blender.

Add all other ingredients. This order will prevent seasonings from sticking to the blender container, especially if your blender inverts to blend.

Blend until smooth and creamy.

Add sauce to pasta and mix thoroughly.
Notes
This blog post, recipe and pictures were prepared by Makayla DeLeon, Texas A&M, Class of 2023, studying nutrition and dietetics.
Nutrition
Calories:
420
kcal
Carbohydrates:
56
g
Protein:
15
g
Fat:
16
g
Saturated Fat:
3
g
Polyunsaturated Fat:
3
g
Monounsaturated Fat:
8
g
Sodium:
690
mg
Potassium:
445
mg
Fiber:
4
g
Sugar:
4
g
Vitamin A:
2393
IU
Vitamin C:
3
mg
Vitamin E:
1
mg
Vitamin K:
14
µg
Calcium:
116
mg
Folate:
22
µg
Iron:
3
mg
Zinc:
3
mg