Apple "throwaways" (the apple peels and cores) make a delicious beverage you can serve warm or cold.
Have you made apple sauce this fall?  An apple pie or cake?  What did you do with the apple cores and peels?
Saving Money
One of the ways you can make the most of  your food budget is to fully use the food that you purchase.  For example I save my bone-in  steak bones and lamb shank bones to make soup stock.  I make refrigerator pickles out of my green tomatoes.  And for several years I have turned my apple peels and cores into a spiced apple "tea".  
What is apple tea?
This is not a real tea, rather a flavored beverage made from apple "throwaways" (peels and cores) that you can modify to suit your taste.  It is all natural and contains no added sweeteners, unless you decide to add them.  
Is apple tea good for you?
This is a delicious low-calorie  beverage that only contains apples and spices.  I use cinnamon, ginger, cardamom and cloves.  So some of  the goodness  of the cinnamon sticks and ginger  may leach into the tea, but  I do not count it as a major source of nutrients.  Think of it as a wonderful, free replacement for any other beverage you would normally purchase.  
How to make apple tea?
First of all, this is more of a method than an exact recipe.  
Add about the same volume of apple peels and cores and water.  So if you  have 3 cups of apple peels and cores, add about 3 cups of water to your pot.  I honestly  don't measure – I just eyeball it!!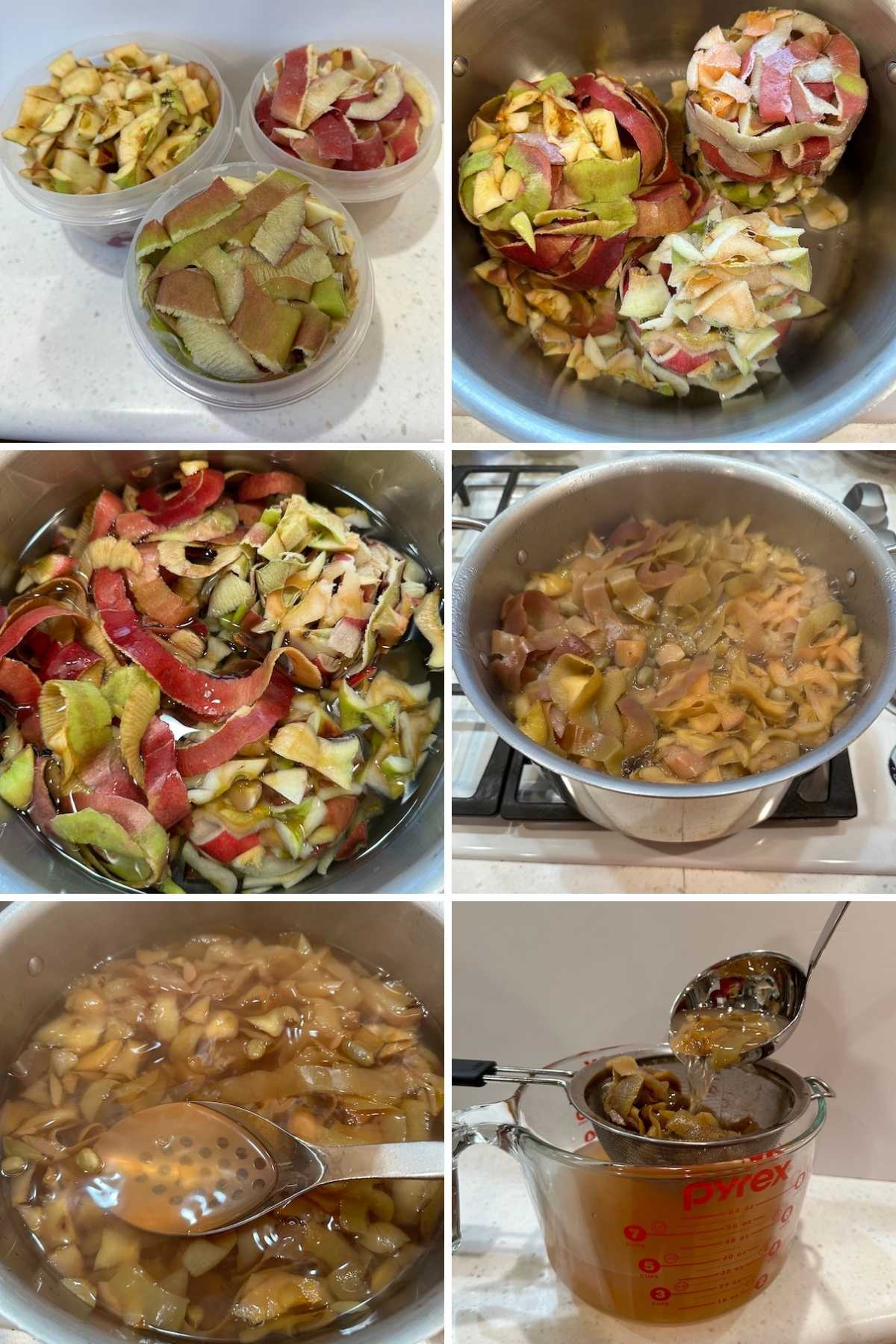 Cover your pot and bring it to a boil.  Gently  simmer for about an hour.  You  can simmer apple tea for longer, but if you are using spices you will want to simmer them in the apple tea for about 15 minutes.  So  add the spices about 15  minutes before you are ready to  stop simmering.  
Strain  your tea and serve immediately or refrigerate for later use.
How can I store the peels and
 

seeds until I am ready to use them?

As I already  mentioned, to  make apple tea, you use about the same number of peels/cores  and water.  Until you  have enough to make tea, store them in a plastic container or freezer bag in your refrigerator  or freezer.  They will keep a week or more in the fridge, and for months in the freezer.  Right now I have a freezer container in my freezer accumulating cores from when I cut apples for lunches or snacks.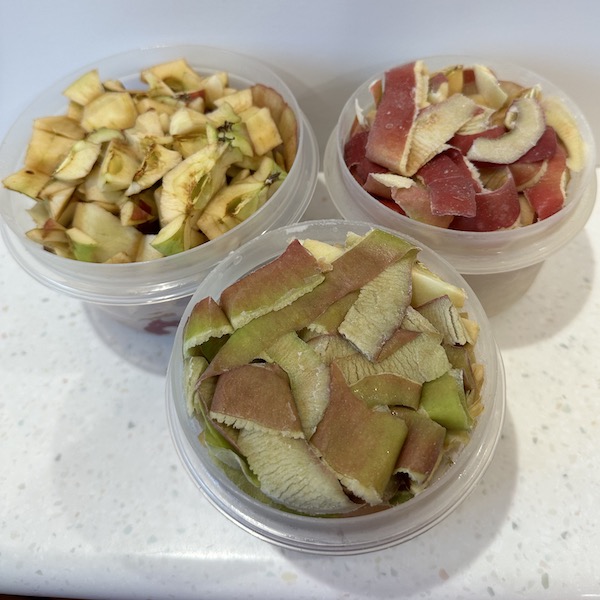 Can I use the seeds?
Apple seeds contain small amounts of cyanide.  However  the seed coating protects you from this toxin.  In order to cause problems, you would have to thoroughly  chew and eat 83-500  seeds.  
It is not really a problem in apple tea, since you will strain out the seeds and not crush them, but since this is a possibility, I take out the  seeds before I freeze (or refrigerate) my cores. It is the most time consuming part of this recipe, but it takes less than 30 seconds per core. Do not worry if an occasional seed slips into your tea.
How long does it keep?
Apple tea keeps several weeks refrigerated or up to a year in the freezer.  This August I just finished the apple tea from last fall.  It was delicious iced.
Give me some flavoring options
cinnamon sticks
fresh ginger slices
crystalized ginger slices or pieces
cardamom pods
cloves
My favorite is apple chai. I use the same spices I
 

use

 

to

 

make my own decaf chai tea.

For 10-12 cups apples and 10-12 cups water.I use
2 cinnamon sticks
10-15 cardamom pods
a 1 inch piece fresh ginger or 2-3 pieces of crystalized ginger
10-12 whole cloves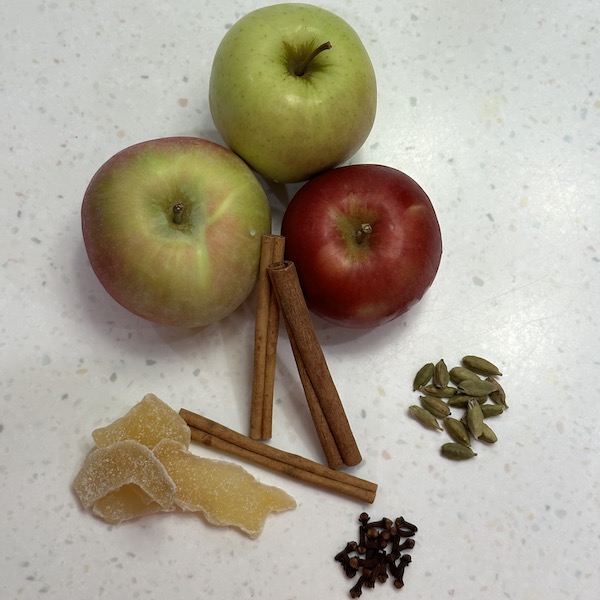 If you are using fresh spices, you will want to boil them for about 15 minutes then remove them from your apple/water mixture.
If you are using spices that have been used before, you can boil them longer.  Last time I made apple tea, I used spices that had been used in decaf chai twice already so I put them in and boiled them for an hour.  It was just fine!  
If you boil the spices too long you run the risk of turning your tea bitter or the taste of the spices being overwhelming.  This tea has a mild taste so it is easy  to overwhelm the flavor.
Cost
This "tea" is free since you are using apple cores and peels.  However if you use the whole spices, there is significant cost in the spices.  Cardamom  pods and cinnamon sticks are expensive.  The good thing is that purchasing these once is a large expense, but they will last you a LONG time.  I use my cardamom pods regularly and they still last me more than a year.
For the price of about 10 chai tea lattes from Starbucks, I can have the spices to last me more than a year . . . . and everything else is something I am purchasing anyway so I am not spending more.
Where do you purchase spices?
I purchase my spices at The Spice House. I especially like that their flatpacks always ship for free.
So save your apple peels and make this mild, comforting taste of fall!  And freeze some to serve cold next summer!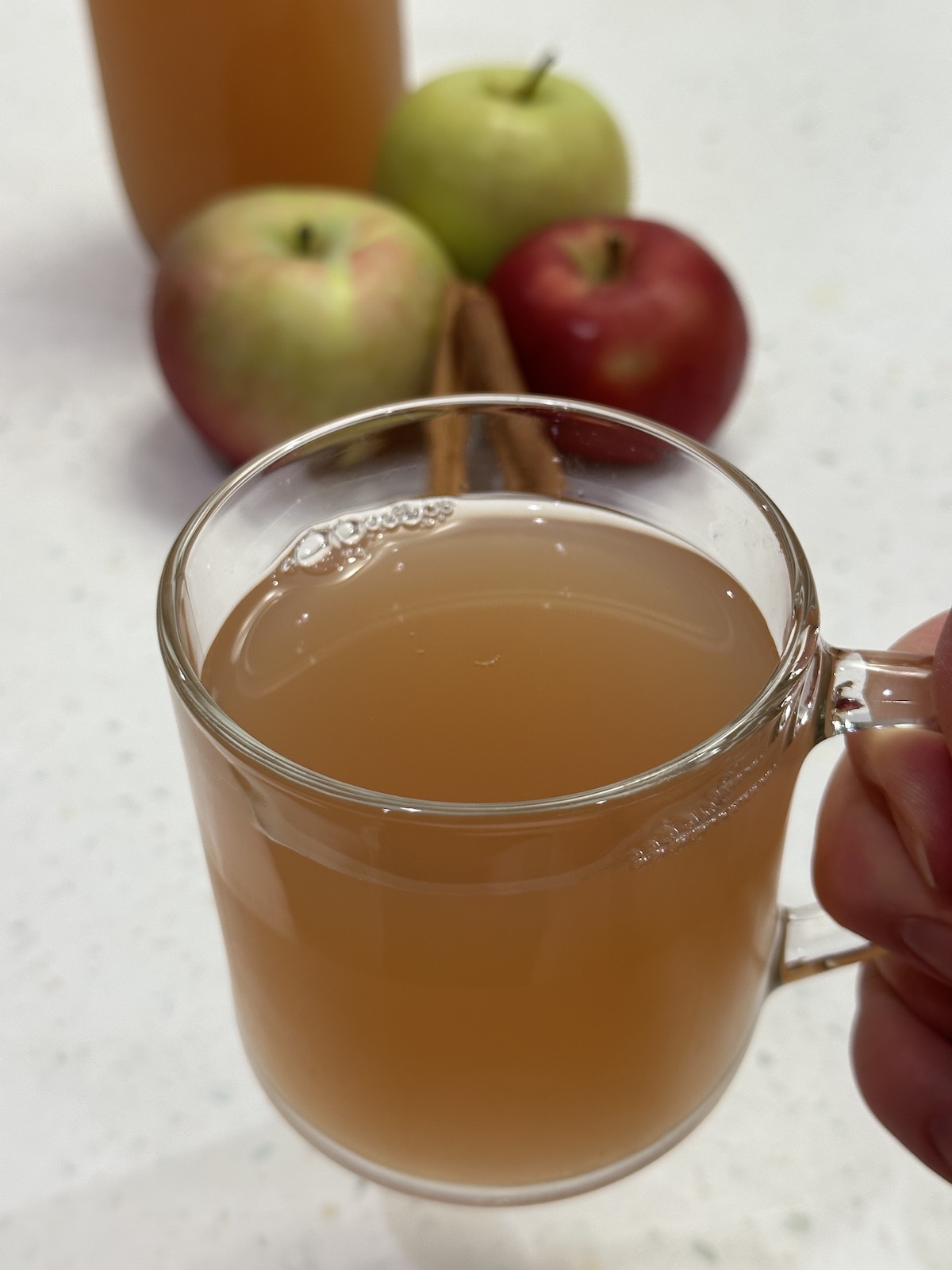 Apple Peel Tea
Ingredients
6

cups

apple peels and cores without seeds

6

cups

water

1

cinnamon stick *

½

inch piece

fresh ginger, sliced

or use crystalized ginger

5

whole

cloves

6

cardamom pods
Instructions
Add apples peels, cores and water to a large pot.

Cover and bring to a boil.

Reduce heat and simmer for about 1 hour. Look for color when testing if the tea is done. Tasting is a good option to determine donenes.

Options for adding spices. If fresh (new) spices, add the last 15 minutes of cooking. If the spices have been used before, they can be added at the beginning. You can also package the spices in a coffee filter or cheesecloth tied with a string to easily remove and save spices.

Strain the apple tea. (If desired, store the spices for another batch! I usually use my spices 3 times before discarding.)

Store in the refrigerator for a week or two or freeze for longer storage.
Notes
*This is my favorite spice combination, but use whatever spices you would like.