Beautiful, nutritious blackberries are on sale.  Blackberries rank as one of the top 10 highest-antioxidant containing foods according to one scoring method. Blackberries are excellent sources of vitamins C and K, fiber, manganese. So what to do with them? 
Bake tender, delicious, whole grain, gluten free muffins!!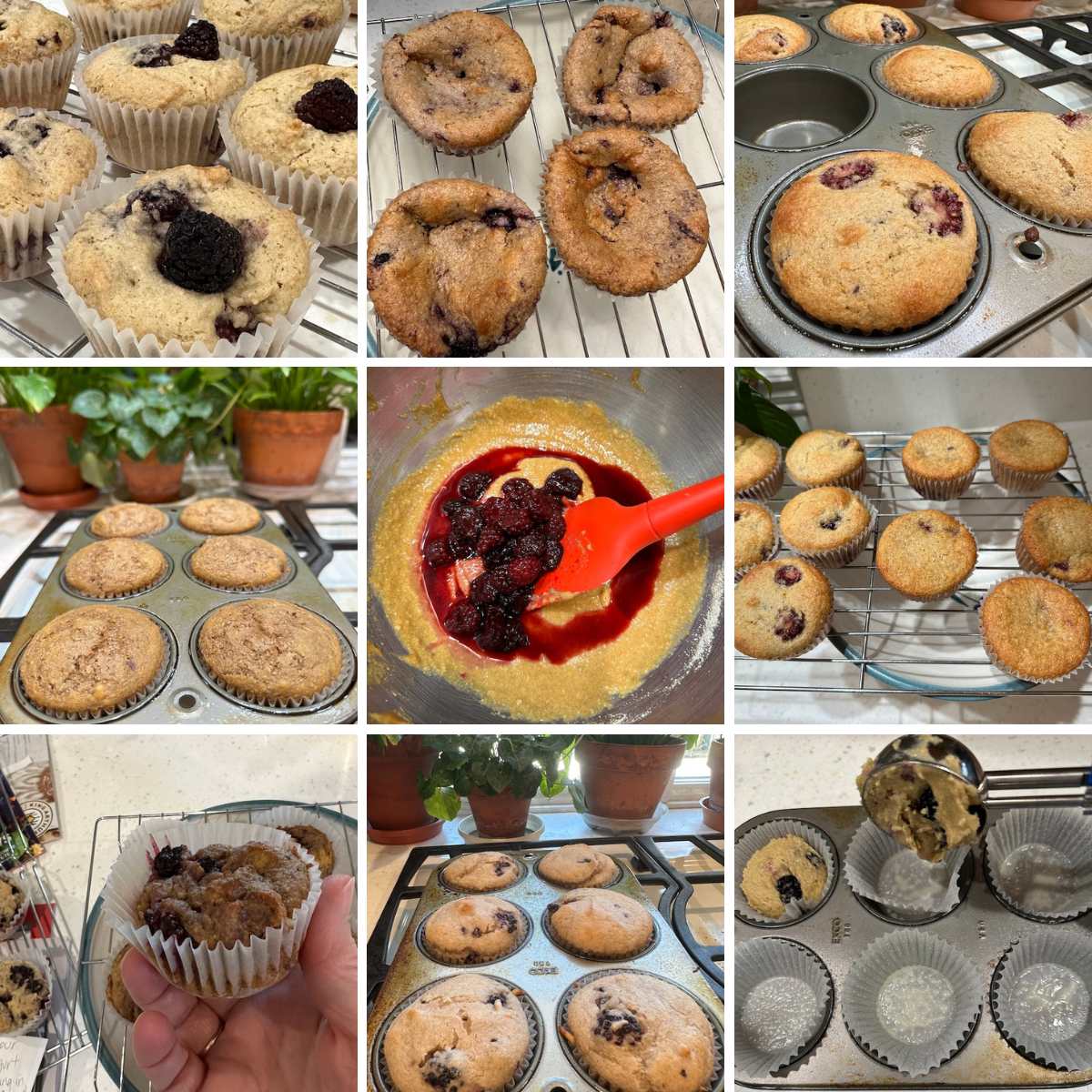 I have baked more than 20 batches of blackberry muffins while testing this recipe.  Why so many when the second batch was really good?  Because I wanted to test the dairy free and egg free options as well.  What about using frozen fruit? Read on for the results.  And check below for how good these are for you!
Ingredients and Substitutions
Flours
Oat Flour – All versions use oat flour.  Because of the prevalent cross contamination of oat four, use gluten free oat flour if you are baking for someone with celiac or a wheat allergy.  Oat flour adds soluble fiber, B vitamins and minerals.
Almond Flour – adds an almost buttery, rich taste to the muffins.  It is loaded with unsaturated fat.  Muffins made with almond flour are tender and sometimes crumble easily.  These are my favorite.
If you cannot eat almonds, use buckwheat flour instead.
Buckwheat flour – Buckwheat flour is NOT wheat and is gluten free. The muffins made with buckwheat flour have a fluffier texture and rise better than the ones made with almond flour. 
However if you use most buckwheat flour, your muffins will have a dark color. These muffins also have a bit more of an aftertaste.  If it is important that you have a traditional muffin look, use Poconos buckwheat flour.  You can order it from Birkett Mills which has ground buckwheat since 1797 or from King Arthur Baking Company.  If you need a muffin to look just like any other muffin you need to order Poconos buckwheat.
Poconos buckwheat and muffins made from it are on the right in each of these photos.
Buckwheat flour is the only version that rises well if you need an egg free muffin.
Coconut flour – Coconut flour absorbs moisture like crazy.  Almond flour is on the other end of the spectrum and hardly absorbs any moisture.  Adding a small amount of coconut flour to the almond flour muffins helped them not to be too moist and helped the muffins to rise better.  If you are using previously frozen fruit, you may want to add 1-2 tablespoons more coconut flour.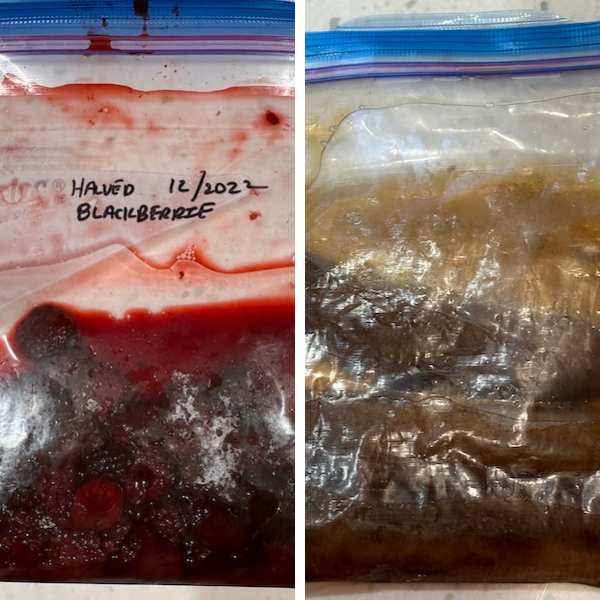 In the small amounts used, the coconut cannot be tasted.  I did smell it when I added the coconut flour, but no one could taste it in the muffins.
I have not yet tested a substitute for coconut flour.  If you cannot tolerate it, omit it. You might try adding the equivalent amount of another starch (tapioca, arrowroot etc) but they will not be all whole grain!  If you have a wet ingredient like frozen bananas or applesauce, your muffins may not rise as well. 
Leavening
Baking Powder – I choose an aluminum free baking powder. If you are avoiding corn, use 2 teaspoons baking soda, 1 teaspoon tapioca starch and 1/4 teaspoon salt (omit the baking powder, soda & salt in original recipe)
Baking soda – this is used only when yogurt is used.
Xanthan gum – a small amount is used to help the muffins stick together and rise.  I recommend using it, but you can omit it if it bothers you.
Yogurt / Fruit
Yogurt makes the muffins both moist and tender. Without the yogurt my first batch was dry.  It does add acidity so if you use yogurt, use the 1/4 teaspoon baking soda so the baking powder works properly.
Dairy Free?  Use fruit puree!
If you cannot use yogurt, use an equivalent amount of fruit puree to add moisture.  As an added bonus, bananas add great flavor.  I have successfully used mashed bananas, canned pumpkin and applesauce in these muffins.  All are delicious.  Banana is my favorite.
If your bananas have been frozen and there is additional liquid or the applesauce is runny, add 1-2 tablespoons of coconut flour to the flour.  If you are already using it with the almond flour, add 1-2 tablespoons more. Otherwise the muffins may not rise properly. 
I did not use coconut flour with pumpkin, or fresh, ripe mashed bananas with buckwheat flour.  
Omit the baking soda if you use fruit puree.
Eggs
Eggs and gluten both give structure to baked goods.  Without one, it is fairly easy to have muffins that taste good and look like muffins.  Without both gluten and eggs, muffins tend to both sink or do not rise much at all or are very dense.
I have used both flax eggs and aquafaba as egg replacements. (Because I am trying to use mostly whole foods, I did not purchase egg replacements on the market.) For both substitutions I also added 2 tablespoons coconut flour to the flours to absorb any extra moisture.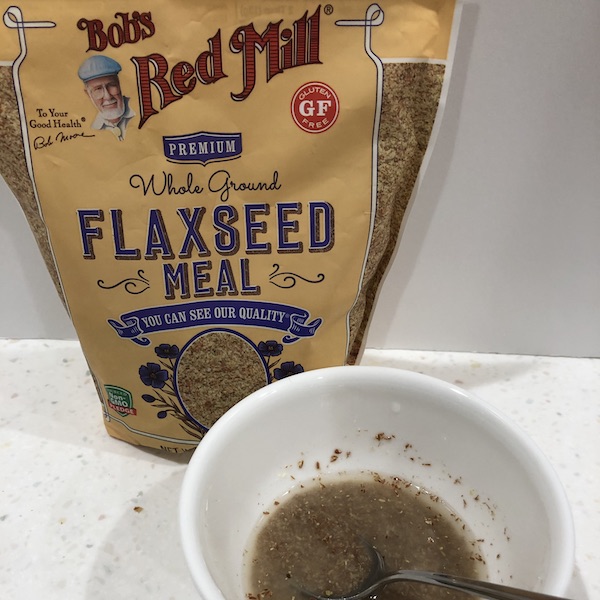 With flax eggs, I used one tablespoon of ground flax seed and two tablespoons of water per egg.  This is less water than called for in many flax egg recipes, however I did not want to add too much moisture to these muffins.  
Aquafaba is the liquid drained from canned beans, traditionally chickpeas or white beans.  I used 3 tablespoons aquafaba for one egg, or 6 tablespoons for an entire recipe.  In testing this recipe I used both liquid from garbanzo beans (chickpeas) and white beans.  I could not tell the difference.  And my daughter made her favorite lunch with the beans, Quick White Beans, Tomatoes, Parmesan and Parsley.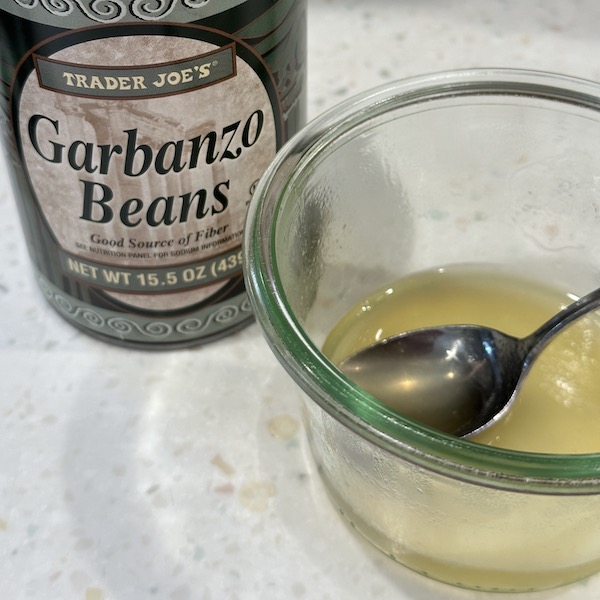 Using almond and oat flour, the egg substitutes did not work well.  However with the buckwheat, they rose beautifully!  So if you are going to use either aquafaba or flax eggs, use buckwheat and not almond flour.
Oil – any neutral flavored oil will work
Blackberries – I used both fresh and frozen blackberries.  When my local grocery store had blackberries on sale, I washed them, dried them, cut them in half and froze them on a cookie sheet.  When they were frozen, I transferred them to a freezer bag.   Because they were so large, I was afraid the frozen blackberries would affect my cooking time, so I thawed them overnight in the refrigerator before I baked with them.  They can stay several days in a freezer bag in the refrigerator if your plans change and you cannot bake that day!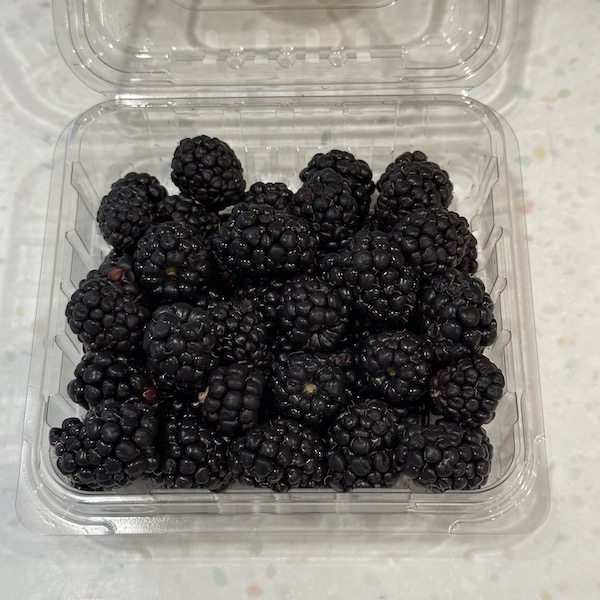 Flavorings
Vanilla – I almost always use vanilla in these muffins.
Orange peel, grated or orange oil
Lemon peel or lemon oil 
Both citrus peels/oils enhance the flavor of the muffins.  I use Bjoylian oils that do not contain any additives or extras – just flavor!  I order mine from King Arthur Baking Company.  (I tried to order them from a seller on Amazon and the oils were old. Now I recommend only purchasing from King Arthur!)
Pumpkin spice – I used 2 teaspoons of a pumpkin spice for a different flavor to the muffins when I used pumpkin.  I did omit the vanilla in these.  When I used pumpkin without the pumpkin spice, I used vanilla to flavor them.  Both are good, just different.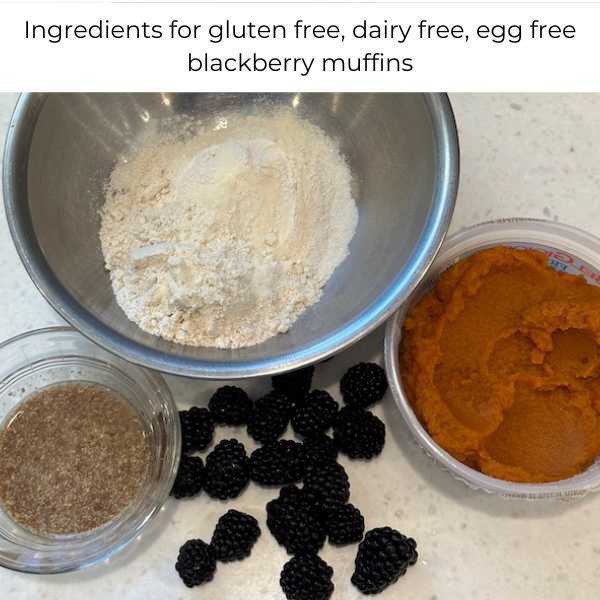 Preparation
Weighing your ingredients will give you the most consistent results and will save you from washing measuring cups. I highly recommend a scale that measures in grams with a tare.  They are relatively inexpensive and you will be amazed how much it improves all your baking, especially gluten free!
If using frozen blackberries, thaw them.  I prefer to thaw overnight in the refrigerator, but one the counter or carefully in the microwave will work.
I keep my almond flour in the freezer and I find that there are usually lumps in my almond flour.  When they are frozen the lumps are hard to break up, however when the almond flour is thawed, they break apart easily.  Measure your almond flour when you first begin the recipe or earlier in the day to make breaking the lumps easier.
Prepare the flax egg if using it. Preheat the oven.
Wash the blackberries, pat dry and let air dry.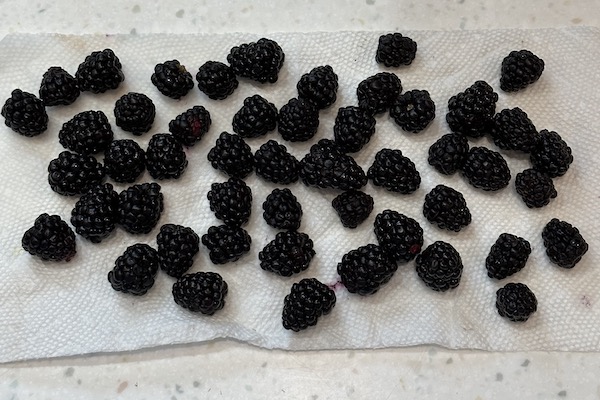 Weigh or measure the dry ingredients.  Whisk together.
Place the eggs or egg substitute in a bowl with the yogurt or fruit puree, oil, and vanilla or other flavorings.  Mix until well combined.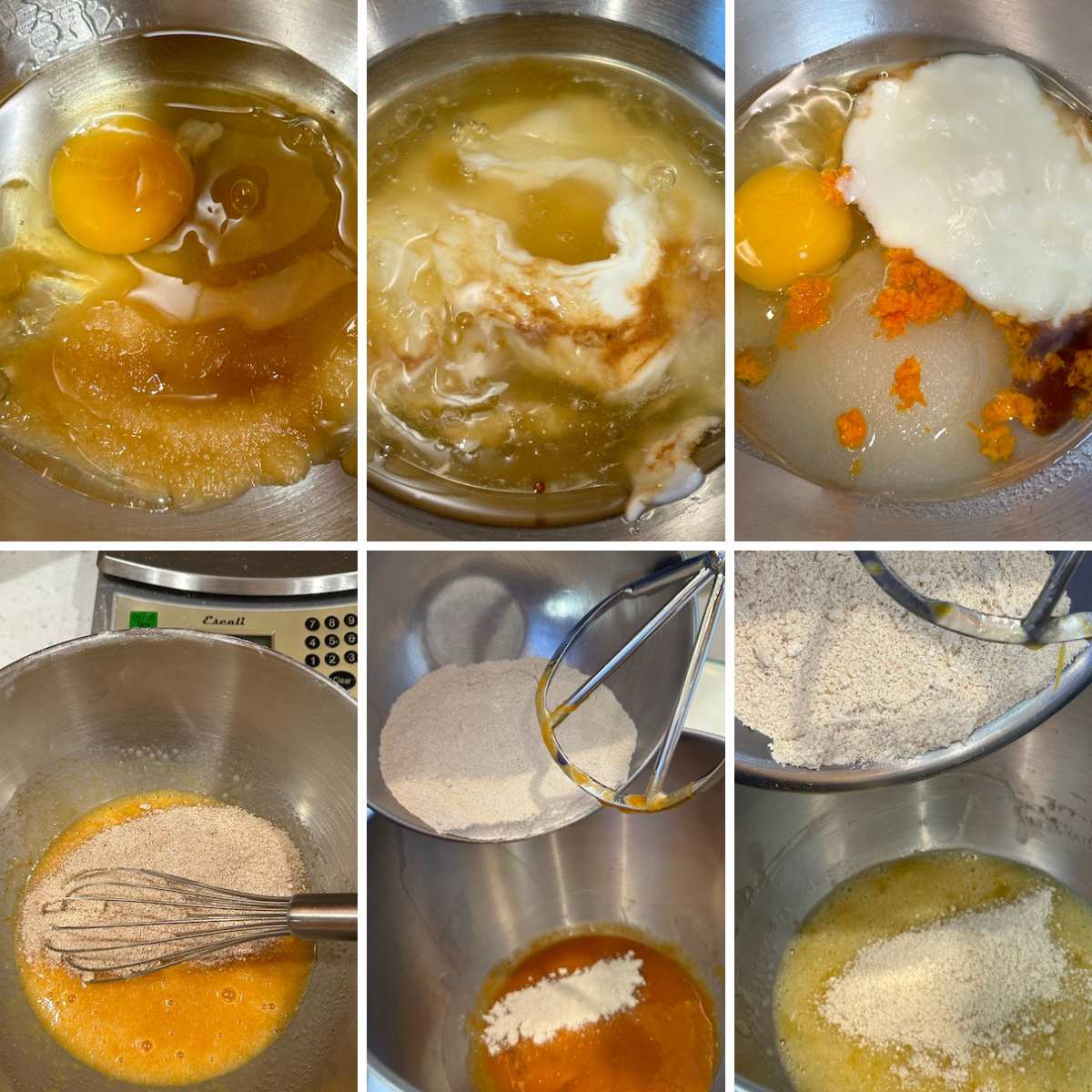 Add the dry ingredients and mix well.  Let the dough rest while you cut the blackberries and prepare the pan.  These few minutes will allow the coconut flour to absorb the extra moisture.
Blackberries differ a great deal in size.  Because we want more bites with blackberries, I cut the small ones in half before using them.  The large blackberries I cut in half length-wise and then cut them in half the other way.  It took me 2-3 minutes (at most) for each batch of blackberries.  If I was freezing the blackberries, I cut them before freezing.
I cut the blackberries right into the bowl and gently folded them in.  While I made these muffins with both a stand mixer and with a whisk by hand, I always folded the blackberries in with a spatula.
To prepare the pans I used liners AND sprayed the liners.  I know this seems redundant.  However it worked.  I did not have to pry the muffins out of the tin.  On the papers where I accidentally missed part of the paper with spray, my daughter reported that half of her muffin stuck to the paper!  The half that was not sprayed stuck.  So my advice is to both use liners and spray the liners.
How many muffins??
This recipe makes between 10-12 muffins.  Sometimes I had 12 muffins, sometimes 10.  It honestly depends what combination of ingredients you use.  While testing I often halved the recipe which is great if you are just cooking for one or two and are tight on freezer space.
Storage
Gluten free blackberry muffins freeze beautifully and that is how I prefer to store them.
When my power was out and I left them five  days in plastic at room temperature, they turned  moldy.  A couple of days at room temperature is just fine.
These make a delicious breakfast, coffee break or snack.
Does a dietitian really recommend this muffin for nutrition?  I DO!
Nutrition
I have been on a mission lately to find tasty gluten free baked goods that use whole grains with all their benefits. (Listen to The Sensitive Kitchen episode 005 for more information on the health benefits of whole grains.) I spent years increasing whole grains in our gluten-containing baked goods, but gluten free ones are much more of a challenge.
Because gluten provides structure in baked goods, it is a challenge to get muffins to rise.  Additional moisture in muffins from frozen fruit or fruit purees can also inhibit rising.  So I began to experiment.
I knew I wanted to use almond flour.  I was after the nutty, rich taste without butter.  But by itself, almond flour does a poor job absorbing moisture.  So I had two solutions.  First I added a small amount of coconut flour.  Coconut flour absorbs a huge amount of moisture.  Plus if you just use a few tablespoons, you cannot taste it.
My second fix was to use half oat flour. Oats are gluten free, low in calories, high in soluble fiber and a good or excellent source of nutrients: thiamin (a B vitamin), iron, magnesium, manganese, phosphorus, potassium, selenium.
But what about the people allergic or sensitive to nuts?  Instead of almond flour, buckwheat flour works beautifully.  In fact the muffins made with the right buckwheat flour rose the best and looked the most like traditional muffins.
Buckwheat flour is NOT wheat and is gluten free.  It is made from a seed.
Like quinoa, which is also a seed, it has less fat and more carbohydrate than many seeds.  Also like quinoa buckwheat is a complete protein.  This means it contains all nine essential amino acids. (Remember essential amino acids are ones we must get from our diet – our bodies cannot make them.)
Buckwheat flour contains as much fiber as whole wheat flour.
Both blackberries and buckwheat are loaded with antioxidants like the flavonoids rutin and quercetin in addition to other phenols and tannins.  They help your body fight inflammation and disease.
The yogurt adds protein, calcium, riboflavin and zinc.  The dairy free versions use fruit which may add beta carotene (pumpkin), potassium (bananas) or soluble fiber (applesauce).
These muffins are good sources of protein, fiber, and a variety of minerals:  manganese, copper, magnesium, phosphorus as well as antioxidants.
So although you add some sugar to this recipe, the muffins are made with nutritious ingredients that you can even eat as part of a wholesome breakfast.  Even the oil can give you needed essential fatty acids.
For more information about the nutrition benefits of these muffins listen to this episode of The Sensitive Kitchen podcast here or where you listen to podcasts. Follow the link to see the references and read the transcript.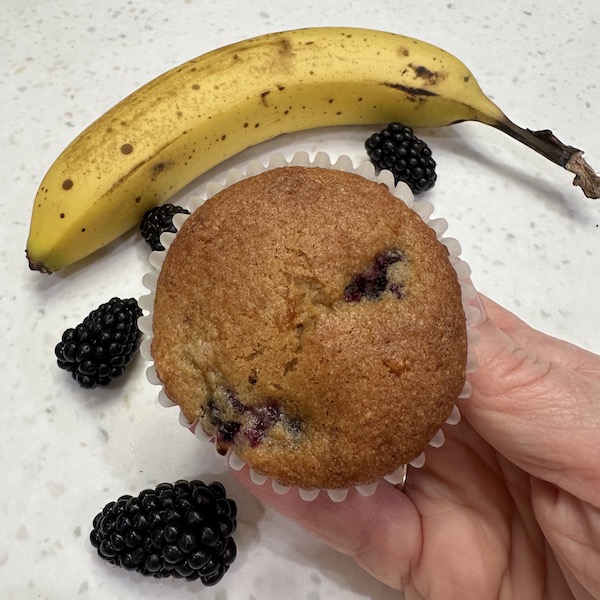 Have a cup of tea or coffee and sit and enjoy your muffin!
Let me know what combination you tried and how it worked!  Comment below.
Gluten Free Blackberry Muffins
Ingredients
72

grams

almond flour or 90 g buckwheat flour

¾ cup

69

grams

oat flour

¾ cup

16

grams

coconut flour*

2 tablespoons

2

teaspoons

baking powder

¼

teaspoon

baking soda

use with yogurt, not fruit puree

½

teaspoon

salt

½

teaspoon

xanthan gum

¼

cup

oil

90

grams

sugar

scant ½ cup

2

large

eggs

or aquafaba or flax eggs**

½

cup

plain yogurt

can substitute fruit puree***

1

teaspoon

vanilla

6

ounces

blackberries
Instructions
If using frozen blackberries, thaw them.

If your almond flour is frozen, measure your almond flour, breaking up lumps when thawed.

If using a flax egg, prepare it now (see notes).

Preheat the oven to 350°.

If using fresh blackberries, wash, pat dry and let air dry.

Weigh or measure the dry ingredients.  Whisk together.

Place the eggs or egg substitute in a bowl with the yogurt or fruit puree, oil, and vanilla or other flavorings.  Mix until well combined.

Add the dry ingredients and mix well.

Let the dough rest while you cut the blackberries and prepare the pan.  These few minutes will allow the coconut flour to absorb the extra moisture.

Cut the small blackberries in half.  Cut large blackberries in quarters.

Gently fold in the blackberries.

Put liners in a muffin pan. Spray the liner with cooking spray.

Divide the dough between 10 muffin cups. **** A muffin scoop works well.

Bake muffins for about 20 minutes, until a tester comes out clean or with a few moist crumbs. I usually bake for 15 minutes; turn and bake for 5 more minutes. Some combinations require up to 10 extra minutes.

Cool for 5 minutes in the pan, then carefully transfer to a cooling rack. The almond muffins are delicate when warm so be especially gentle.

Store well wrapped at room temperature for 2 days. Store in the freezer for longer storage.
Notes
*Coconut flour is needed for almond flour muffins or when using frozen fruit with extra moisture or egg substitutes.  See blog post for more details.
**Egg Substitutes: for flax eggs use 2 tablespoons ground flax seed and 4 tablespoons water.  Let sit while you gather the rest of the ingredients, stirring occasionally. For aquafaba (liquid from drained chickpeas or white beans), use 6 tablespoons per recipe. If using egg substitute, use buckwheat flour (read blog post).
***I have successfully used mashed bananas, canned pumpkin and applesauce.
**** Some combinations of ingredients will make 12 muffins.  See how much is left after you fill 10 muffin cups.  I usually put a little more in each muffin, but sometimes there is enough to make 12.
Please note that the nutrition information is approximate as there are many variations in these muffins.  The nutrition information was calculated for 10 muffins. 
Nutrition
Calories:
190
kcal
Carbohydrates:
18
g
Protein:
5
g
Fat:
11
g
Saturated Fat:
1
g
Polyunsaturated Fat:
2
g
Monounsaturated Fat:
4
g
Trans Fat:
0.03
g
Cholesterol:
38
mg
Sodium:
235
mg
Potassium:
68
mg
Fiber:
3
g
Sugar:
11
g
Vitamin A:
97
IU
Vitamin C:
4
mg
Vitamin D:
0.2
µg
Vitamin E:
1
mg
Vitamin K:
8
µg
Calcium:
102
mg
Folate:
11
µg
Iron:
1
mg
Zinc:
0.4
mg