Do you have extra zucchini from your garden or the Farmer's Market?  How do you transform zucchini?  Because of its mild flavor and high water content zucchini blends into so many dishes – both sweet and savory.  
Today I made two batches of sweet potato zucchini bread.  A double regular batch and a gluten free batch for my husband and our friend who is gluten and dairy free.  Yum!  (Don't tell anyone – I have already eaten 4 pieces today!! Yikes!)
Double chocolate zucchini bread and zucchini pancakes are two more favorites, both from King Arthur Baking Company's site. 
I have also used zucchini with other vegetables in the vegetable muffin recipe – both the savory and sweet versions.  We have gluten free, dairy free, and egg free versions of the vegetable muffin recipes – click here for the podcast and links to all the recipes.
But for a side dish, my long time favorite is Mexican  squash.  It is a little more work than just sauteing some zucchini in olive oil with spices.  But it is well worth the time.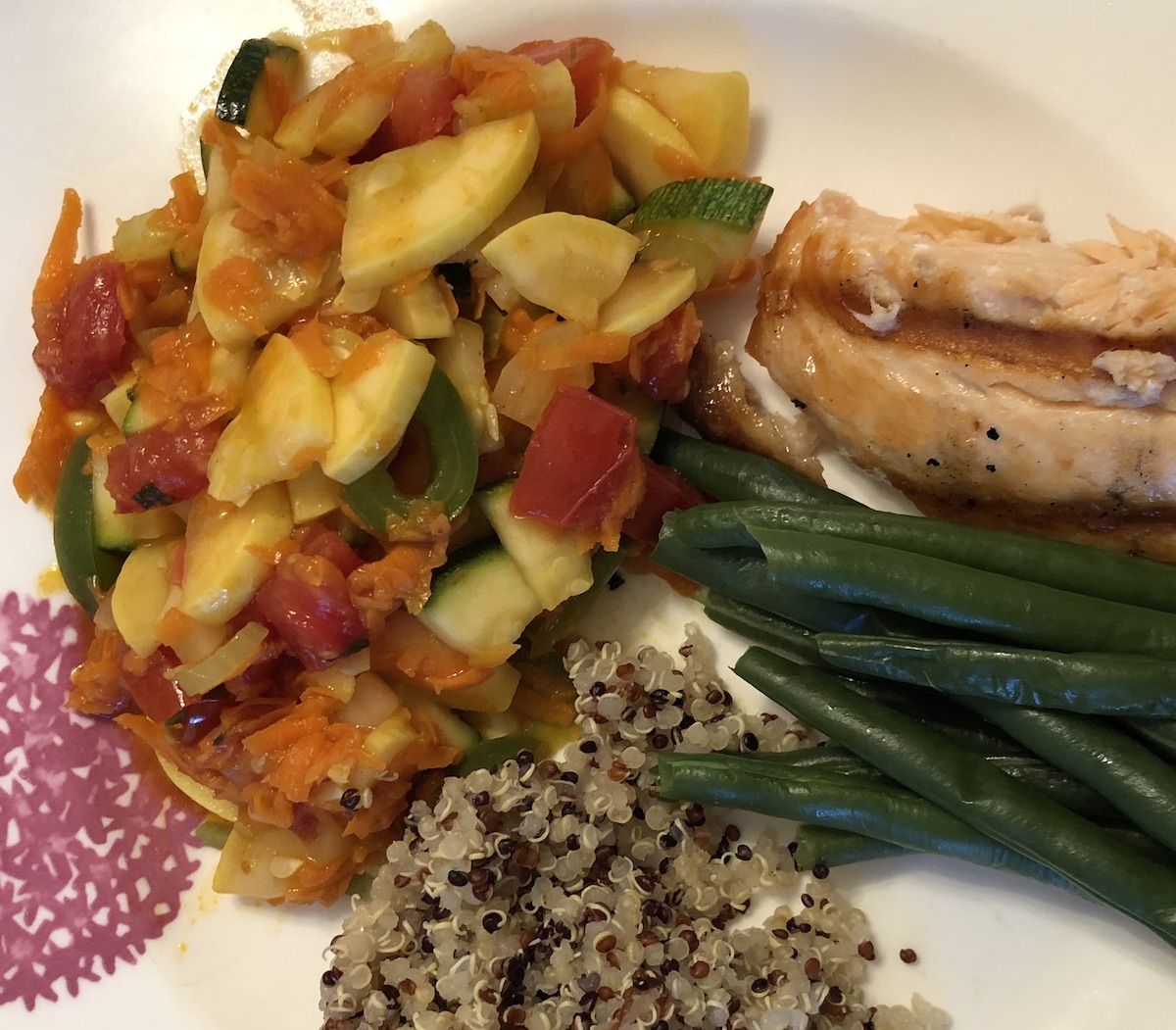 Ingredients and Substitutions
No major allergens in this

 

dish.  Just zucchini or summer squash, celery, green pepper, tomatoes, carrots, onions, and sauce.
And for those of you avoiding corn, most Mexican squash recipes contain corn.  This one does not!
The real secret of this dish is the sauce.

 

It gives subtle flavor and blends everything together.

  Over the past decade, =s

alsa has taken the place of taco sauce in my cupboard.

 

But I purchase taco sauce for this dish.

 

You can use a smooth salsa, but the flavor is not quite as good.

 

My suggestion is buy a jar of taco sauce (Ortega is my favorite) in your favorite level of heat and I bet you will use the

 

leftovers the next time you make Mexican squash!
If you avoid onions, try to substitute shallots or green onion or garlic.

 

Watch the label on the taco sauce.

 

You may have to make your own taco sauce without onions!
Grating the carrots takes a couple of extra minutes but it helps them cook in the same amount of time and gives the dish a nice texture.

 

I  use summer squash and zucchini interchangeably in this recipe.  I often combine the two.
Depending on your family's preferences and what is in your refrigerator or at the Farmer's Market you might consider adding 
fresh hot peppers
cilantro
fresh garlic in place of garlic powder.

 

(I find that garlic powder is just fine in this recipe and it is one fewer thing to chop.)
Preparation
This is a  simple recipe  – chop or grate your vegetables and sauté.  When the vegetables are done – add the sauce and mix well.  Heat and eat!
A few tips –
Since I only have one or two carrots to grate, I find a  box grater works well and saves me from washing my food processor.
After my carrots are grated, I slice my celery moderately thinly and start it cooking.  Celery takes the longest to cook, so start it early over medium low heat.  
You certainly can chop all of your vegetables before you start to cook, and you may want to do it that way the first time.  
Using a lower heat setting allows me to sauté and chop at the same time.  Just be sure to stir occasionally as the vegetables cook and you chop.
Next quarter and then thinly slice the green pepper.  Add it to the pan. 
Next comes the onion or shallot.  Chop or slice and add it to the pan.
I choose small or medium zucchini or summer squash for this recipe.
After I wash my squash and slice off the ends, I cut my squash in half lengthwise and put it cut side down on the cutting board.  For small squash I slice each half in half again lengthwise (quarter the squash).  For larger squash, cut each half in thirds lengthwise.  Slice each half thinly  – about 1/8 inch thick slices.
Add the squash and carrots to the  pan.
After adding the squash to the pan, chop the tomatoes.  Combine the taco sauce and mustard to make the sauce. 
After the zucchini are partially cooked, about 3 minutes, add the tomatoes, basil and garlic powder. Cook for about  3 more minutes until the squash is just tender.
Stir in the sauce and heat through.   Serve and enjoy!
PS The leftovers make a great lunch side dish!!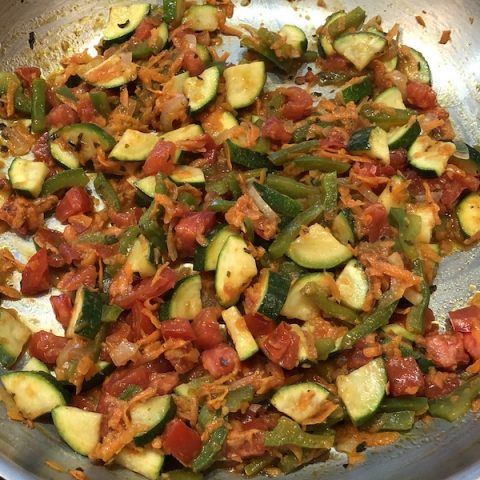 Mexican Squash without Corn
A tasty vegetable dish featuring zucchini or summer squash, tomatoes, peppers and shredded carrots. The 2 ingredient sauce pulls the dish together and melds the flavors.
Ingredients
1

cup

shredded carrot

¾

cup

celery, sliced

½

green pepper, sliced

½

cup

onion or shallot, chopped

4

cups

zucchini or summer squash, thinly sliced

1

tablespoon

oil

¼

teaspoon

dried basil

½

teaspoon

garlic powder

⅓

cup

taco sauce

2

teaspoons

yellow mustard

2

large

tomatoes, chopped
Instructions
Grate the carrot and set aside.

Chop celery. Add oil to the pan and saute the celery over low heat as other vegetables are chopped. Stir occasionally.

Slice the green pepper and add it to the pan.

Chop the onion. Add it to the pan. Continue to stir occasionally.

Quarter the zucchini/summer squash lengthwise and slice thinly.

Add the zucchini and carrots to the pan. Stir occasionally so the vegetables cook evenly.

When the vegetables are almost cooked, add the tomatoes, basil and garlic powder to the pan.

Combine the taco sauce and mustard in a small bowl. Stir to combine thoroughly.

Add sauce to the vegetables and stir. Heat through.
Notes
Modified from The New American Diet by Soyna Conner MS, RD, and William Conner, MD, Simon and Schuster, New York 1986 
Nutrition
Calories:
80
kcal
Carbohydrates:
13
g
Protein:
3
g
Fat:
3
g
Saturated Fat:
1
g
Polyunsaturated Fat:
1
g
Monounsaturated Fat:
2
g
Trans Fat:
1
g
Sodium:
350
mg
Potassium:
660
mg
Fiber:
4
g
Sugar:
8
g
Vitamin A:
4055
IU
Vitamin C:
38
mg
Vitamin E:
2
mg
Vitamin K:
18
µg
Calcium:
80
mg
Folate:
44
µg
Iron:
2
mg
Zinc:
1
mg