Comforting and soothing when warm, refreshing when cold, orange peel tea is a very low calorie beverage that delights both your taste buds and your pocketbook.
Why make orange peel tea?
Orange peel tea is simple, easy and quick to make.

   

Saves you money by helping you get all the goodness from the oranges you already purchase. Like apple peel tea, this is more a method than a recipe (but I have included a place to start.)
Many variations (see below)
Health benefits (see below)
Many commercial beverages have chemicals your family may be sensitive to.

 

So make your own refreshing beverages.

 
This is the third in our three part series on saving money by getting more out of the groceries you are already purchasing.
Simple Recipe
Thankfully the simplest is also my favorite.  
Peel your orange.

 

Instead of throwing away the peel, place it in a small sauce pan with 2 cups of water.

 

Cover the pot (so your tea does not boil away!).

 

Bring to a boil.

 

Turn down the heat and simmer for 15-20 minutes.

 

Strain and enjoy.

Variations
Add spices.
Use mandarin or other citrus peels.
Add a bit of orange juice to the tea for a little extra flavor.
Add green, white, or black tea.

 
Here is my take on all the above options:
Spices: I used my chai blend (cinnamon stick, ginger, cardamom pods, whole cloves) to orange tea. When fresh spices were added at the beginning, we found  that the spices tended to overwhelm the orange flavor. It was good, but it depends on the flavors you like best – do you want primarily an orange flavor, or do you want a spicy flavor?
If you are looking for a good place to purchase spices try The Spice House. I especially like that their flatpacks always ship for free. (If you purchase through the link I will receive a small commission at no extra cost to you – thanks!!)
I froze mandarin peels to make tea.  They were significantly more bitter than the tea made from oranges.  By all means try other citrus varieties, but we are sticking to oranges!
I was making a salad with oranges for a party.  I used the peels to make tea and cut the oranges into segments which produced a lot of juice.  I added the juice into the tea after I strained it.  Delicious.  I had about 1/2 cup orange juice to add to 12 cups of orange tea.
Adding tea –  I have not yet tried.  I like my black tea with milk so   . . . But since I like Earl Grey and bergamot (the flavoring in Earl Grey tea) is an orange relative I bet it will be tasty.
Health Benefits??
You hear ALL kinds of health benefits from drinking orange peel tea.  But let me warn you that most of these assume you EAT the orange peels.  I don't.  So I enjoy my free beverage with no added sugar and few calories and  any health benefits are extras.
What are the health benefits I am getting in my orange peel tea?
Reducing Anxiety and Depression
Orange peel oils as aromatherapy has been shown to  help lift anxiety and depression.  It left participants feeling more energetic.  This is a benefit orange peel tea can provide.  Both when peeling the orange, making and consuming the tea, you get the wonderful smell of oranges!
Asthma and respiratory allergy symptoms
Orange peel tea may help inhibit the histamine response that can cause allergic reactions and asthma.
Drinking hot orange tea is a perfect drink during cold and flu season. It has been used in Chinese medicine for years to treat common colds.
Possible
 

Health Benefits
Vitamin C
Orange peels contain even more vitamin C than the whole oranges!  But they are not often eaten due to their unappealing texture and the fact that they can interfere with digestion if not ground finely.
Your orange peel tea may provide some vitamin C, but let me remind you that vitamin C is destroyed by heat and leaching into cooking water.  
In one experiment, boiling broccoli and potatoes, cut into 2 cm pieces, for 5 minutes caused a loss of about 50% of the vitamin C.  Less vitamin C was lost from sweet potatoes and carrots.  But for orange peel tea, the question is how much was destroyed and how much leached into the cooking water (which you would drink)?? 
Without sending the orange peel tea to a lab, it is impossible to tell how much vitamin C or soluble fiber your orange peel tea contains.  It could contain up to about 35g of vitamin C per cup.  Not too bad!
What about soluble fiber?
Orange peels are full of pectin, a soluble fiber.  Soluble  fibers have several health benefits like reduction in blood cholesterol, slowing the rate of glucose absorption and having beneficial effects on your gut microbiome.  
However remember that we are not EATING the orange peels. But the "soluble" part of soluble fiber means that is is fermentable and dissolves (at least somewhat) in water.  So it is possible that a small amount of soluble fiber leaches from your orange peels into your tea.  But don't give up your oatmeal or quick white beans for lunch – this is not enough soluble fiber to make a huge difference. 
Nutrients and Phytochemicals
Orange peels contain a variety of nutrients: fiber, vitamins (C and B vitamins), and minerals (copper, calcium, magnesium).
They also contain antioxidants, flavonols and polyphenols that protect against diseases such as lung problems and heart conditions. One compound known as limonene may also have anti-cancer effects. (See podcast for more details.)
Bottom line on Nutrients
Orange peels contain vitamins (vitamin C, folate), minerals (copper, calcium and magnesium) carotenoids, flavonoids, polyphenols (like limonene which may protect against cancer.)  But without sending the orange peel tea to the laboratory we do not know how many of these beneficial compounds end up in your tea.
Orange peel tea is good for you.  It helps you stretch your grocery dollar by giving you a free delicious beverage made from orange peels without any added sugars or chemicals.  It may even improve your  mood, increase your energy and decrease your asthma or respiratory allergy symptoms.  But do not expect it to be a miracle cure.  Keep eating your fruits and vegetables!  Enjoy both the orange and the tea made from the peel.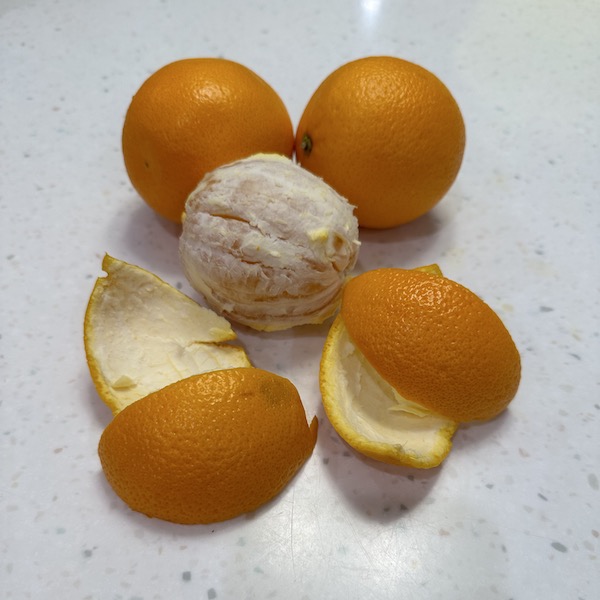 Organic oranges
 

– should I purchase them for

 

orange peel tea?

They are more expensive so it may lessen the impact of saving money.   But if you are drinking orange peel tea regularly, you  may want to consider organic oranges.  Usually I say they are not worth it because the residues in the fruit are very small.   But in this preparation we are using the peels.   I found Healthline's summary of this information helpful so I will share it with you:

"Pesticides are frequently used on citrus fruits like oranges Though studies have found the inner fruit of oranges to have very low or undetectable pesticide levels, the peels contain significantly higher amounts (14).

Studies link chronic pesticide intake to negative health effects, including increased cancer risk and hormone dysfunction. These effects are primarily associated with chronically high levels of exposure rather than the relatively small amounts found in the peels and skins of fruits.

However, it's still recommended to wash oranges under hot water to reduce the amount of pesticides ingested (14).

The FDA allows a very limited/regulated use of citrus red 2 food dye to be sprayed on some oranges to improve color but the amount used is extremely small. Human research is lacking on any health effects of consuming citrus red 2 dye."

Thanks Healthline!

Be sure to rinse your oranges  – not only to possibly reduce pesticide and  fungicides but also to remove dirt!

In addition,  according to the study I reviewed, oranges grown in the United States had significantly less pesticide residues than oranges imported from other countries.  So if possible pesticide exposure is of concern, purchase oranges grown in the United States.  Also oranges purchased in the summer had higher residues than in the winter.  (I believe this is due to fungicides applied after harvesting  to prevent the oranges from molding.)

If you decide you love orange peel tea and drink it all  winter, then you may want to purchase organic oranges.
How
 

long does

 

it keep?

 

Several weeks in the refrigerator.  It can be frozen for longer storage.
Should I use the whole peel or just the orange part?
I tried a side by side comparison.  I used a vegetable peeler to peel a thin slice of orange off the rind.  I used this to make tea and I compared it to tea made with the  whole rind.   There was no difference between the two.  I know many say that using the whole rind  is bitter, but it has not proved to be so with the oranges I used.  If you find your tea bitter, try using a vegetable peeler to leave the white part on the orange.  It takes much less time to just peel and orange, so that is my preferred method.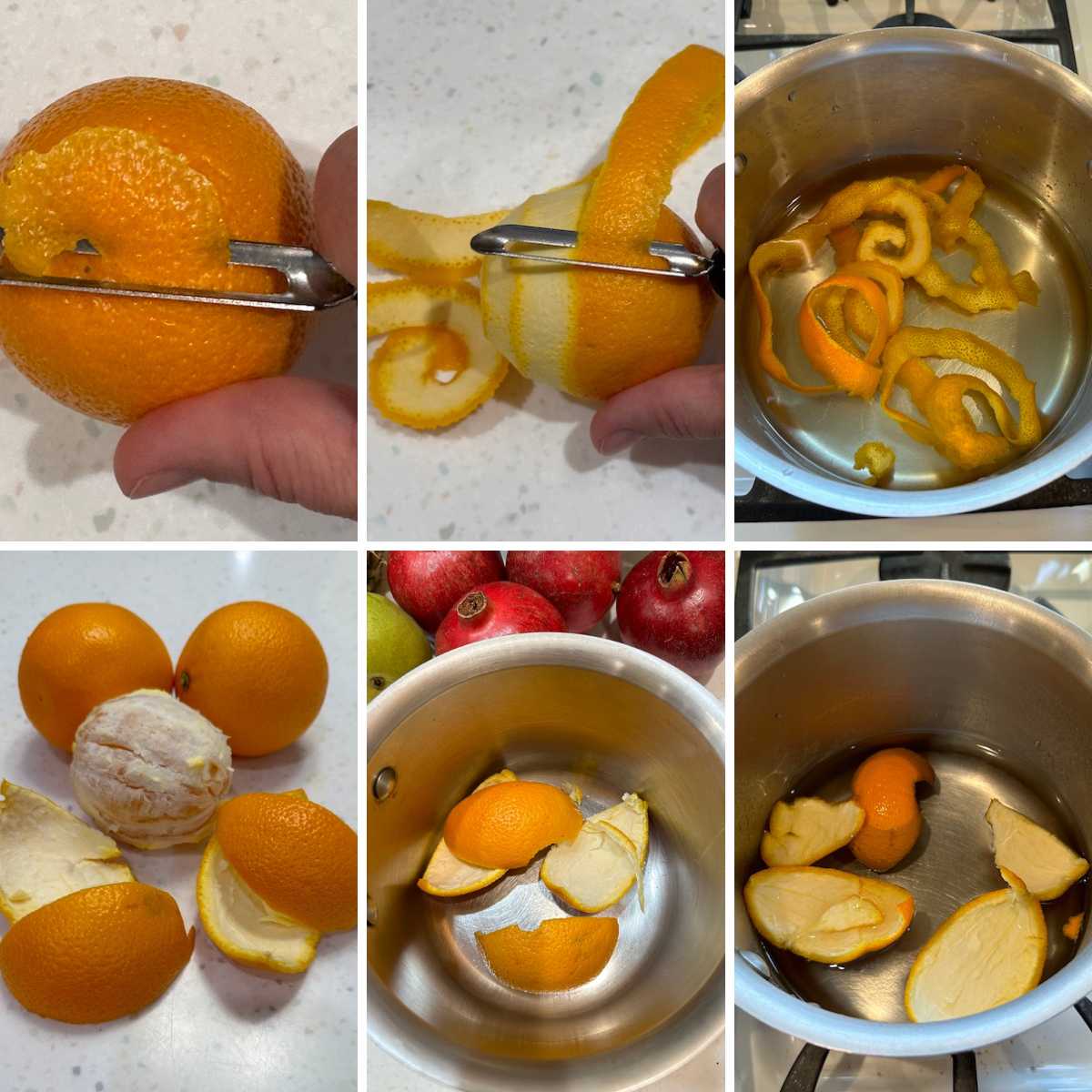 Orange Peel Tea
Ingredients
1

orange peel

2

cups

water
Optional Chai Spices
1

cinnamon stick

5

cardamom pods

5

whole cloves

1

inch

fresh ginger OR 2 pieces crystallized ginger
Instructions
Peel orange, place in a small saucepan.

Add water and cover the pot.

Bring to a boil. Reduce heat and simmer 15-20 minues.

Good hot or cold. If you are making a big batch, it keeps several weeks in the refrigerator or freeze for longer storage.
Using Spices
If your spices are fresh, add them the last 5 minutes.

If your spices have been used before (I use mine 3-4 times before discarding), add with the orange peels.
References
Anti-histamine release and anti-inflammatory activities of aqueous extracts of citrus fruits peels
September 2013Oriental Pharmacy and Experimental Medicine 13(3)
DOI:10.1007/s13596-012-0093-z
Authors:  I. Tsujiyama, S. Mubassara, H. Aoshima, Sheikh Julfikar Hossain  Khulna University
https://www.researchgate.net/publication/257805832_Anti-histamine_release_and_anti-inflammatory_activities_of_aqueous_extracts_of_citrus_fruits_peels
Benefits of Drinking Boiled Orange Peel Water
https://cradiori.co/benefits-of-drinking-boiled-orange-peel-water/
Can Washing Remove Pesticide Residues From Fruits and Vegetables?
June 4, 2020 Oscar
https://www.greenerchoices.org/can-washing-remove-all-pesticides-a-closer-look-at-oranges/
Can You Eat Orange Peels, and Should You?
By Kelli McGrane, MS, RD — Medically reviewed by Kathy W. Warwick, R.D., CDE, Nutrition — Updated on April 19, 2021
Healthline Nutrition  https://www.healthline.com/nutrition/can-you-eat-orange-peels
Citrus peel as a source of functional ingredient: A review
ShafiyaRafiqaEnvelopeRajkumariKaulaS.A.SofiaNadiaBashiraFizaNazirbGulzarAhmad NayikcPersonEnvelope
Journal of the Saudi Society of Agricultural Sciences
Volume 17, Issue 4, October 2018, Pages 351-358  https://www.sciencedirect.com/science/article/pii/S1658077X16300960
The Dietary Fiber Pectin: Health Benefits and Potential for the Treatment of Allergies by Modulation of Gut Microbiota
Frank Blanco-Pérez,
1 Hanna Steigerwald,1 Stefan Schülke,1 Stefan Vieths,1 Masako Toda,2 and Stephan Scheurer1
https://www.ncbi.nlm.nih.gov/pmc/articles/PMC8433104/
Effect of different cooking methods on the content of vitamins and true retention in selected vegetables
Food Sci Biotechnol. 2018 Apr; 27(2): 333–342.
Published online 2017 Dec 12. doi: 10.1007/s10068-017-0281-1
PMCID: PMC6049644  PMID: 30263756
https://www.ncbi.nlm.nih.gov/pmc/articles/PMC6049644/
Effects of different cooking methods on health-promoting compounds of broccoli. Yuan, Gf., Sun, B., Yuan, J. et al.  J. Zhejiang Univ. Sci. B 10, 580–588 (2009). https://doi.org/10.1631/jzus.B0920051
Effects of heat treatment of mandarin peel on flavonoid profiles and lipid accumulation in 3T3-L1 adipocytes JeehyeSung1Joon HyukSuh1YuWangPersonEnvelope
https://www.sciencedirect.com/science/article/pii/S102194981930050X
Orange Aromatherapy for Anxiety
Written By Michael Greger M.D. FACLM • March 31, 2015
Last updated: December 22, 2020 3:31 pm
NutritionFacts.com
Potential of Pectins to Beneficially Modulate the Gut Microbiota Depends on Their Structural Properties
Nadja Larsen,1,* Carlota Bussolo de Souza,2 Lukasz Krych,1 Thiago Barbosa Cahú,1 Maria Wiese,1 Witold Kot,3 Karin Meyer Hansen,4 Andreas Blennow,5 Koen Venema,2,6 and Lene Jespersen1
https://www.ncbi.nlm.nih.gov/pmc/articles/PMC6384267/
Tests Find Hormone-Disrupting Fungicides on Most Citrus Fruit Samples
BY ALEXIS TEMKIN, PH.D., SYDNEY EVANS AND OLGA V. NAIDENKO, PH.D.
MARCH 17, 2021
https://www.ewg.org/foodnews/citrus.php
4 Benefits of Drinking Orange Peel Tea
peels.com
https://peels.com/blogs/news/4-benefits-of-drinking-orange-peel-tea
6 Amazing Benefits Of Orange Peel
by John Staughton (BASc, BFA) last updated – February 03, 2020 ✓ Evidence Based
Organic Facts
https://www.organicfacts.net/orange-peel.html
6 Bizarre Orange Peel Facts You Need to Know|
August 23, 2021 by Dr. Casey Sinclair, CFMP, DC
https://familyhealthadvocacy.com/6-bizarre-orange-peel-facts-you-need-to-know/
10 Amazing Health Benefits of Orange Peels
Manipal Hospital
https://www.manipalhospitals.com/blog/10-amazing-health-benefits-of-orange-peels
25 Proven Health Benefits of Orange Peel Tea"
https://www.linkedin.com/pulse/25-proven-health-benefits-orange-peel-tea-dr-paul-haider