Veggie muffins with no added sugar, no added fat, lots of healthy veggies, a good source of calcium and vitamin A – get ready to bake!!
These lightly sweet vegetable muffins are a perfect way to get more vegetables into your day. Loaded with healthy veggies and full of flavor, these are a great option for picky eaters or anybody who isn't too keen on eating their vegetables. These muffins make a great healthy snack, breakfast, or side.
But they almost did not get published.   My collaborator, Rebekah and I were testing savory veggie muffins.  It seems that most people were looking for those.  And the recipe was coming along.  But it still wasn't something we thought most kids would choose for a snack.  And when I brought them for taste testing, no one took extras home . . . Hmm
What if I used applesauce to sweeten them and swapped the chili powder, garlic and shallots for cinnamon, ginger and cloves?  
The resulting muffins are still loaded with veggies but taste more like one expects a muffin to taste.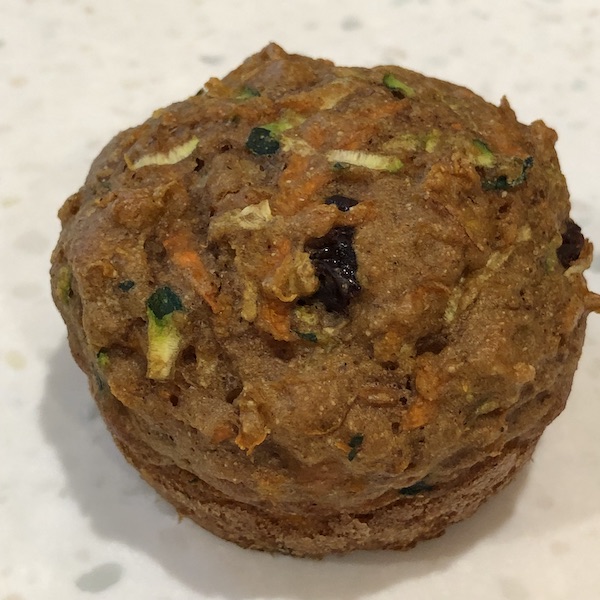 The texture is not a light as a muffin that contains a cup of sugar per recipe.  Sugar both gives flavor and the texture that many of us think of in baked goods. These muffins tend to be on the wet side because of all the vegetables they contain.
If you think your family  would  like scones better, it is an easy modification.  Just adding oatmeal to the mixture absorbs that extra moisture so that the dough can be patted into a traditional scone shape and baked.
The first time you bake these I suggest you start with a regular batch.  It will help you get the hang of these muffins and determine if your family likes more or less spice.  I have found that it is easier to prepare two batches worth of veggies at a time, since a medium sized zucchini is about 8 ounces. You can leave the extra shredded veggies in your fridge for a couple of days to bake more so you can  have plenty for your freezer.
Preparation
Shred your veggies first.  You can use any combination of shreddable veggies.  We have successfully used carrots, zucchini, eggplant, beets.  Zucchini has been a staple in  these muffins for at least part of the veggies.  Use at least two veggies.  A food processor makes the shredding faster, but you then have to wash it. I found it more efficient to shred the vegetables by hand using a box grater.
When your vegetables are shredded, place them on a double layer of paper towels.  Because of the amount of moisture in zucchini, I put the zucchini in one double layer of paper towels and the other veggies in another if I am doubling the shredded veggies (which I always do!) As you prepare your other  ingredients, the shredded vegetables will lose moisture.  Squeeze as much liquid as you can out of them before adding the vegetables to the batter.  If you prepare your veggies earlier in the day (store in the fridge) or even the day before, you will not need to squeeze out any moisture!
Put your dry ingredients in a small bowl.  Whisk to combine.
In a medium or large bowl, whisk (or stir) the eggs with the yogurt to combine.  Stir in the applesauce.
Add the dry ingredients all at once and stir.  The batter will be stiff.  That is good because as the vegetables cook they will release liquid.
Add the vegetables and mix well.   Add the dried fruit.
To use liners or not??
Use a muffin scoop or 1/4 cup measuring cup to scoop the batter into nine muffin tins sprayed well with cooking spray.  Because of the wetness of these muffins, we do not recommend using liners. This is  because more moisture escapes and you have better muffin texture if you do not use liners.  You can also use another method to grease your muffin tins.
Bake the muffins at 350 degrees for 15 minutes.  Rotate the muffins front to back and return to the oven for about 7-8 minutes.  If you have an instant read thermometer, your  muffins need to be over 200 degrees in the middle.  If you undercook your muffins, they are impossible to remove from the tins.  Or if you  have used liners and they come out of the pan,  the centers are too wet.  You can also use a toothpick to check for doneness.  The baking time seems like a long time, but you are  also cooking the vegetables.
I strongly suggest you bake one or two muffins the first time to check the  cooking time in your oven.  You will need to wait until these test muffins cool to judge their texture though   – this will take you awhile, but it will save the rest of your muffins from being under or over cooked. Because of the large amount of vegetables in the recipe, it can be hard to tell when they are done.  They will lose moisture as they cool, so let them cool completely before eating.
Substitutions
Dairy free – These muffins can easily be made dairy  free.  Use a dairy free yogurt. Click here for the gluten and dairy free recipe and notes.
Gluten free – I used King Arthur Baking Company's Measure for Measure flour and they came out perfectly!  They rose better than my 100% white whole wheat version.  Everyone who tasted them enjoyed them.
Using different vegetables – Go for it!  Let us know what you try!!  We experimented with carrots, zucchini, eggplant, beets and sweet potatoes.  Just use at least 2 veggies (8  ounces of each). We suggest using half zucchini for your vegetables.
Using different spices –   Cinnamon and ginger were staples in this recipe.  We have tried nutmeg and cloves. I want to try crystallized ginger!  Start with the spices you think your family will enjoy.
I'll be honest – these are not as good as my favorite sweet potato zucchini bread.  But they also do not contain the 2 cups of sugar that recipe does.  For our road trip yesterday I ate two with cheese and fruit for lunch.  It was a perfect travel food and the dietitian part of my brain was happy too!
Sweet Vegetable Muffins without Gluten
No added sugar, no added fat, loaded with vegetables these muffins are great meal side dish or snack.
Equipment
box grater or food processor

muffin tin
Ingredients
½

cup

applesauce

or one 4 ounce individual serving

4

ounces

zucchini, shredded

4

ounces

sweet potato, carrots, beets, eggplant or a combination *

2

large

eggs

¼

cup

plain Greek yogurt

1

cup

gluten free flour blend**

1

teaspoon

baking powder

½

teaspoon

baking soda

¼

teaspoon

salt

1

teaspoon

cinnamon

½

teaspoon

ground ginger

¼

teaspoon

ground cloves or nutmeg

¼

cup

dried cherries ***

cut in half
Instructions
Shred the vegetables using a box grater or food processor. You should have 2 cups veggies.

Place the shredded vegetables on two paper towels. Wrap the vegetables and let the moisture drain out while you prepare the other ingredients.

Cut the dried fruit if necessary.

Measure the flour, baking soda, baking powder, salt and spices into a small bowl. Mix well.

In a large bowl, scramble the eggs.

Add the yogurt. Mix well.

Add the applesauce. Mix well.

Add the dry ingredients in one batch. Stir well. The batter should be quite thick / stiff.

Squeeze the shredded vegetables to remove any excess moisture. Add the shredded vegetables to the batter. The batter should loosen up a bit.

Thoroughly spray the muffin tins.

Use a muffin scoop (¼ cup or 4 ounce size) or ¼ cup measuring cup to place the muffins batter into 9 tins.

Bake the muffins at 350° for 15 minutes.

Rotate the muffins. Bake for 8 more minutes.

Muffins are done when an instant read thermometer reads over 200° when inserted in the middle of a muffin. You can also check doneness with a toothpick or cake tester.

Cool for two minutes in the pan before removing to a rack to finish cooling.

When the muffins are cool, store in the freezer.
Notes
* Use any combination of vegetables.  You will have about 2 cups shredded vegetables - this includes the zucchini.  We suggest using zucchini for half the vegetables.
The vegetables can be prepared ahead of time.  Put in the refrigerator for storage.
 ** I recommend using a gluten free flour blend with xanthan gum included.  If you make your own blend, add 1/4 teaspoon.
 *** Dried cranberries, raisins, dried apricots would all be good.  If the dried fruit is larger like cherries or apricots, cut in half (cherries) or sixths (dried apricots)
**** If you do not have a thermometer to judge the doneness of the muffins, I suggest you bake a trial muffin to see when they will be done.  Because these muffins are so moist (& the vegetables release moisture when they bake) the  muffins will not come out of the pan, or hold together if they are not done.  Bake one as a test muffin.  Let it cool and test it to see if it is thoroughly cooked in the middle.
Nutrition
Calories:
100
kcal
Carbohydrates:
17
g
Protein:
4
g
Fat:
2
g
Saturated Fat:
1
g
Polyunsaturated Fat:
1
g
Monounsaturated Fat:
1
g
Trans Fat:
1
g
Cholesterol:
42
mg
Sodium:
190
mg
Potassium:
100
mg
Fiber:
2
g
Sugar:
5
g
Vitamin A:
2000
IU
Vitamin C:
3
mg
Vitamin D:
1
µg
Vitamin E:
1
mg
Vitamin K:
1
µg
Calcium:
67
mg
Folate:
10
µg
Iron:
1
mg
Zinc:
1
mg