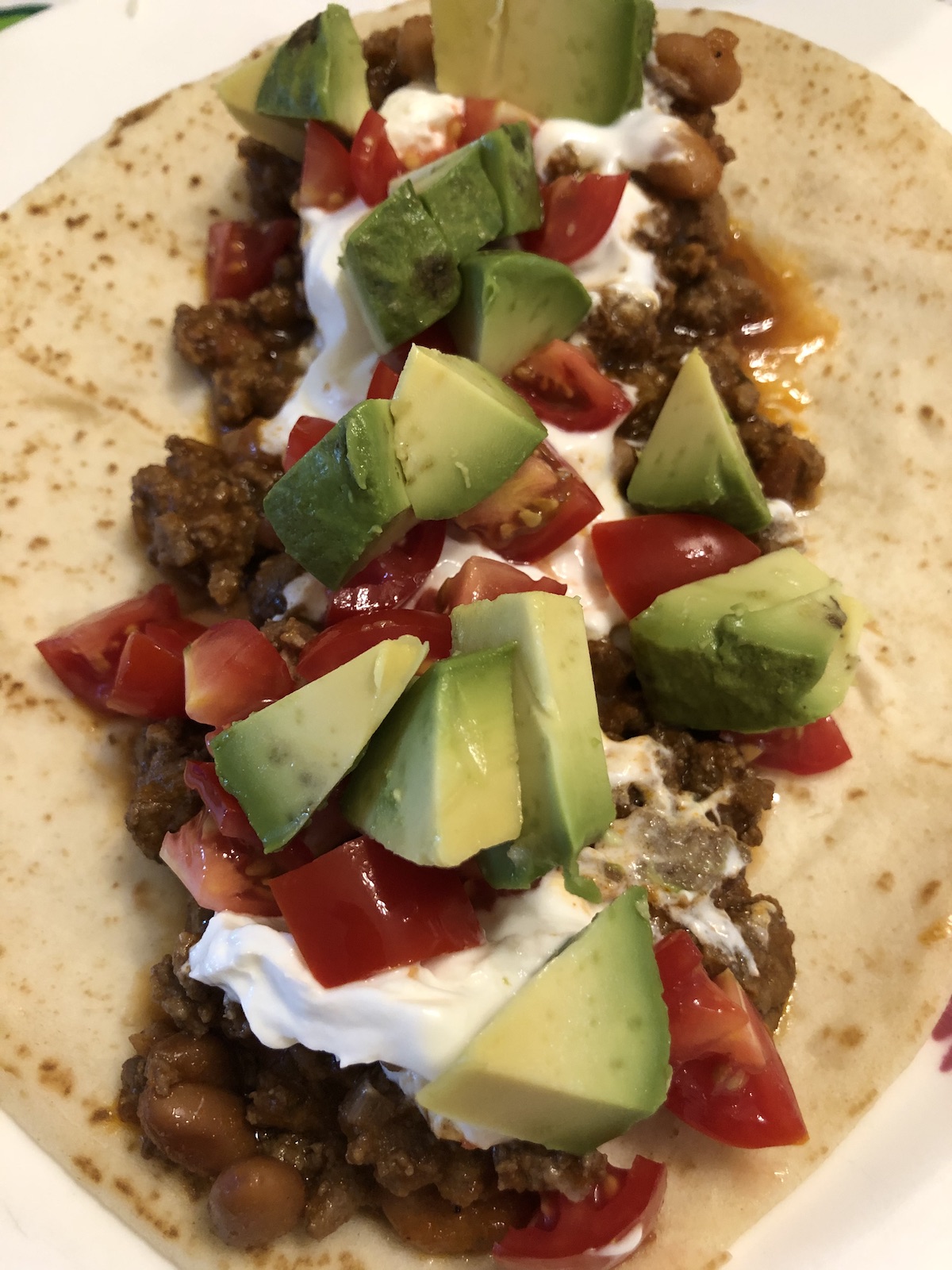 Cinco de Mayo is coming up next week.  Do you have a favorite Mexican dish to prepare?  The one I am sharing with you today is great for feeding a crowd, or freezing some for later meals.  It is a little more "saucy" than plain taco meat with plenty of room for variety.  
Substitutions
There are few allergens in this recipe, but for dairy free families, use a dairy free cheese (I personally skip the cheese – and I am not dairy free!) and dairy-free sour cream.  The best dairy free cheese I have found it Daiya.  What is your favorite?
For my gluten free friends, use either corn tortillas (which often do not hold up well because of the extra liquid in this meat), taco shells or make them into bowls with brown rice as a base.  
For those of you who are onion sensitive, if you can eat shallots, use them.  Or you can substitute garlic.  Salsa is harder however.  I was never able to find a commercial salsa without onion.  So I made my own.  It was not very much like commercial salsa, but we enjoyed it.  I'll include a link from the recipe page.  It is more like a pico de gallo.  
In terms of spice, you have a couple of places to tailor this to your family's tastes.  First of all you can use a mild, medium or hot chili powder.  I have been enjoying the ones from the Spice House (and if you are making chili with meat, their chili con carne blend is my favorite)
Secondly you can use your favorite salsa – mild, medium or hot.  The salsa you choose can truly alter the taste of this recipe.
For ground meat, use any your family enjoys or your budget can afford.  I usually use a 90% fat free ground beef to reduce our intake of meat fat.  If you use a higher fat meat, you will want to drain the extra fat from the pan.   Generally speaking, less meat fat is better for your health.  For my vegetarian friends, use a ground meat substitute you enjoy.
I have often been purchasing grass fed ground meat as the grass the animals are fed alters the fat in the animals in healthy ways.
Using Frozen Browned Meat 
When I purchase ground beef, I often brown a pound or two and then freeze it for quick meals.  If you do this,  saute the onions / shallots in a little oil.  Then add the spices and cook about 30 seconds to "bloom" the spices.  It helps their flavor be richer.  Just be careful not to cook too long and burn them.  Then I added the frozen meat with a little water and let the meat thaw (because I forgot to thaw it a few days ahead.)
Using Fresh Meat
If you are using fresh ground meat, I brown it with the onions or shallots.  When it is browned, add the spices.  Stir well and cook for a couple of minutes, stirring several times.  Add the water, tomato sauce, and salsa.  
Simmer for 10-15 minutes until much of the liquid has evaporated.  
Serve with your choice of taco fillings – salsa, sour cream, cheese, avocado, tomatoes, minced jalapeño, cilantro, chopped or sautéed peppers, etc etc.  One of the best things about taco night is that everyone can customize their own!
You listen to me talk about this recipe on The Sensitive Kitchen podcast episode 026.  I also discuss benefits of including beef in your diet as well as some newer research about beef.  You can listen on the link above or at Apple podcasts, Pandora, Stitchr, iHeart radio.
Taco Meat and Beans
Mexican inspired meat and beans just waiting to be wrapped in your favorite shell and topped with avocado, tomatoes, peppers, cilantro, jalapeños, etc.  You can even make it vegetarian by using substitute meat crumbles.  Customizing for dairy free, gluten free, onion free and even picky eaters is easy with taco night! 
Ingredients
1

pound

lean ground beef

1

small

onion or shallot

1

tablespoon

chili powder

1

teaspoon

ground cumin

½

teaspoon

salt

optional

¾

cup

water

1

15 ounce can

pinto beans

rinsed and drained

1

8. ounce can

tomato puree or sauce

½

cup

salsa
Instructions
Brown the ground beef and onion or shallot in a 12 inch skillet, stirring to break up the meat as it browns. *

If using a higher fat ground meat, drain well.

Add chili powder, cumin and salt (if using) and stir to combine. Let the spices cook for a about 2 minutes over low heat to "bloom," stirring frequently.

Stir in the water to stop the spices from burning.

Add the pinto beans, tomato sauce, and salsa.

Mash some of the pinto beans to make the mixture thicker and the beans less likely to fall out of the "wrapper." Use either a fork or potato masher. (This step is optional.)

Bring to a boil. Reduce heat and simmer uncovered for 10-15 minutes until the liquid is reduced.

Serve in tortillas, over shells, in rice bowls or lettuce wraps with your choice of taco toppings. I especially like sour cream with this meat and beans mixture.
Notes
This recipe was inspired by Southern Living "Supper Made Simple."  I wish I could tell you the date, but mine has. been torn out for many, many years and the date does not appear.   Sorry Southern Living - you inspired this recipe! (but the method and changes are mine!)
*

If doubling the recipe, you will need to use a larger pan. If you do not have a 4-6 quart saute pan, try a Dutch oven that will contain all the ingredients. You may need to simmer for a few extra minutes to. reduce the liquid.