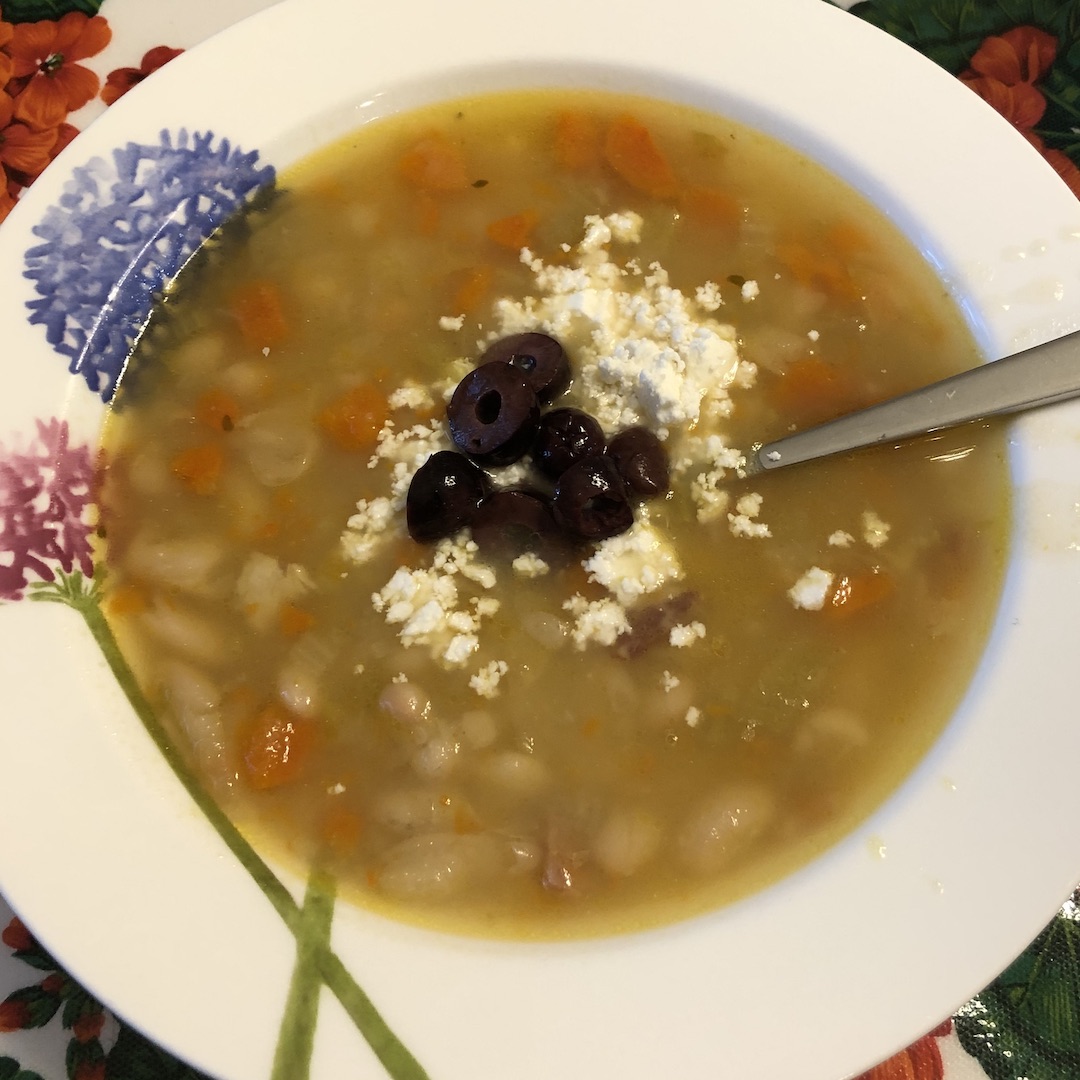 One of my all time favorite beans recipes!  I discovered it during a time in our food journey when I was struggling.  We ate legumes a couple of times a week.  But we were not eating onions or garlic.
Without onions and garlic all my bean dishes seemed SO bland!  This is the only one that I enjoyed without onions or garlic.  
Even though we now can eat garlic and shallots, I still make this bean dish without them.  It is a cross between a soup and a stew.  I like it with a little more broth, my daughter likes it with less.
It is a fairly simple bean dish but it does require a few things.  
Chicken broth – Use your best chicken broth.

 

Sometimes when I make my chicken broth, it comes out a little weak.

 

Sometimes it is full of flavor.

 

Use the one that is full of flavor in this recipe since it is really the star of the show (along with the garnishes).
Goat Cheese & Olives – These garnishes really enhance this recipe.

 

We use an inexpensive goat cheese from Trader Joe's for creamy goodness.

 

If I can get nicose olives, I use them, with or without pits.

 

They tend to be less salty.

 

But if not, I slice some pitted Kalamata olives.

 

Prosciutto -This is the only recipe I use prosciutto for.

 

I can usually find it with just pork and salt as ingredients.

 

I use several slices and freeze the rest for the next time I make this recipe.

 

So although it is pricy, this recipe does not use much.
Tuscan Beans is made in the slow cooker, but it does not have a long cook time – only about 3 hours.  Plus it requires time on the stove before going into the slow cooker.  
My slow cooker has a special insert that can go onto the stove,  If yours does not, you only need to dirty one pan.
The evening before you want to cook this recipe, rinse your beans and pick out any stones, etc.  Then cover the beans with 1-2 inches of water and soak overnight.
About 4 hours before you want to eat, chop the carrots and celery.
I find that chopping and separating the prosciutto is the most time consuming part of this recipe .  But it adds delicious flavor, so it is worth it.
Cut the prosciutto into 1/2 inch pieces.  I find my kitchen shears work best, but you may prefer a knife.  Sauté in olive oil (or avocado oil) for about 8 minutes.
Remove the prosciutto from the pan and add the celery.  Saute for about 5 minutes over medium low heat, stirring occasionally.  
Add the carrots and saute about 3-5 minutes.  The vegetables do not need to be fully cooked.
Add the drained beans, broth and thyme.  
I do not take all the individual thyme leaves off the stems.  I just wash the stems with leaves attached and place them in the pan.  When the beans are done, I can easily pull the stems out.
Cover and heat the mixture until it boils.  If your stock is frozen, as mine usually is, it will take longer – perhaps 15 minutes to come to a boil.
Transfer to slow cooker and cook for about 2.5 – 3.5 hours.   You want the beans to be soft, but hold their shape.  In this picture mine are starting to fall apart.  It will still be delicious!
Put into bowls and let diners place their own goat cheese and olives on top.
Serve with crusty bread and a salad.  Enjoy!
This recipe will either serve a crowd, or you will have some left for freezer meals when you don't have time to cook.  You can always make less, just be aware that you do need to fill your slow cooker appropriately so you may need to use a different size slow cooker if you half the recipe.
Tuscan White Beans
Ingredients
2

pounds

dried great northern beans

¼

cup

olive or avocado oil

3-4

slices

proscuitto, chopped

6

carrots

4-5

stalks

celery

6

cups

chicken broth

several

sprigs

fresh thyme

1-2

bay leaves

goat cheese

nicoise (whole) or kalamata(sliced) olives
Instructions
Rinse the beans in a colander one pound at a time. Pick out any stones or shriveled or damaged beans.

Cover the beans (I use my slow cooker insert) and soak the beans overnight (6-12 hours).

Drain beans. If your slow cooker insert goes on the stove, leave the beans in a colander while you prepare the proscuitto and vegetables. If your insert does not go on the stove put the beans back into the insert now.

Peel the carrots, wash the celery and cut them into pieces.

Place the oil in the pan.

Cut the proscuitto into ½ inch pieces. I use kitchen sissors, but a knife would also work.

Cook the prosciutto for about eight minutes over medium heat.

Remove the prosciutto from the pan.

Cook the celery for about 5 minutes over low heat.

Add the carrots and cook about 3 minutes longer. The vegetables do not need to be fully cooked.

Add the drained beans into the slow cooker or pot.

Add the broth. If you are using frozen broth, cover the pot and let it thaw before adding water.

Add enough water to cover the bean by one inch.

Cover the pot and bring the liquid to a boil.

Add the bay leaves and thyme sprigs.

Cook on high for about 3 hours.

Beans will be cooked through but hold together when done.

Serve in bowls. Pass with crumbled goat cheese and sliced olives.
Nutrition
Calories:
340
kcal
Carbohydrates:
52
g
Protein:
20
g
Fat:
7
g
Saturated Fat:
1
g
Trans Fat:
1
g
Cholesterol:
1
mg
Sodium:
90
mg
Potassium:
1290
mg
Fiber:
16
g
Sugar:
4
g
Vitamin A:
5160
IU
Vitamin C:
6
mg
Vitamin D:
1
µg
Vitamin E:
1
mg
Vitamin K:
15
µg
Calcium:
155
mg
Folate:
375
µg
Iron:
5
mg
Zinc:
2
mg