A quick breakfast high in omega 3 fats, fiber and a good source of calcium.  Three ingredients and just 5 minutes will fuel you all morning.  Adding a variety of toppings keeps it fun and provides interesting flavors.
Hey! My name is Maryam Alnouman. I am a junior studying Nutrition & Dietetics at the University of North Florida, and I am one of Cindy's mentees in a Registered Dietitian Mentorship Program. I have developed this flaxseed pudding recipe for you!
Are you a fan of chia seed pudding? If so, you MUST give flaxseed pudding a try! They are similar in preparation, but flaxseed pudding has a less seedy texture. It is smoother and has a natural nutty flavor, which makes this pudding unexpectedly delicious. 
Nutrition Nuggets
Flaxseed is a superfood full of
plant-based protein
fiber
vitamins
antioxidants
minerals
healthy fats (omega-3s).
One serving of this recipe provides 30% of your recommended daily fiber intake and 20% of your recommended calcium intake.
Also, only one tablespoon of whole flaxseed contains 2,350 mg of omega-3 fatty acids, which surpasses the daily recommended amount. If you are not a fan of fish, then this is a great alternative to reduce your heart disease risk by consuming enough omega-3 fatty acids. 
Medjool dates are full of nutrients, but also add significant carbohydrates and calories.  For those of you who need fewer carbohydrates or calories, using 1 teaspoon of maple syrup will cut the calories in half and reduce the carbohyrates from 43 grams to 12 grams.  But you will also lose 3 grams of fiber, and half the potassium.
The milk you choose will drastically affect the protein, fat, and calcium in this recipe.  Read your label.  The nutrient information is given for fat free milk.
Ingredients and substitutions:
Flaxseed – Make sure to use flaxseed meal or ground flaxseed instead of whole flaxseed. However, you can make your own ground flaxseed by simply processing whole flaxseeds in a blender or food processor until you get a fine texture.

 

Milk – Choose whichever you prefer. Maryam used oat milk. Cindy tried fat free, 2% and almond milk.  All were great. You may want to modify the amount of milk depending on whether the alternative milk contains gums.  Without gums try 1/4 cup milk, with gums 1/3 cup was a better choice.  You can even add mllk just before serving if you find your pudding is too thick.
Sweetener – Maryam used medjool dates to sweeten the pudding. You may also use honey, maple syrup, brown sugar, or even mashed bananas.

 (Cindy used 1 teaspoon maple syrup.  See above for nutrient differences between these choices.)

Toppings – This is the fun and creative part! You may add toppings which would keep you fuller longer,or add extra nutrients.  After the pudding is set and just top and enjoy,  In my recipe, I added Greek yogurt, bananas, sunflower seeds, and cocoa nibs. Other toppings you may add include blueberries, raspberries, mango, cinnamon, chia seeds, hemp seeds, and goji berries.

 
Preparation
If you are using dates as a sweetener, you will need a blender.  Add the flaxseed meal, milk, and medjool dates. Blend until smooth.
If you are using another sweetener, just add ground flaxseed, milk and sweetener (Cindy used 1 teaspoon maple syrup – yum!)
Pour into a small container and refrigerate for 1-2 hours or overnight for the mixture to set into a pudding-like consistency.

   If you are short on time, it will be quite thick in 15 minutes – enjoy as you run out the door!

Add toppings and enjoy 😊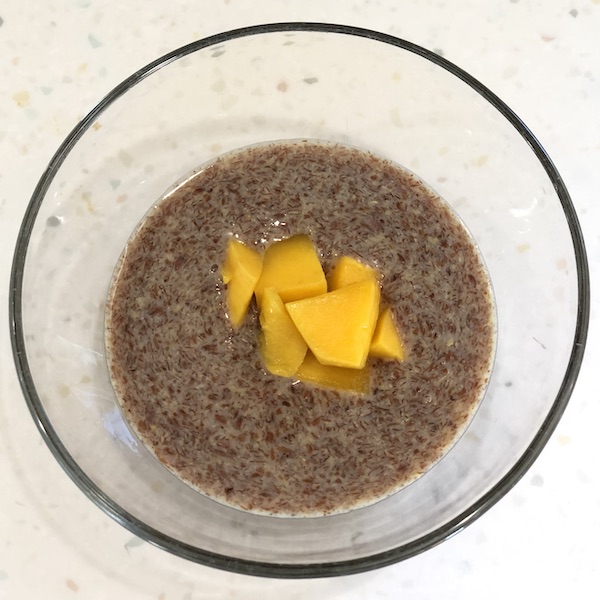 Notes:
The final texture of the pudding may be adjusted by altering the amount of milk. If you desire a thinner consistency, then you may add more milk and vice versa.

 

Make a larger batch of this pudding and have breakfast for several days.  Flaxseed pudding will keep for about 5 days in the fridge.

 
Other quick breakfast & snack ideas high in Omega 3s – Chia Pudding
High Protein Chia Seed Pudding
Let us know how you liked this quick nutritious breakfast.  What toppings are your favorite?