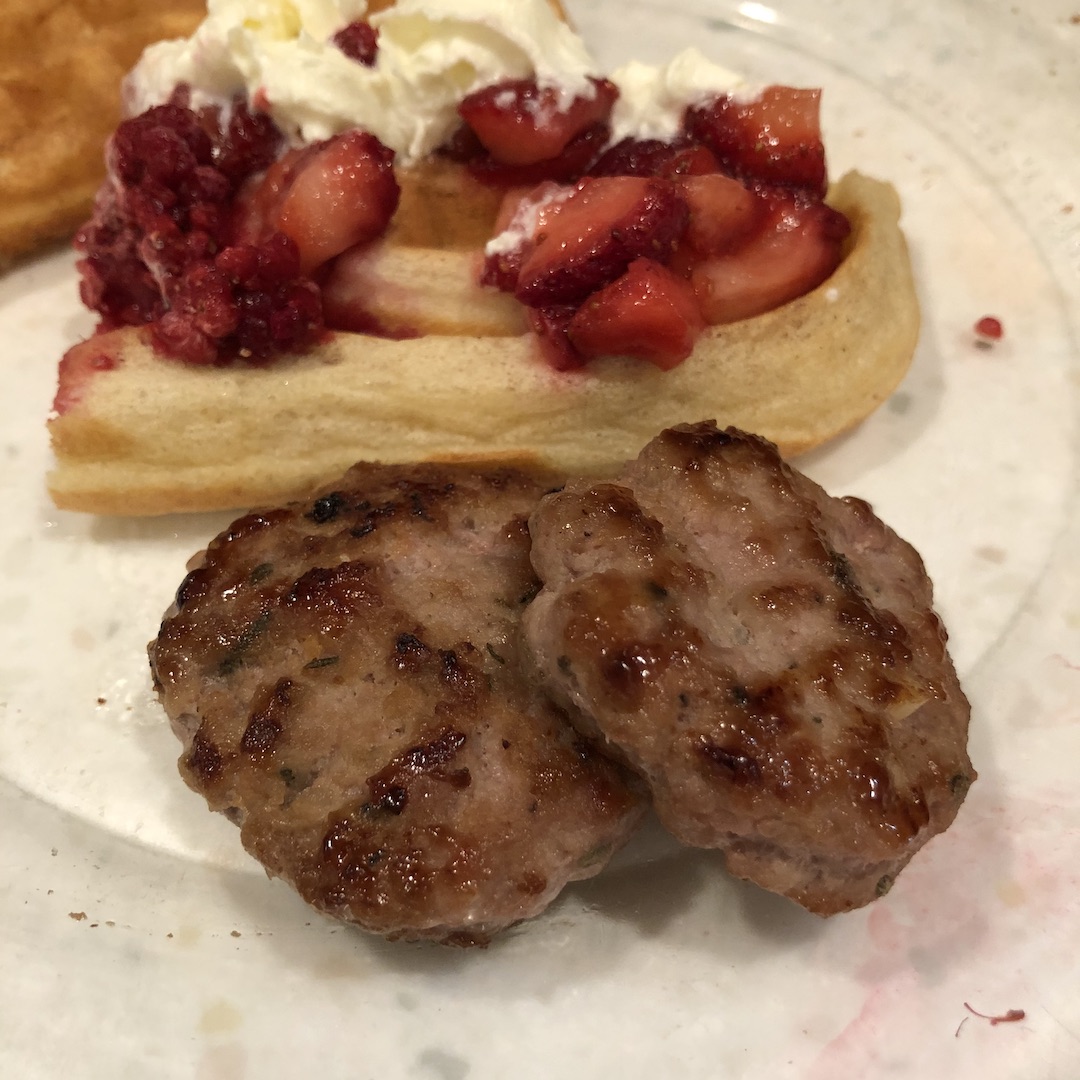 With my son's migraines, we have had trouble purchasing sausage.  Even the store made varieties have additives that made him ill.  We now have several chicken & turkey sausages we like, but ten years ago, my son asked for sausage for breakfast.   Hmm . . . . 
So we came up with two recipes that we made for several years.  They use ground meat varieties that I do not usually purchase, but they come together easily and freeze well so we can reheat for many breakfasts.  
Homemade sausages with only spices as additives.  Yum!  Safe for almost everyone.  And you can decide how to flavor them.
I am giving your our guidelines, but use whatever spices and herbs you desire.  I adore maple syrup and garlic in mine.  I also like sage and thyme.  But you could use marjoram, hot pepper flakes, paprika or smoked paprika, oregano, lemon pepper, curry, parsley or cilantro.  Don't forget onions in their many forms like shallots, chives, leeks, etc etc.  This is really a blank slate – try different spice combinations until you find ones your family likes. 
My favorite recipe happens to be this one from The Chunky Chef.  I think it is just right.  
The combination of maple, garlic, thyme and sage is delicious.  The pork combined with turkey gives good flavor and moistness while reducing the total amount of fat.  However I radically alter the cooking method.
I make these into tiny patties.  This meat fat is not especially good for your heart or risk of colon cancer so I make them small. That way, if you eat several, you can still salvage your fat and/or calories for the day!  My husband says three is satisfying.
The only problem with making these patties small is that it takes time to shape and cook them.   Today it took me about 15 minutes to shape all the patties because I make so many of them – this last batch was about 45 patties for two pounds of meat.
Any time you work with ground meat, work with it gently – do not pack it together tightly.  Just enough for it to hold together.  I use a dinner plate that can go into the dishwasher and place a layer of tiny patties on the plate.  I separate the layers of patties with waxed paper (or you can use plastic wrap).  
I cook them all and then freeze them.  I do recommend that you cook them before freezing – for food safely reasons.  It is generally safer to handle raw ground meat as little as possible.  
I make these ahead, on a day when I have a little more time.  (Who am I kidding – when my local grocery store has ground pork half off that needs to be used that day, I drop everything and make them.  Unless I am making them for a holiday or birthday breakfast – then I plan ahead!)
Like any meat, these are high in protein, iron, zinc and vitamin B12.  Since ground meat is higher in fat, they are high in saturated fat and calories. You may try mixing a lean ground turkey with the higher fat meats. This way the flavor is still there, but less saturated fat and fewer calories.  
For homemade Lamb Sausages click here.
Homemade Veal Sausage Patties
Ingredients
½

pound

ground veal

¼

pound

ground chicken

¼

pound

ground pork

½

tablespoon

kosher salt

1-2

tablespoon

superfine sugar*

⅛

teaspoon

ground sage

⅛

teaspoon

marjoram

⅛

teaspoon

thyme

pinch

cayenne

pinch

onion powder
Instructions
Mix ground meat and spices gently in a bowl.

Form into small, thin patties.

Cook in a preheated pan or griddle over medium low heat for about 3-5 minutes a side until browned.

Enjoy! Freeze leftovers for quick breakfasts.
Notes
*Next time I make these I am using maple syrup!
Nutrition
Calories:
100
kcal
Carbohydrates:
2
g
Protein:
10
g
Fat:
6
g
Saturated Fat:
2
g
Cholesterol:
45
mg
Sodium:
480
mg
Potassium:
200
mg
Sugar:
1
g
Vitamin E:
1
mg
Calcium:
6
mg
Folate:
4
µg
Iron:
1
mg
Zinc:
1
mg