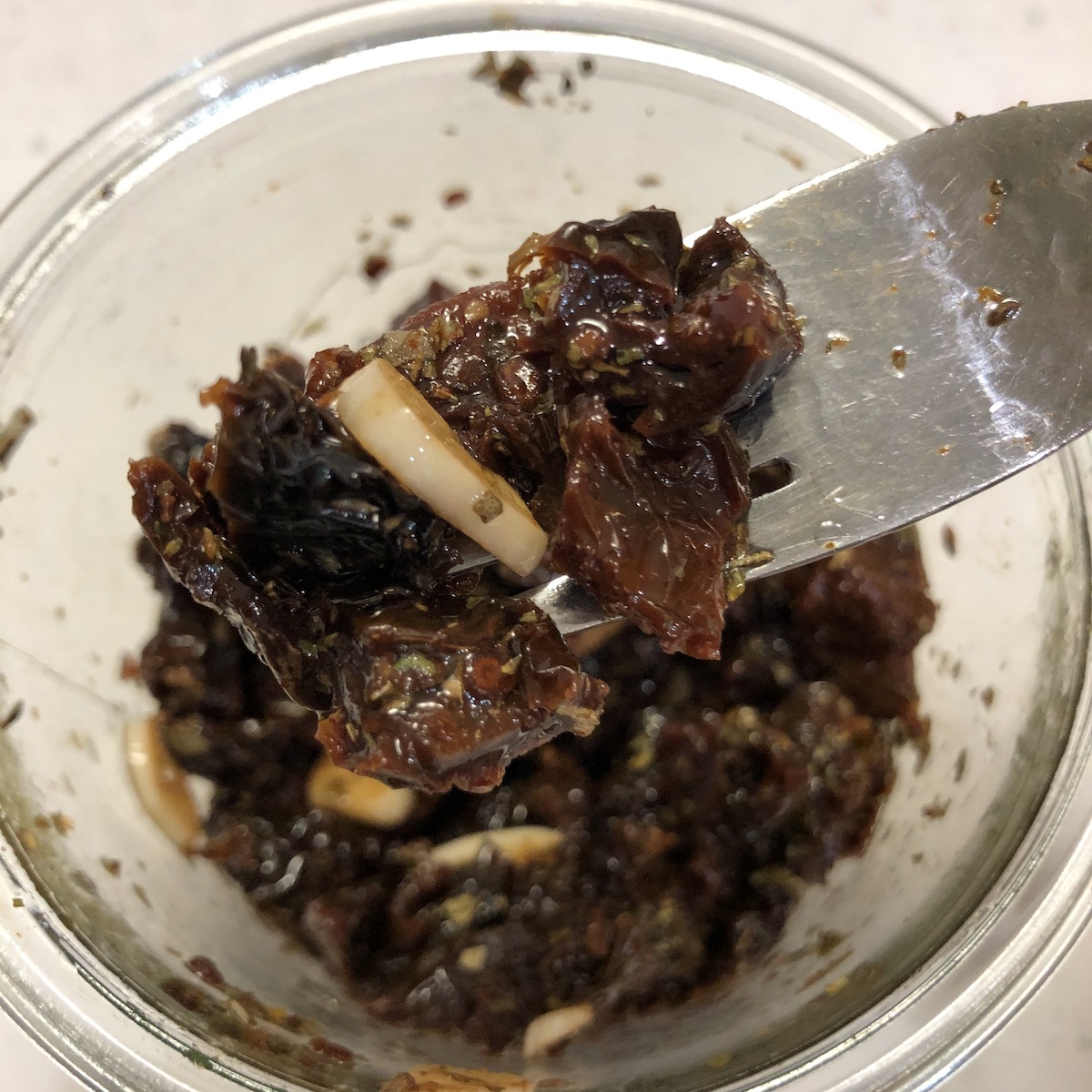 I began making these marinated sun dried tomatoes for Summer Tortellini Salad.  
But we discovered that the leftovers were wonderful on pizza.  Or bread for bruschetta.  They are a great addition to omelets, sandwiches, or chicken surprise (leftover chicken with flavorful additions  like these tomatoes, capers, marinated artichoke hearts, sweet peppers, etc sautéed in a skillet). Add them to cream cheese to make dip.  My mouth is watering just thinking about them. 
Plus they keep well in your refrigerator.  And you can make a yummy salad dressing with the vinegar – waste not, want not cooking at its best!
Ingredients
Sun dried tomatoes (I use the ones without added sulfites so they are darker in color.)
Garlic
Rice vinegar (or white wine or other mild vinegar)
Olive, avocado oil or canola oil
Herbs: oregano, basil, marjoram, thyme
Parmesan Cheese (omit if you are dairy free, lactose intolerant)
Substitutions
The only top allergen contained in these tomatoes is parmesan cheese.  Omit it if you are dairy allergic,  however if you are lactose intolerant, you may be ok.  Parmesan Cheese is an aged cheese so it is low in lactose.  Plus only two tablespoons are used in the entire recipe.
We do use sun dried tomatoes without sulfites.  The tomatoes turn a very dark red color and are not as soft as those with added sulfites.  But since you will soak the tomatoes in vinegar, they will soften just fine.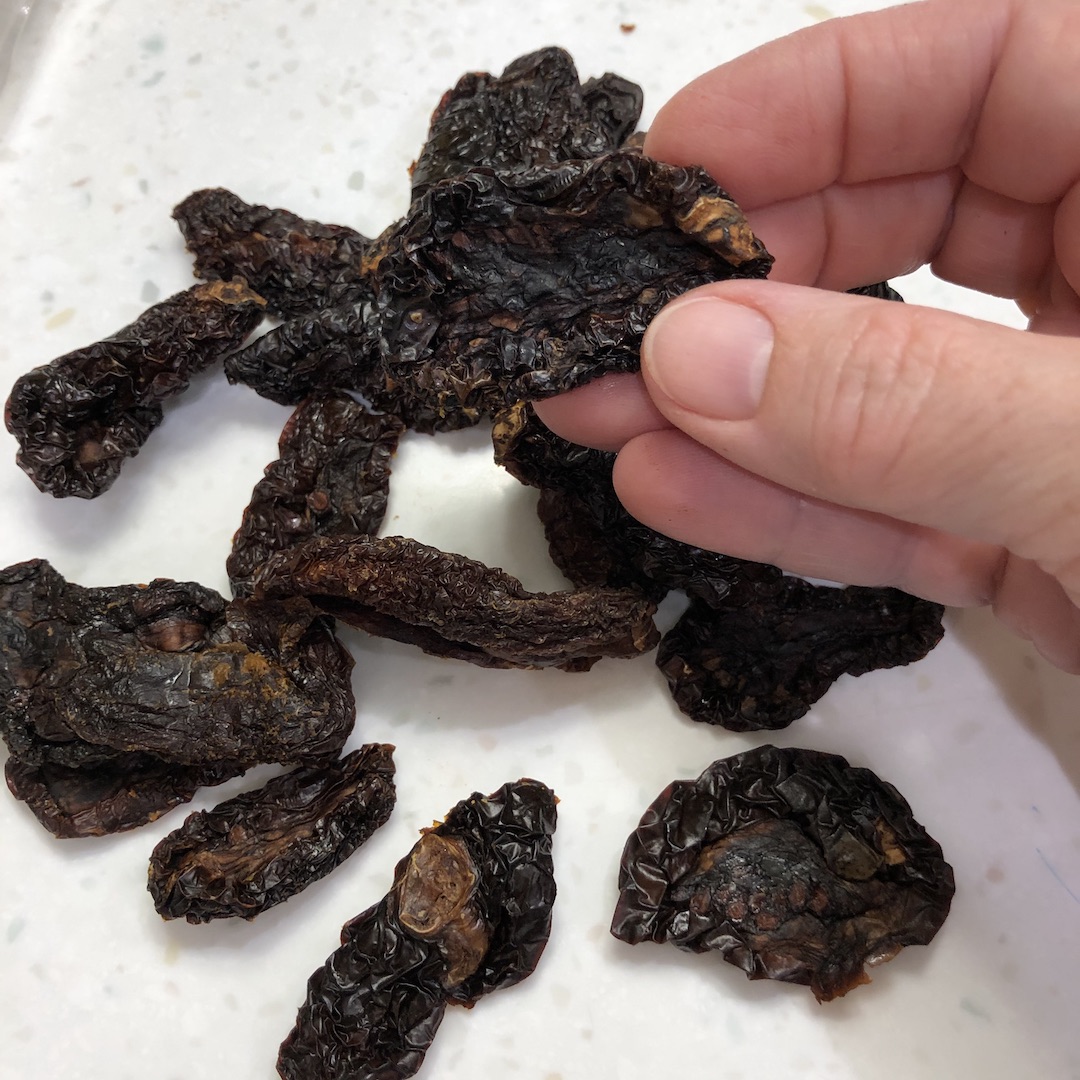 A note about oil – Although I have used both olive and avocado oil in this recipe, I actually prefer canola oil because it stays liquid at room temperature.   This recipe is refrigerated and keeps well in the refrigerator.  
However if you use olive or avocado oil, you will need to let the tomatoes come to room temperature for the oil to turn back to liquid.   This is not an issue if you are putting the tomatoes on pizza as the heat from the oven will "melt" the oil.
Herbs – If you do not have some of the herbs called for, or prefer other herbs, just use what you have.  This is a very flexible recipe in terms of flavorings. 
Capers are also an interesting addition. I would not purchase them just for this recipe, but as I usually have a partially opened jar in the refrigerator, I sometimes add a tablespoon or two to this recipe.  Do not add the caper brine.
How to Make Homemade Marinated Sun Dried Tomatoes
Cut your tomatoes into pieces.  This is the most time consuming part of  this recipe.  I cut each  one in half lengthwise then each  half in three or four pieces, depending  on the size of the  tomatoes. I use kitchen shears, but  a knife would do.  I cut the  tomatoes because I want  them  to be in small bite size pieces so I can get other things in the same  bite.  When I make summer tortellini salad, I want a piece of marinated sun dried tomatoes, some tortellini and a cashew in the same bite. Plus I want more bites to contain sun dried tomatoes!
Cut your tomatoes into a glass jar.  I like to use my 19 ounce Weck jars for this.  You do not want a flat container so the tomatoes are all spread out.  You want the  tomatoes to be stacked up.

Pour in  about 3/4 cup of rice vinegar or white wine vinegar and let stand for about an hour.  Push the tomatoes down so they are submerged in the vinegar and stir a couple of times during the hour they  are soaking.  
While  the tomatoes are soaking, peel and slice the garlic.  Remember  to let your garlic  sit about 10 minutes after slicing and before adding  to the tomatoes to allow the  allicin to develop (listen to episode 003 for more on allicin).
I have made these marinated sun dried tomatoes for years.  After soaking the tomatoes in rice vinegar, I always threw the vinegar away. One day I had a brainstorm.  I am throwing away this highly flavored vinegar – why not use it to make salad dressing?
Add all the other ingredients to the glass jar, cover and store it in the refrigerator overnight.  They will keep for at least a couple of weeks in the refrigerator if you can  keep them  around that long!  Next week I will discuss my favorite way to use them  – summer tortellini salad.  It is a favorite in my  house and among friends.  I bring it to bridal showers, picnics, cook outs, potlucks and it always meets with rave reviews.
Homemade Marinated Sun Dried Tomatoes
Ingredients
3

ounces

sundried tomatoes

¾

cup

rice vinegar

⅓

cup

olive or canola oil

4

cloves

garlic, sliced

2

tablespoons

Parmesan cheese

½

teaspoon

basil

1

teaspoon

oregano

½

teaspoon

marjoram

¼

teaspoon

thyme
Instructions
Cut the sundried tomatoes into about 6 pieces each.

Place the cut tomatoes in a glass jar.

Add vinegar and let stand for 1 hour. Stir occasionally.

While the tomatoes are marinating, slice the garlic.

Drain the vinegar and reserve for another use. *

Combine the remaining ingredients. Stir well.

Cover and let stand for 24 hours.
Notes
* Use the sun dried tomato vinegar for Sun Dried Tomato Dressing or Parmesan Sun Dried Tomato with Fresh Tomatoes.  The vinegar keeps months in the refrigerator.  When I have finished the sun dried tomatoes, I scrape any tomato tidbits and any excess oil into the vinegar in my refrigerator to flavor my salad dressing.
Nutrition
Calories:
80
kcal
Carbohydrates:
4
g
Protein:
1
g
Fat:
6
g
Saturated Fat:
1
g
Cholesterol:
1
mg
Sodium:
31
mg
Potassium:
250
mg
Fiber:
1
g
Sugar:
3
g
Vitamin A:
75
IU
Vitamin C:
3
mg
Vitamin D:
1
µg
Vitamin E:
1
mg
Vitamin K:
8
µg
Calcium:
25
mg
Folate:
5
µg
Iron:
1
mg
Zinc:
1
mg